The Mall at Los Angeles Pierce College looked festive with balloons, carnival games, music playing, and crowds of students during the CSUN and UCLA Day event on Wednesday.
Even though it was a day for those two campuses to come out and have their different departments table, it was also a day where the Transfer Center celebrated students who have been accepted to transfer to a four year school, now and in the future.
The celebration on the Mall started at ​​11:00 a.m. and was followed by a student panel at 2 p.m. to help students connect and ask questions. 
There was a picture prop station for students to take photographs with flags or pennants of the school they're transferring to after Pierce. Students could tag the Transfer Center on social media, Instagram or Facebook. 
Students received tickets for a free churro and pizza. 
The Transfer Center set up a table for transferring students to write words of wisdom and advice on cards for future transfer students. The cards were pinned on a cork board which was displayed next to the Bull on the Mall. 
On the other side of the card, there was a place for students who are planning on transferring in the future to write their transfer goals. These cards too were displayed for those in attendance on a cork board. 
Silver Transfer Cords were provided to transfer students to be worn with their cap and gown at graduation. 
Transfer Center Director Sunday Salter thought that the event was effective because there were so many departments present from UCLA and CSUN in one day.   
"The majority of our students either want to transfer to those two campuses, or they have already applied and have been admitted to those two campuses," Salter said. "So it's a way for students who are transferring in fall to connect with their future advisors and ask questions. And for students who have not yet applied, they can explore."     
Pierce College General Counselor Judy Lam said that she loved the  event because of how exciting it is for transfer students. 
"It's a way for transfer students to celebrate," Lam said. "it's so exciting for them to see all the transfer students celebrate so that they know this is going to happen for them. It's just a celebration for all our wonderful Pierce students." 
Many students took part in the activities and visited the departments that were tabling that day.      
 Some of the CSUN departments that were present included the College of Engineering and Computer Science, Liberal Studies and Interdisciplinary Studies, College of Education, College of Education, College of Business and Economics, College of Social and Behavioral Sciences..  
Tabling for CSUN was Academic Advisor for psychology and anthropology Kevin Zemlicka, who expressed that these events help clear away the mystery that transferring can bring.  
"The academic advisor should be the first person you meet at any institution." Zemlicka said. "This is where you start shopping around and you start figuring out how to seek advice. We're not just counting units and telling people how to achieve the goal of graduation. We're also helping folks figure out what is after this. We want them to be able to hit the ground running."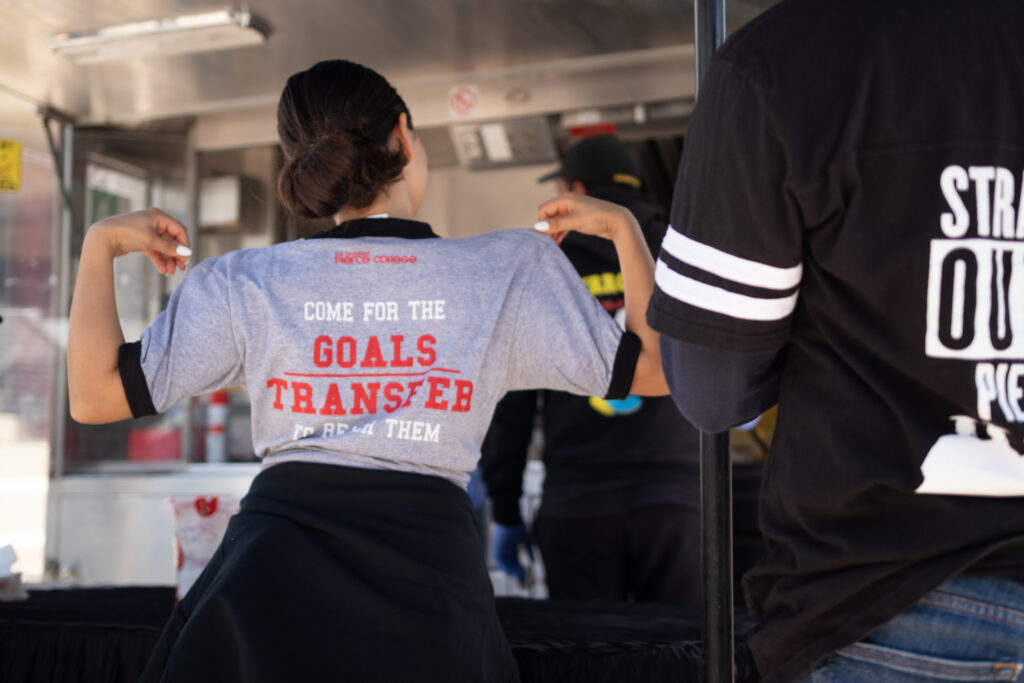 UCLA had representatives from departments such as Biology, Computational and Systems, School of Education and Information Studies, Anthropology Physical Sciences, Sociology, Asian Studies, Nursing, Neuroscience. 
Undergraduate Advisor for anthropology Myrna Dee Kikuchi was tabling for UCLA and thought the event was important because there are smaller programs that transfer students might not always be exposed to 
"I think it exposes students to a lot of the different programs that are offered at UCLA," Kikuchi said. ". It also offers transfer students the opportunity to speak directly with advisors that  represent the departments. To answer questions beforehand and for advisors to offer up some tips in terms of how to prepare for thriving in the major."      
Pierce College sophomore and sociology major Francisco Ponce is getting ready to transfer to CSUN and expressed that the event was beneficial to him. 
"I think it allows students to interact with each other who have similar majors," Ponce said. "I actually made a couple of connections here today. Just keep pushing and you will transfer soon."