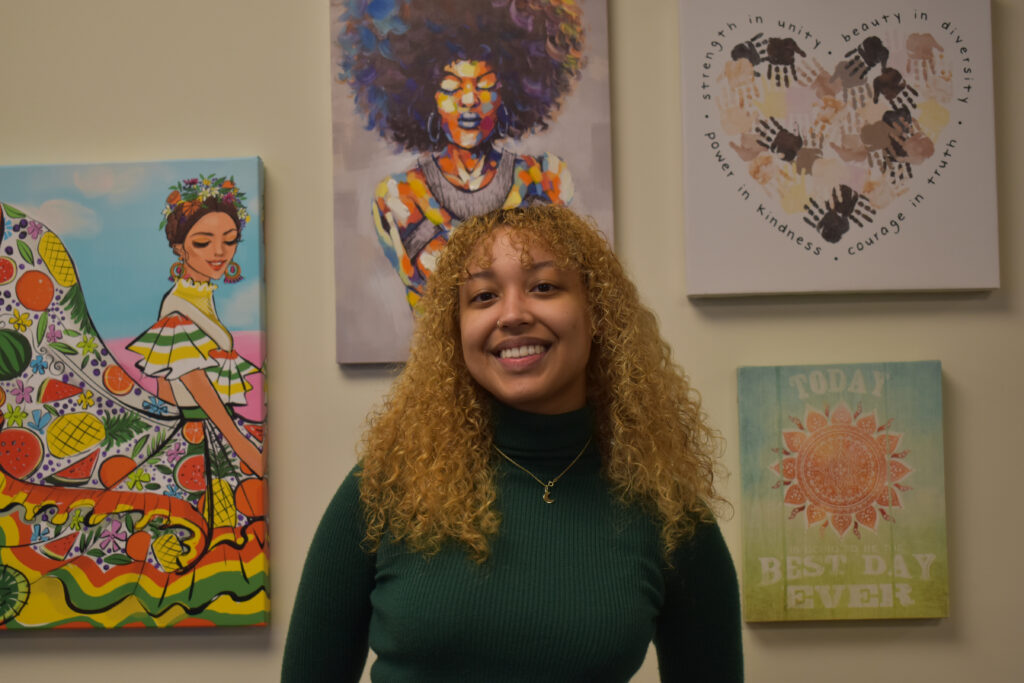 From Germany to America, this young woman has had her fair share of change. Now, she's looking to make a change to those around her.
Luna von Dahlern, a psychology major and the president of Umoja, has been trying to spread change and a love for culture to those around her. Born in Germany, von Dahlern spent the first part of her life in a predominantly white culture. 
It didn't strike her as anything but normal until she moved.
"America really showed me what it's like to actually be around people that have the same mentality as you, that look like you, and that want to achieve the same results to be successful and proud of oneself," von Dahlern said.
This realization sparked von Dahlern's interest in the Umoja Program – a college program made for Black and other students to help them reach their full potential. von Dahlern expressed love for the program and its opportunities.
"The program basically gives you as a Black person, but also of any other ethnicity, the opportunity to become amazing," von Dahlern explained.
She restarted the club last semester after it was shut down in 2020, and is putting it in full force for this upcoming semester. She did this with the help of her Vice President Kekeli Gbewonyo and Emerald Coley. 
"It was really Luna's idea to start the club," Gbewonyo said. "She really rallied everybody. And she was able to get a bunch of other like-minded students to support the cause. And now we have a club."
Although the club was restarted last semester, they weren't able to build much due to health issues. This week was the club's first real meeting, which took place this past Wednesday.
"Last semester we weren't able to do a whole lot, so I think this is the first time we'll really get to see her in action," Coley said. "But I'm very, very confident in Luna. She's very hardworking and very determined. She just has a good head on her shoulders, so I'm sure she'll do great."
von Dahlern is held in a positive light by her peers and fellow club members. Some words used to describe her are fun, charismatic, energetic, determined, and inclusive. Being the determined person that she is described to be, she has worked hard to organize her club and even collaborate with other clubs, one of those being the film club. 
"We're in the works of talking to each other about the clubs coming together and watching a movie, discussing the movie afterward, providing snacks for everybody and just having a big family potluck or something like that." 
von Dahlern also wants everybody to join the Umoja Club, as she wants everybody to have a community that they can feel a part of. 
"I would like to encourage everyone to just come to the club." von Dahlern said, "I would recommend to anybody that's interested in learning a little bit more about themselves, but also want to share about their own culture."
In addition to being president of the Umoja Club, von Dahlern also tutors for Umoja English classes with Professor Chris Corning, as well as working another job outside of school. With this extra workload, she's also learned the importance of taking time for herself and not setting impossible standards. 
After graduating from Pierce College, von Dahlern plans to transfer to UCLA or a historically Black college or University, such as Howard University, to pursue her education in the therapy field. Once she recieves her bachelor's degree in psychology, she might move back to Europe for a graduate's program. 
"I'm going to tell myself that it's okay to take time for yourself and that it's okay to sit back and watch a movie and that it's okay to not focus on school 24/7,'' von Dahlern said. "Instead of graduating this year, I will be graduating next year, and I'm okay with that."