Gracejeet Sroya always knew she wanted to teach at Pierce College. What she didn't know is that her community college experience would give her not just an education but also her happily ever after.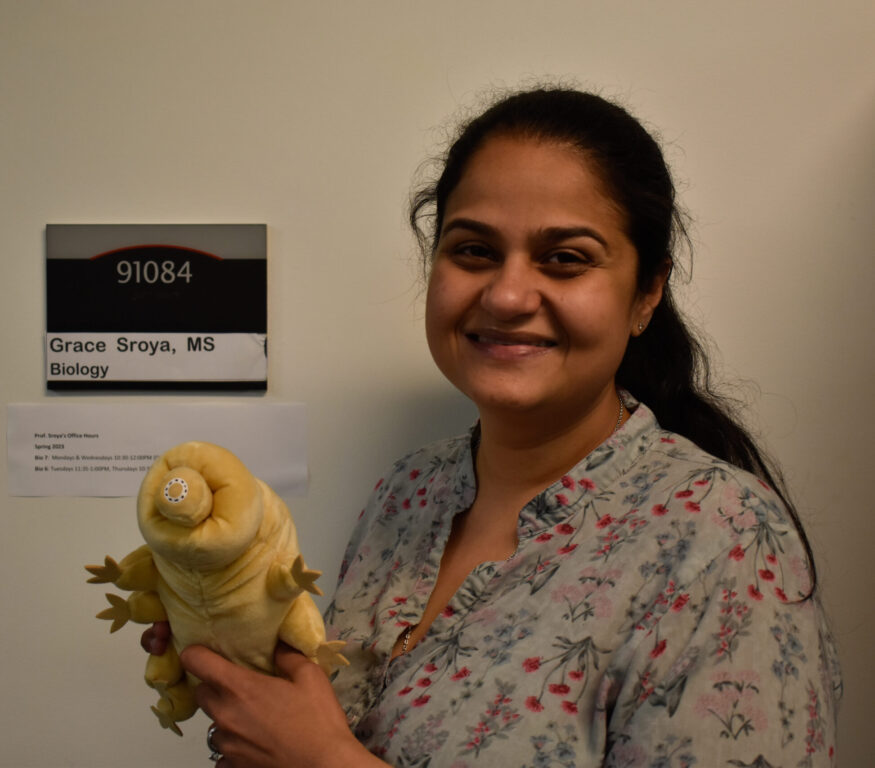 Her life changed when she took organic chemistry and met her best friend, now husband, Billy Stevens. They were stationed next to each other in the laboratory and after a meet-cute worthy of a romantic comedy script, they became friends. 
After eight years of friendship, the two started dating. A couple of years after that, they both returned to campus, and Stevens proposed to her in front of the college sign on Mason and Victory. 
"For me that was the best proposal," Sroya said. "It was where we met and it's a school that we loved so much, and still love so much."
The day they met in organic chemistry was Stevens' first class, but Sroya had been taking classes for a few semesters already. 
"I built the laboratory apparatus that day, and it flooded her lab," Stevens said. "I've always joked that my first words to her were, oh my god, I'm so sorry. Which was prophetically good practice for eventually being a husband."
Stevens said that if given the chance, he would flood Sroya's biochem lab all over again. 
"I just feel so blessed and privileged that I did walk into that classroom all those years ago," Stevens said. "Flooding the lab was an accident but it definitely got her attention."
At 16 years old, Sroya moved to Los Angeles from Singapore and began working on her associates degree. Compared to the more rigid educational experience of her homeland, Pierce felt like home and Sroya felt more empowered with choice in her educational goals. 
"My experience at Pierce was transformative," Sroya said. "The amount of support that I got from my professors here, it just really helped to boost my confidence and I had more belief in myself to do well."
At the time Pierce did not offer a science degree for transfer, so Sroya majored in Liberal Arts. She then transferred to UCLA, got her bachelor's degree in biochemistry and her masters degree in biotechnology.  
Throughout her career, teaching had always been calling to her. Starting out at the Center for Academic Success at Pierce, she tutored math and English. Then she taught subjects like math, chemistry and English to high school students. She even did a stint as a cancer researcher where she made time to mentor undergraduate students during the summer months. No matter where she was, she always made time for teaching.  
"Teaching is just second nature to me," Sroya said. "I love being able to explain, to be able to guide and interact with my students."
Sroya wanted to teach at Pierce but because she was not a resident, she was unable to apply. Eventually, she got married and was able to apply through Project MATCH, a mentorship program for aspiring teachers through the Los Angeles Community College District. She got in and was paired up with Professor of Biology and Chair of Life Sciences Shannon DeVaney, who ultimately helped Sroya get her first position as an adjunct professor of biology.
DeVaney said as a mentee Sroya was a hard worker who went above and beyond what was expected from a mentee in the program. 
"She paid close attention to what I did and asked questions about why I made the choices I made," DeVaney said. "To improve at anything, you have to have humility and understand that there is always more you can learn. She has that." 
Asking questions as part of the learning process was not something Sroya gained from her education in Singapore. 
"Here there's a more open minded way of learning where you can question things," Sroya explained. "In Singapore it's much different. You just accept what's being taught to you. You don't really ask questions."
During her time as a student at Pierce, Sroya said she learned how to question what she was learning. Now as an educator, she credits her experience as a Brahma with influencing her teaching style and understanding her students. 
"You need to be excited about answering questions, no matter how many come at you," Sroya said. "It's actually the interaction with the students that keeps me happy and excited. That's what I look forward to every day."