Communication majors at Pierce College saw sashes, smiles and celebration at their first-ever Sigma Chi Eta induction ceremony on Monday, laying the groundwork for future communication majors at Pierce.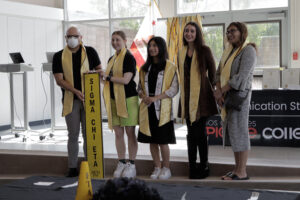 Pierce's Communication department held their first Honors Society chapter induction ceremony in Building 600. This specific chapter is called "Sigma Chi Eta" and is dedicated to communications students studying at community colleges. It allows students to become part of the program for life.
This ceremony was attended by students, communication professors, inductees, as well as interim president Ara Aguiar. It was organized by Communications Professor Christine Ersig-Marcus and communication department chair Yeprem Davoodian. 
This chapter is the first to be offered for Pierce students and has the potential to lead students to new opportunities as well as new systems of communication.
"It builds a community," Davoodian said. "The more they're connected with each other, the better that they are able to navigate through life, education, social connection, and social capital."
The ceremony inducted approximately 23 students into the chapter, five of which were able to attend in person. They recited a pledge to maintain good standing and strive toward leadership and academic success. 
Several communication professors also participated in this ceremony, including Professor Robert Loy.
"Every year, Sigma Chi Eta inducts and rewards outstanding students in communication," Loy said. "Once inducted, a student is a member for life and is expected to always strive for excellence in all they do."
After the ceremony, the inductees received a certificate, Sigma Chi Eta sash, T-shirt and lapel pins. 
A large benefactor of this chapter was the Brownlee Family, including Professor Michelle Brownlee. They support Pierce students because of the way that Pierce has impacted Brownlee's life.
"My family does have a passion for supporting this department, because of what this department did for me a number of years ago," Brownlee said. "These lovely faculty members from this wonderful program really gave me a sense of direction, and helped me find what I wanted to do. So my family wants to help continue the support of all these wonderful students."
The students that participated in the induction ceremony wanted to find a sense of community and find ways to support and grow their communication skills. 
One inductee, Devorah Kerendian, expanded more on what she was looking forward to in this program..
"I was looking for a community of like minded individuals," Kerendian said. "People who share the same values and are interested in the same things, and I feel like we found that."
Another inductee, Isabella Bitran, discussed more about her love for communications and what makes it important.
"It's such a vast subject, I'm not stuck doing one thing," Bitran said. "Learning how to communicate is extremely important. Being able to advocate for yourself and communicate what you want to people is so important to get to where you want to be in life."
These skills that students in the program are learning are not only useful for communication degrees but can also be helpful in many different areas of interest. 
Inductee Gianna Ciccone shared her thoughts on the importance of having communication skills.
"It's a skill that can be applied no matter where you go or what field you're in," Ciccone said. "I think it's something a lot of people overlook because they think communicating is just talking, but there's so much more to it, and it's really nice because you can always sharpen up those skills."