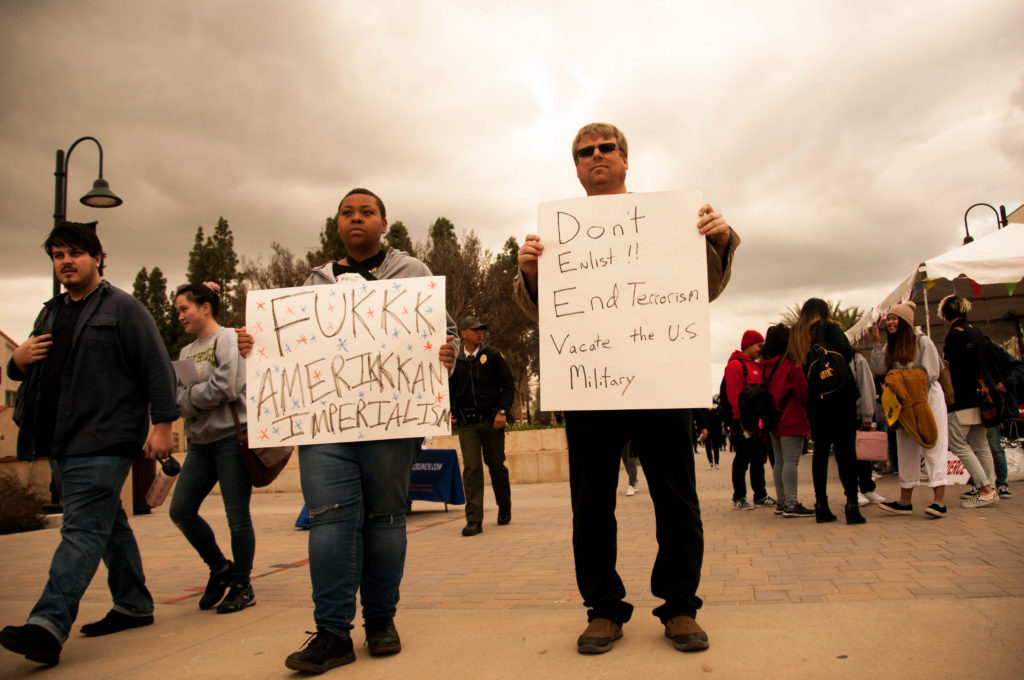 Pierce College has expanded its free speech zone, which is open to the public, and it added three speech areas that are specifically for students.
The issue arose when Kevin Shaw, a Pierce student, filed a lawsuit.
The student speech zones are by the Arts Center, in front Alder and from the Library Learning Crossroads up to the Ginger building. The public free speech zone has been expanded along the Mall from the Mason entrance to the student drop off.
The free speech zones are open from 8:30 a.m. to 8:00 p.m., according to Los Angeles Community College District Administrative Regulation B-38.
Those not affiliated with LACCD are required to make their presence known to Student Services. They will be asked to fill out a "Los Angeles Community College District Free Speech Area Voluntary Acknowledgement Form." Although the form is voluntary, it is used for documentation and assessing the need for security, according to Regulation B-38.
There are restrictions within the free speech zone. People cannot use amplification, touch, or assault individuals, ask for donations, interfere with class, obstruct foot traffic or participate in illegal activities.
Interim President Larry Buckley supports the expansion of the free speech zones.
"I was kind of surprised that on a campus as big as ours, we had such a small, defined free speech area. The agreement we have, to expand it up and down the Mall and other places, is very suitable," Buckley said.
Buckley said the zones are both mandated and tradition. He said they're an important part of the culture within community colleges.
"It's a long tradition in the history in California colleges and universities, and free speech going back to the 1950s to ensure that the faculty, staff and community have an engaging place where they can exercise their first amendment rights," Buckley said. "Free speech zones were created with the idea that they're in a center place where people on campus can connect to them."
Buckley said his one concern regarding the free speech is regulating the noise.
"I don't want classes disrupted," Buckley said. "I worry a little bit about if people can hear inside of classrooms and are disturbed. Nothing like that has happened. Knock on wood, it won't."
Denise Robb, a political science professor, believes that this benefits students, giving them more space to exercise their first amendment right.
Robb said students will have a bigger opportunity to make their voices heard, because students will be able to differentiate between those who are students and the public.
"They get to hear different opinions from different points of view," Robb said. "They'll be heard because they'll be in areas where there's more foot traffic."
Although some people agree with the changes made to the free speech zone, some people wonder why we have one at all. Some students believe free speech should not be limited to one or more sections of the campus, rather free speech should be exercised throughout without restrictions.
Manon Guijarro, a studio arts major, said designated zones for free speech contradicts freedom of speech and believes it may have a negative impact on the first amendment rights of students.
"I think that hinders the whole point, sectioning people off. If you're giving us free speech, why would you put us in a certain section," Guijarro said.
Victoria Schron, a vet tech major, said the free speech zones give students a space to express their opinions.
"I think it would be good to have separate ones because then there's twice the opportunity to make your point heard," Schron said.
Robb believes the case was made stronger with the help of the Attorney General.
"I think that it was a winning case. I think that the Attorney General, maybe, joined in and it seemed to work," Robb said
The newly appointed free speech zone sections for students and the public can be found on the updated Pierce College map.
"I am glad that they decided to expand the free speech zone because we have 428 acres and a tiny little free speech zone," Robb said.
Robb believes that having seperate free speech zones will not have a negative effect in students' rights.
"The first amendment was done for us, there are some countries where your hauled away in the middle of the night for speaking your mind. In this country you can even sue to get more space to speak your mind," Robb said.