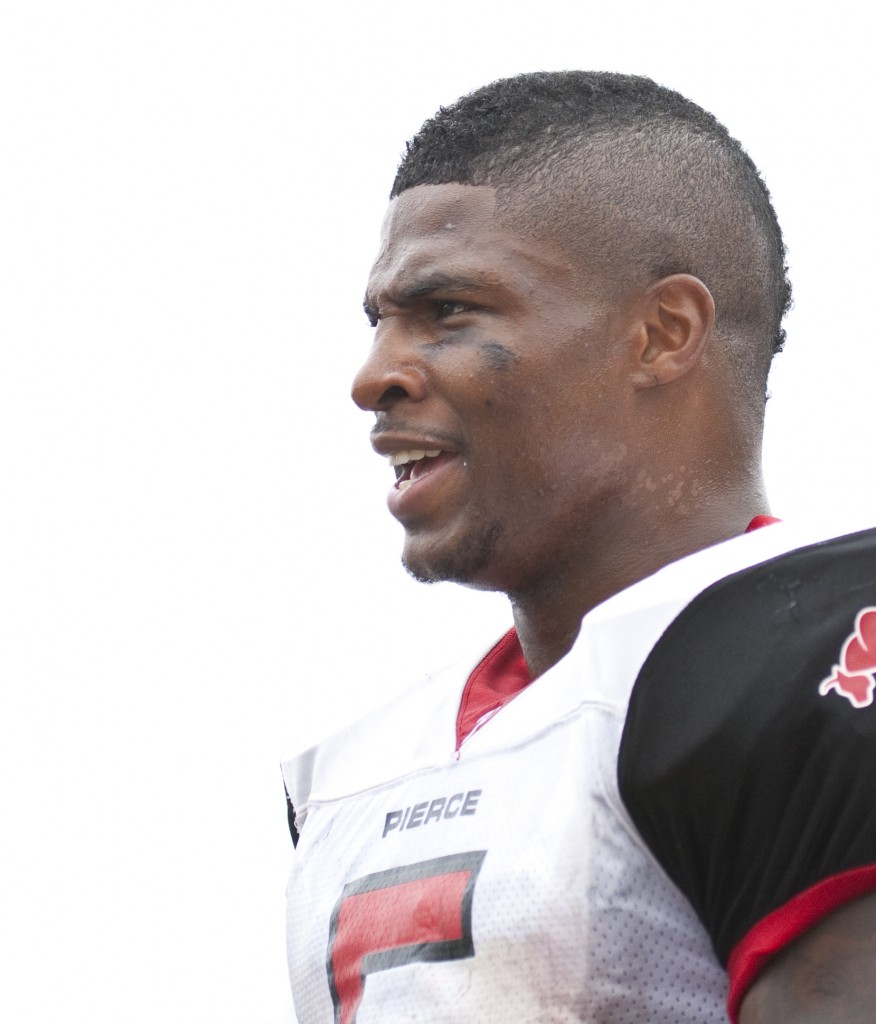 As night fell in the streets of New Jersey on Sept. 6, 2009, gunshots rang out and 22-year-old Gregory Wanamaker got hit by six bullets while five of his friends were struck by gunfire.
The bullets pierced through both of his kneecaps and broke his right fibula.
"I was just in the wrong place at the wrong time," said Wanamaker.
The insurance company was only able to cover his stay in the hospital for one night; he left the hospital with two bullets still lodged in his fibula.
Now, in his second year at Pierce, Wanamaker is blossoming into a star at the running back position.
"He is a hard runner, who is not afraid to hit or get hit," said Pierce College assistant head coach and running back coach Jason Sabolic.
He started playing football at the age of seven in his hometown of Camden, New Jersey.
Wanamaker's high school football career got off to a rocky start when he tore his ACL and MCL in a scrimmage before his first career game as a freshman on varsity.
"I love to overcome adversity," he said.
Running back was not the only position that Wanamaker played in high school as he also played linebacker and excelled at it.
A three time all-state player at both the running back and line backer positions in his career in high school.
"Anything that he puts his mind to he can do it," said Pierce football head coach Efrain Martinez. "He is one of the strongest individuals I have ever met."
The prep school Wanamaker attended since he was in kindergarten was a scam, so he could not receive any division one scholarships because he never had the proper English or math requirements.
Wanamaker's first career start in college was kind of like the rest of his career in football, another injury that sidelined him for the year.
"I couldn't cry or nothing, I was just so frustrated," he said. "I thought to myself I have to go through this whole wheel chair process again on my leg."
He broke his left fibula in the third week of the 2010 season on the road against Fullerton College.
A metal rod and two screws were placed in his leg because of this.
Doctors told him that he might not be able to play again, and even if he did it might take up to three years for him to play again.
"Teammates of mine talked about me saying I couldn't come back, coaches doubted me also saying there is no way I could come back," said Wanamaker.  "Every time I worked out, or did my therapy that would always stay in the back of my mind and it fueled me to prove all my doubters wrong."
Wanamaker had many offers from junior colleges in the east coast that wanted him to be the face of their school.
"I chose to come to Pierce because I knew I wouldn't be the starter, and that I would have to work my way from the bottom of the depth chart to the top," he said. "I don't shy away from anything, I love a challenge."
Being a team player is what Wanamaker stands for and he prides himself on it.
"He is a vocal leader, as well as an inspiration to his teammates," said Sabolic.
Not only does he inspire his teammates but he also wishes to inspire his family.
"I got little nephews and nieces that look up to me and I enjoy being their role model," said Wanamaker.
According to both coaches Efrain Martinez and Jason Sabolic, they have never seen a athlete who has persevered through so much and never quit after everything Wanamaker has been through.
"Everything I've been through, all the struggles is what drives me every day to become the best I can be," he said.