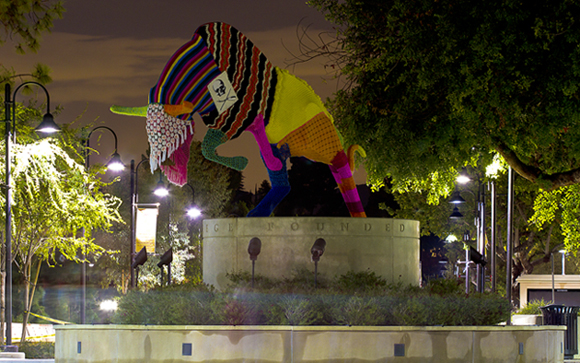 Is it a pinata? Did a giant lose their sweater? No, It's the Brahma Bull Statue decorated in vibrantly colored crocheted yarn from head to hoof.
The Brahma Bull statue was given a colorful sweater to keep it warm as were several trees lining the Grand Staircase during an explosion of yarn, in an effort to visually and metaphorically stitch the campus together.
Brian and Christy Chambers, along with members of the Pierce Community and the Los Angeles Yarn Collective created the site-specific installation in this, their latest yarn graffiti exhibit.
"I'm really motivated by the absurdity of it," said Christy Chambers. "No one can walk by and not laugh at this."
The bright colors are meant to catch the eye of passersby and draw their attention up the art hill to the rest of the exhibit.  Monika Del Bosque, instructor of arts, said she hopes the exhibit will draw attention to the art hill and help connect it the rest of campus.
Kathleen Burke-Kelly, Pierce College President, was among the people who donated hand knitted tree collars for their exhibit.
"It's part of being on campus," said Burke-Kelly.  "Why wouldn't I support the community?"
The term yarn bombing or yarn graffiti is an extension of street art which it-self grew from graffiti artists.
"Yarn bombing right now is a very hip happening thing," said Monika Del Bosque, Pierce Art Gallery Director. "If I waited another year or a couple years, for more funding it might not be so relevant."
Street art has gone through many stages, Chambers explained. Street art, which first grew from graffiti that people used to claim territory, can include a variety of forms including mosaics, murals, stencil art and yarn bombing.
"You have to divorce yourself from this thing that you spend a lot of time on and then wrap it around a trash can," said Chambers. "Someone will eventually come and tear it off."
The bull's sweater was created by the up-cycling of old afghan blankets. This art symbolizes the recycling of something old into something new. The horns and tail were pre-fabricated by the Chambers, taking two months of effort.
The artwork, which will be on display through Dec. 10, meanders up the Grand Staircase and leads to the Art Gallery where more of the Chambers' work will be on display.
The couple will lead a discussion on their artwork and the inspiration behind it Thursday in the Great Hall with a reception to be hosted in the gallery.
Katelyn Dorroh, a member of the Los Angeles Yarn Collective who helped create the installation, knitted together old scarves from her first crochet projects in an effort to showcase her handmade work. She considers handmade products superior to products made in factories by corporations.
Darlyn Yee, another Yarn Collective member, said she enjoyed crocheting and knitting because fabric was her medium of choice.
"I can express myself in fiber or fabric better than anything else," Yee said. "It didn't matter what the fabric would be when it grew up."