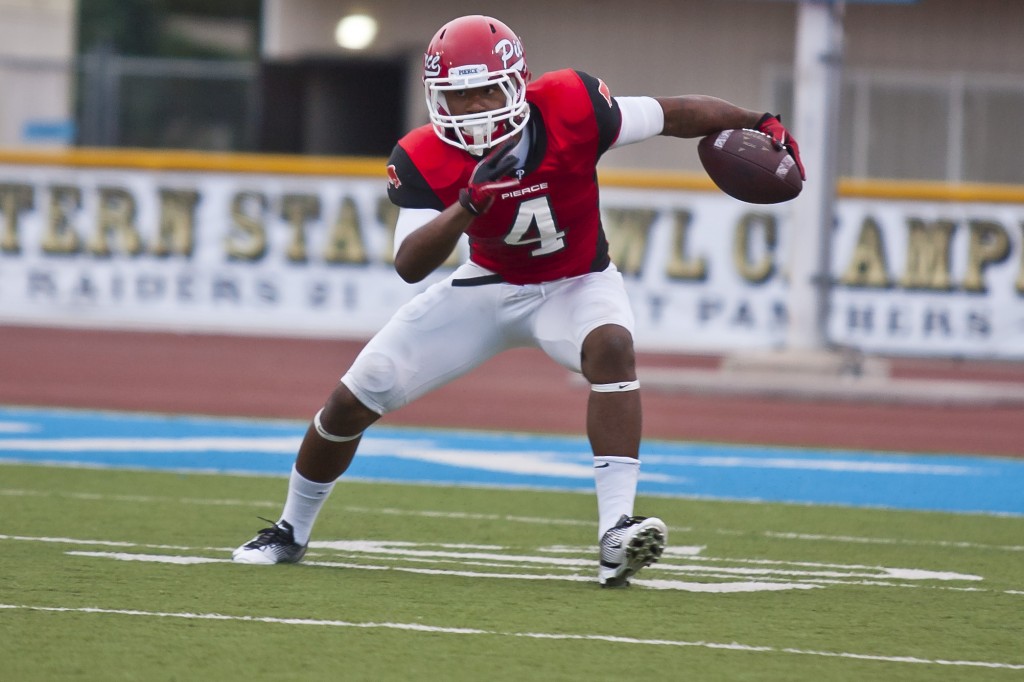 He moved to the San Fernando Valley at 20 with the dazzling dream of playing professional football, because that is what he loves.
Coming June 2012, Gerald Bowman will be one step closer to his goal.
At the age of 22, Bowman is a five-star safety recruited by the University of Southern California (USC), and, at the same time, holds a full scholarship to the prestigious university.
"I knew I'll do whatever it takes to get a scholarship to play," he said. "I came out here with a lot of work ethic and dedication. I just wanted the opportunity."
After more than a year of playing with the Pierce College Brahmas, Bowman's skills justified offers from universities in Arizona, California, Colorado, Kansas, Florida, Nebraska, New Mexico, Oklahoma, Oregon, Tennessee, Utah, Washington, and West Virginia.
"I could tell he was special early in the season," said Pierce football head coach Efrain Martinez. "He's the best safety player we ever had here at Pierce."
At first, Bowman was not sure which four-year university he wanted to attend.
"I didn't decide to go to USC right after getting the offer," he said. "It was a process. I made sure to look into other places and make the decision based on where I feel is best for me to go."
Bowman started playing football in Philadelphia when he was 9 years old. And it has been his passion ever since.
"Football to me is more than just a sport," he said. "It teaches me so much more than just how to play."
He appreciates the tools and skills that he was given at Pierce.
"[Pierce football] is one of the up-and-coming programs," he said. "They still need to work on their togetherness and the way they run practices, but the coaches are great people who would bend over backwards for us."
Bowman advises players to take advantage of football to learn self discipline and teamwork.
"Knowing that other people rely on you, and you can work with them toward a goal has given me so much," he said. "That's why I love this sport."
Bowman hopes to fit in with the Trojans as soon as possible, make an impact on the team and still devote enough time to his studies.
"He completely deserves this," said Donta Clanton, Pierce football player who grew up playing with Bowman in Philadelphia. "He worked hard, he was dedicated, he's a good athlete and a great person."
"I'll miss it here, it's been good," Bowman said.