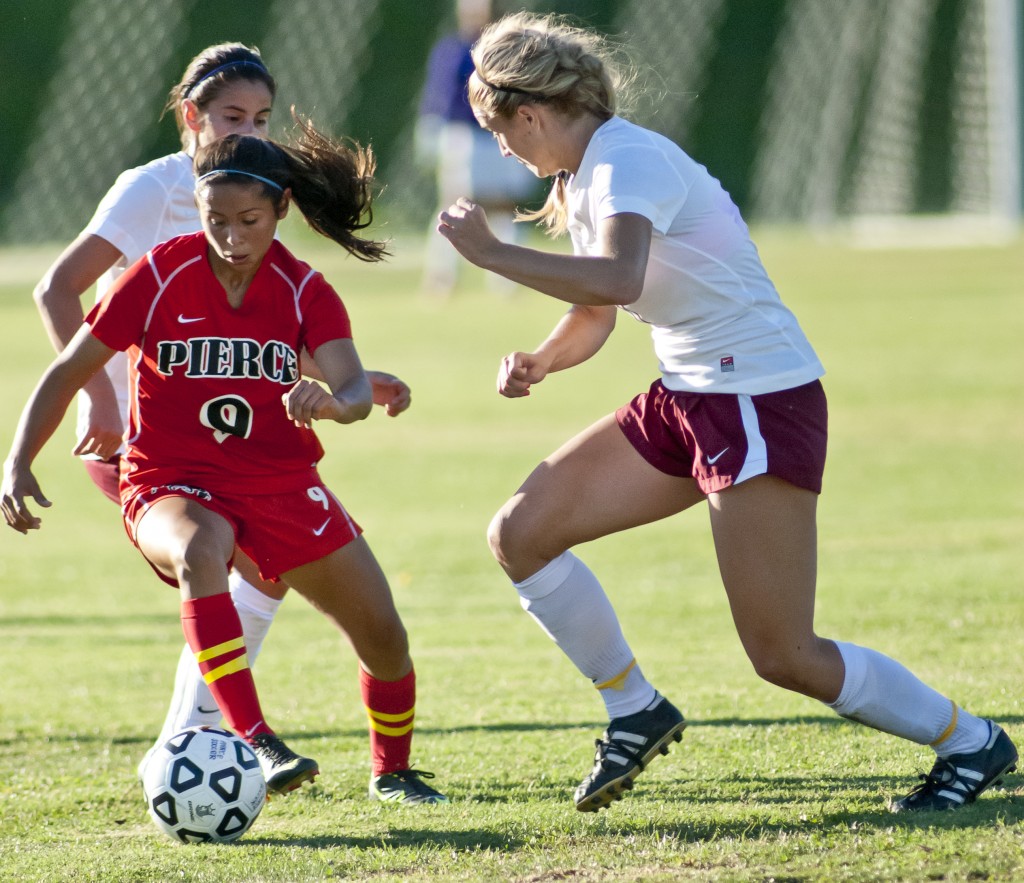 The Pierce College women's soccer team defeated Pasadena City College 3-2 Tuesday in a heated battle in The Pit.
Freshman forward Jacqueline Hilario led the Brahmas with two of the three goals.
The two goals gave Hilario a total of six goals in Pierce's five games so far this season.
Pierce head coach Adolfo Perez was very pleased with his team's victory, but felt that there is still room for improvement.
"Our team needs to be more consistent, and finish on all opportunities," Perez said. "We had many chances to score, but we just did not finish."
Hilario got the scoring started with a goal within the first 15 minutes of the game, but Pasadena quickly responded with a goal of their own.
Freshman forward Shawnie Moore put the Brahmas back into the lead with a goal of her own and Hilario scored a third shortly after, giving the Brahmas a 3-1 lead going into halftime.
That's where the score stayed until Pasadena scored in stoppage time, but they did not have enough time to find an equalizer.
Even with the hot sun glaring down on The Pit, both teams were able to stay composed and deliver results.
"The heat takes a toll on us in the game, but we like not to worry about how hot it is and just focus on winning," said Moore.
The other big highlight from the second half of the game came when Hilario was cut under her left eye after she collided with a Pasadena defender.
As Hilario and Pasadena defender Mackenzie Winslow jumped for a ball in the air, Winslow's elbow caught Hilario under the left cheek, leaving a large gash.
Hilario was forced out of the game and taken to the emergency where she received five stitches, according to Perez.
Perez said he was unaware of Hilario's status for Friday's game against Santa Barbara.
"She's fifty-fifty as of right now," Perez said in a phone interview on Wednesday. "I haven't seen her yet, so I don't know the full extent of the damage."
Hilario's injury has affected the team in a big way, but that won't stop the Brahmas from preparing for Santa Barbara, according to sophomore goalkeeper April Russell.
"Seeing Jacqueline injured is heartbreaking," Russell said. "She plays a big role on our team and we would like to see her back for Santa Barbara."
The Brahmas' game against Santa Barbara will be at 3 p.m. Friday in The Pit.
To stay updated on this and other news visit www.theroundupnews.com for more information.