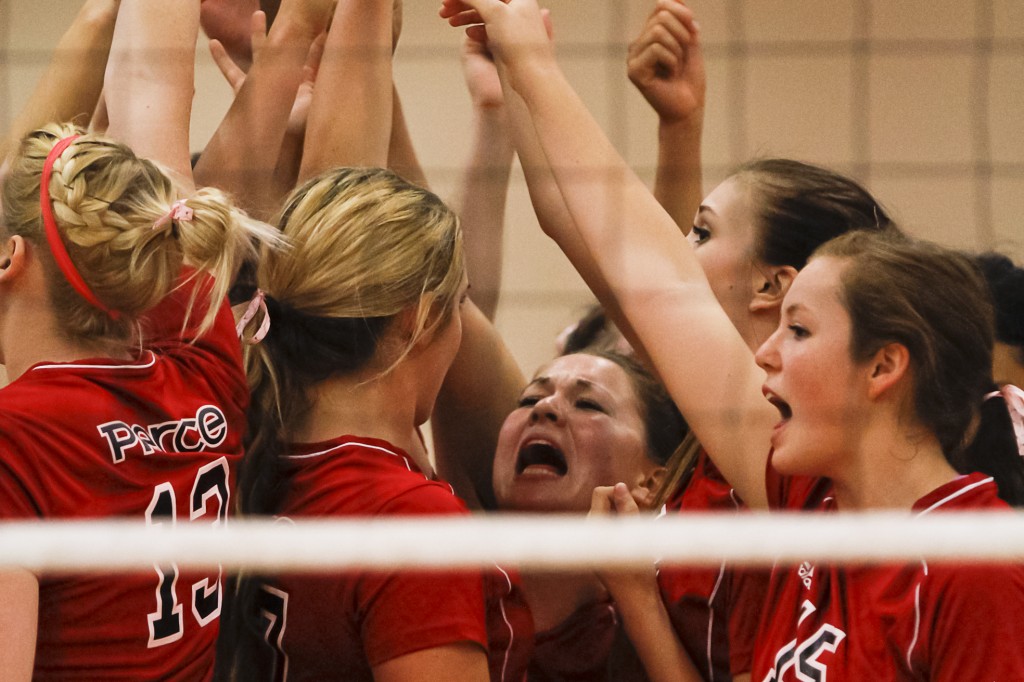 Pierce College's women's volleyball team claimed its 51st consecutive victory Wednesday night, defeating Glendale College in South Gym.
The Brahmas scored more than twice as many points as their opponents and swept the match's three games (25-15, 25-9, 25-13).
Kira Guarino, a freshman opposite hitter who helped out with three kills, said that the team's spirit and attitude were primed for the game.
"We had high energy and just really wanted to win," Guarino said.
Sophomore libero Brooke Dawson nailed down 17 kills while sophomore outside hitters Danetta Boykin and Sakurako Fujii both racked up a dozen of their own and two aces a piece. Sophomore setter Janelle Futch set it all up with 41 assists.
Head coach Nabil Mardini said that the team took the game as an opportunity to try out some new strategies before they reach the playoffs.
"We're making a lot subs, so it's hard to get a rhythm." Mardini said. "We're always looking for the right lineup. We're trying different things that they haven't seen yet. Switching positions and stuff like that."
The Brahmas' aggressive service tactics were also being honed at the game.
"I thought we served well, although we missed some," Mardini said. "But when you're serving aggressively, you're going to miss some."
The Brahmas were spent the first game gaining traction, according to Fujii.
"The beginning of the game was a little bit confusing, but it got better," Fujii said.
Dawson seconded this notion, saying, "We started off a little slow, but we picked up."
Dawson also disclosed that a goal of the team's was "to get one percent better" each time they play.
"We had really good practices this week," Dawson said. "We definitely got one percent better each practice."
Ashlea Smith, a middle and an opposite hitter who racked up three aces and three kills, knows she's on a winning team, but said it's important for the team to not rest on their laurels.
"We kept our game up even though they weren't as good of a team," Smith said. "A lot of teams tend to play down to other teams, but I think we played really well."
The Brahmas will host Santa Monica College for the annual "Spike Pink" match on Friday at 7 p.m. in South Gym, with all proceeds from the match going to breast cancer research.