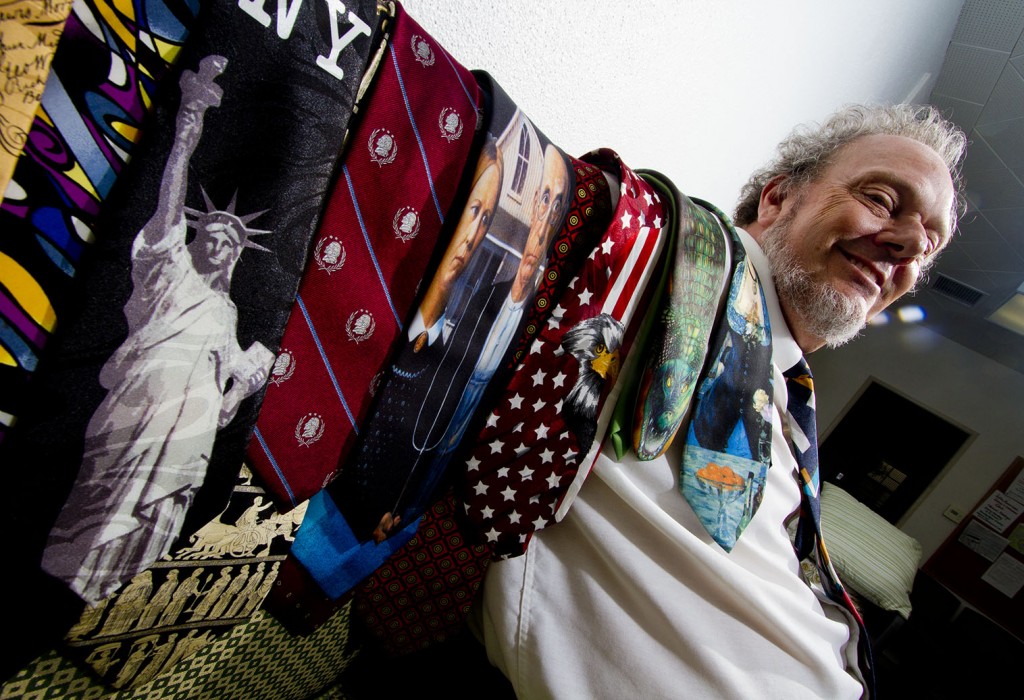 Richard McMillan has so many neckties that he hasn't worn the same one to work since the first day of the fall semester of 2010.
The only exception is a paisley-patterned navy necktie he has worn on the first day of each semester for the last 20 years.
"I just wanted to see how far I could go. I think I'm going to see this semester through without repeating a tie," McMillan—wearing a sky blue shirt, brown pants, and a blue-and-brown tie—said. "I don't know when it's going to end."
For the past 17 years that he has been teaching U.S. and Latin American history at Pierce College, McMillan, 59, has become known as "the guy with the tie" to both colleagues and students.
In fact, back when the administration building and the mailroom were located next to each other, he would often visit the secretaries to show them his tie du jour (or tie of the day), he said.
Neckties have been a staple in McMillan's wardrobe since 1989. Back then, he was a student teacher trying to get his teaching credentials.
In order to impress the principal of the school he was teaching at, he wore neckties to work.
"If you only have three neckties, it gets very boring," he said. "I was the only guy in the school who wore a necktie."
That's when his collection started.
"Wherever I go, I keep looking for neckties," he said. "I would get more and more and more and now it's insane. It became almost a sickness."
Despite McMillan's decision to wear a different tie each day he's at Pierce College, he doesn't know how many ties he owns.
"I'm not going to count them because if I do, it'll just tell me what a problem I have," he said.
McMillan has everything from novelty ties and regular ties to holiday- and history-themed ties. Some are gifts from friends and family, while others are unplanned purchases.
In addition to ensuring he is wearing the right ties for the right holiday, weekend event or historical lecture, he has a drawer full of pens to color coordinate with his ties.
"I spend much too much time thinking about my outfit. I really think it over," he said. "It would be wrong to wear a tie that doesn't match."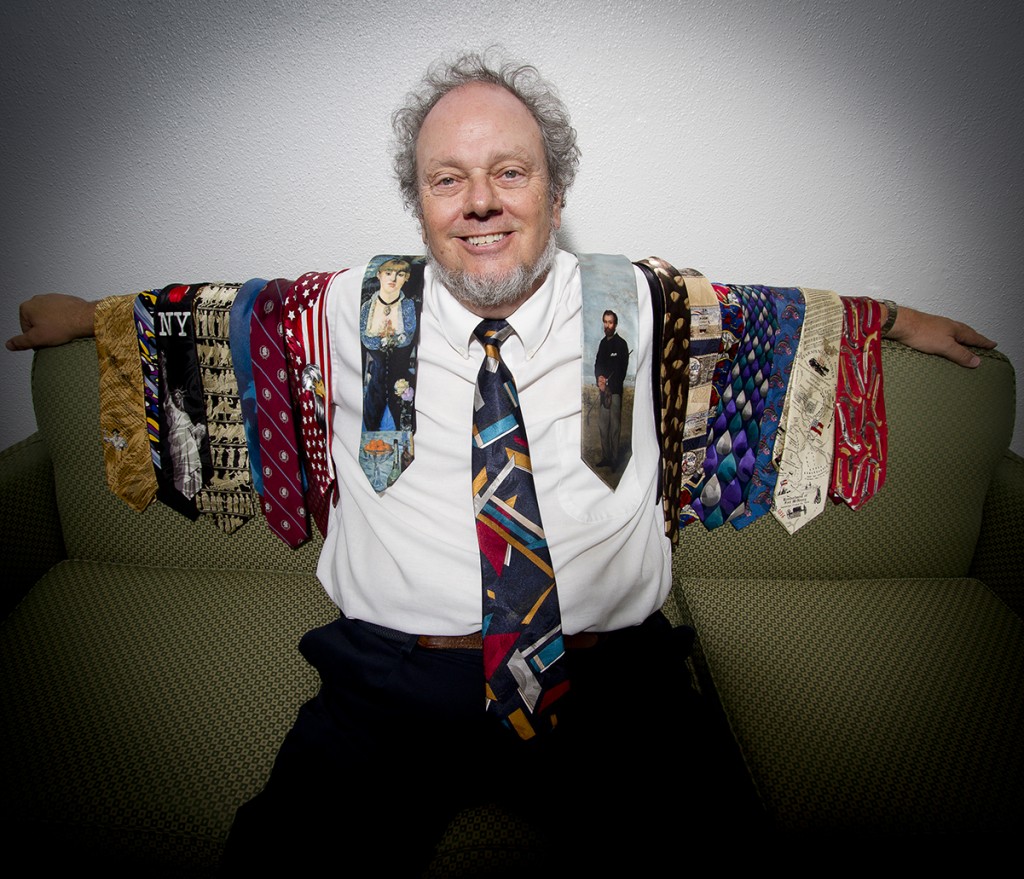 McMillan is so careful about his neckties that he keeps a spare one rolled up and tucked away in one of his desk drawers, just in case he accidentally stains his ties while he's at work.
He considers the brown, black, blue, and white striped necktie the "perfect tie" because he can wear it with any color combination he might have on his outfit for the day.
"That kinda tells you how I'm thinking about this," he said. "[It's like how] I have a spare tire for my car, I have a spare tie in my drawer."
Additionally, for one of his daughters' wedding, he went around with a swatch of her bridesmaid dress until he found the exact shade of purple for his necktie.
Instructor of English Richard Follett, who sometimes walks with McMillan to classes, thinks that his tie collection is "wonderful."
"Every professor is a little eccentric," he said.
McMillan's neckties, particularly the historical-themed ones he wears to accent particular lectures, is one of the ways he makes his classes enjoyable for his students.
"He seems like he cares a lot about the subject. He wants to make it entertaining for us," said Iqra Hamid, 20, one of McMillan's current students.
McMillan's love for ties sometimes gets him into uncomfortable situations, however. Once, while shopping for the holidays, someone—thinking that he worked at the department store—asked him where the shoe section was. McMillan said that the shopper got mad at his incompetence as an employee before she found out that he didn't work at the store.
"I think neckties carry over authority," McMillan said.
Because his fondness of neckties is well known, McMillan says that he occasionally gets ties from students, from thrift store novelty ties to "very nice" ties.
"It hasn't improved their grades, though," he said with a laugh.