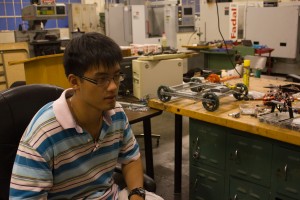 A small group passes a pair of robots around, each working on a small aspect of it before it moves on to another person.
The Pierce Robotics Club, preparing for Club Rush, is engaged in the creation of two robots they will show off during the coming week.
Pierce Robotics Club meets from 6 p.m. to 10 p.m. every Thursday in Room AT 3808.  There is no required knowledge or classes, and there are no membership fees, according to the president Yiran Tong.
"We learn about technology and do cool stuff," Tong said.
The club welcomes students from all majors; the only thing needed is an interest in robotics.
Club meetings are very organic in organization.  They range from entire sessions being dedicated to planning or building, to fundraising discussions, peer-conducted lectures, or even card games amongst friends if nothing else is on the agenda for the day.
James Azmoun formed the club in the fall semester of 2010.  His participation in his high school's robotics club gave him a thirst for more.
The club uses Vex Robotics parts and electronics to build many of their creations.
Vex also hosts competitions, though it is mainly on middle and high school levels.
Vice President Reza Ali has taken care of organizing many of the club's events, like the most recent Relay For Life event at Pierce College where they created a robot to walk with them.
"Vex Robotics is on a global scale," said Ali. "This competition is what drove James to create the club."
Unfortunately for the club, Vex Robotics competitions were lacking on a collegiate level.
"We try to get other colleges interested," Ali said.
With the lack of competition, the club turns to itself to learn more about the subject and their interests as a whole, and to the community as mentors for high school robotics clubs at El Camino Real and others.
Current plans for the club is an airplane competition, splitting the club in half and pitting the sides against each other to see which can plan and build the best plane.
They are pushing for funding, however, as there isn't much that can be done in the way of group projects without additional support.
The club's newly elected treasurer, Casey Spencer, was put into place because he had been handling much of the club's funds and donations in the first place.
"Hopefully we get funding," Spencer said. "That's what this all rests on."
Despite the halt on funding, they push on and encourage new members to join and learn, or even just drop by to see what goes on if they are interested.
"You don't have to know a thing about robotics," Spencer said. "We just want you to be interested."
Those interested should visit the club's booth during Club Rush this coming week, or simply join the club.
To join, attend the weekly meetings on Thursday from 6 p.m. to 10 p.m. in Room AT 3808.
To learn more about this and other clubs visit the ASO website at http://pierceaso.webs.com/clubs.htm