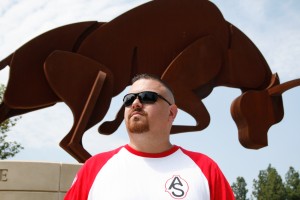 Gustavo "Gus" Sandoval, a 31-year-old sociology major, is in his first semester being Associated Students Organization president.
A former corporal in the Marines, Sandoval is trying to create change at Pierce College.
He has been a part-time student off and on at Pierce since 2004, he has seen a lot and now nine years later, is ready to make an impact.
"The first person to get me involved on campus was professor of Sociology Dr. James McKeever." Sandoval said. "It was McKeever that got be involved and got me into clubs. I joined sociology club, French club, the Black Student Union, Philosophy Club, Feminist Club and SOS Club. When I decided to become a senator I used the senate to connect our club."
McKeever talked about his former student how he thinks he'll make a great impact at Pierce.
"Sandoval is going to be the kind of guy that gives back to his community," McKeever said. "Whatever he does, he does to the best of his ability. When he was member of SOS, Gus took care of all the grimy details that nobody wanted to do. He'll probably be the greatest ASO president we've ever had."
Sandoval says during his tenure he wants to make Pierce a more student-friendly environment to improve campus life.
"There is no central location at Pierce to hang out," Sandoval said. "Other than the library and the Freudian Sip, where do students have to go? There needs to be a student lounge, a place where students can get together, interact and help each other."
Sandoval talked about the experience he had in the Marines being a corporal and how he uses his training in the military and apply at as being ASO president.
"The Marines taught me leadership and the attitude of getting it done," Sandoval said. "I like to be organized. In addition the marines also taught me soft skills. How to talk to people from different ranks, cultures and backgrounds and communicate in front of people."
Sandoval is already getting noticed at Pierce and many people feel that he was the right choice to lead the students this fall.
Alex Oloo, a 28-year-old student who is president of the Political Science Club as well as a senator, talked about Sandoval and the advice he received from the ASO president.
"Last semester Sandoval used to go to our club," Oloo said. "He gave us guidance on how to register our club and he told me how to become a senator."
Oloo is hopeful that Sandoval will be a success for the student body.
"I want him to become a voice for the students and help ASO accomplish his goals," Oloo said. "And I think he'll do that."