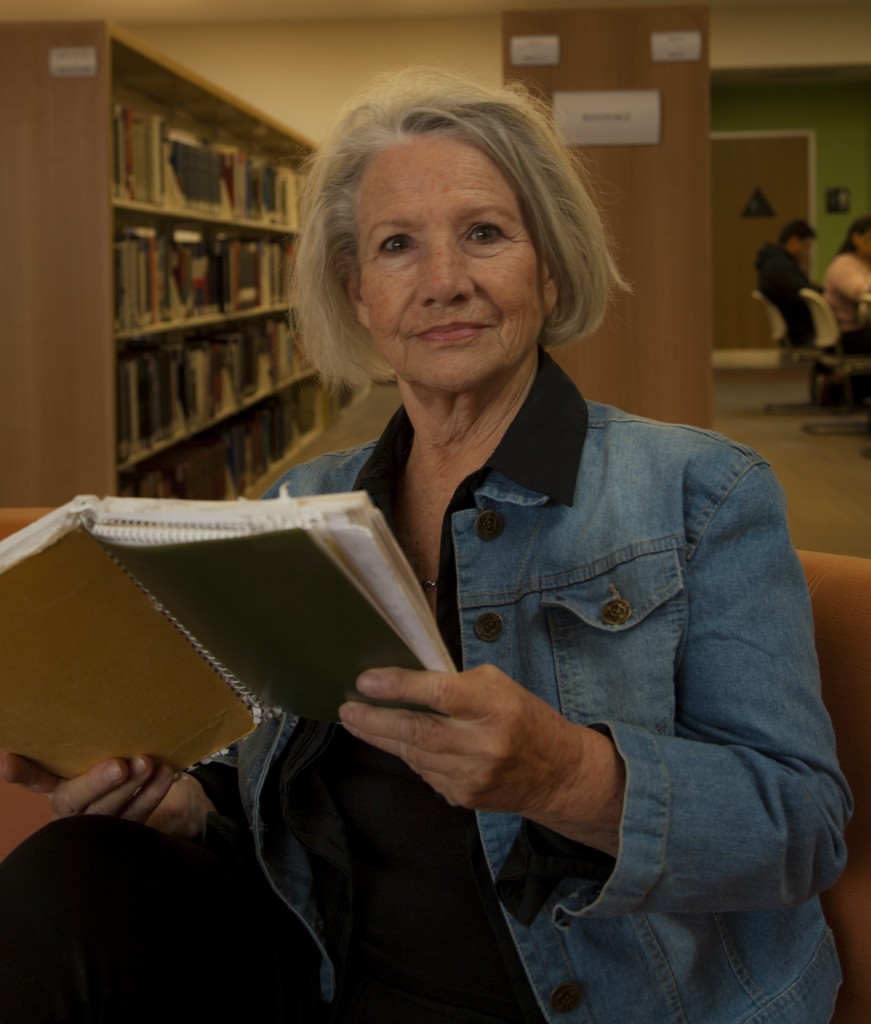 Wearing leggings, tennis shoes and a comfortable blouse with a jacket layered on top, Catherine Collins Campbell could be any other student at Pierce College, but her eyes and her spirit tells there is a lot more to her.
More than 69 years ago, Catherine was born in Nova Scotia, Canada. Her first job was working two years for the Department of Agriculture in Canada as a home economist.
"Leaving Nova Scotia, I moved to Vermont, Montreal, California, up to Seattle and Vancouver, then back down to California," Catherine said. "I found myself taking psychology in a University of California, Los Angeles extension course.
Catherine is a student in the ENCORE program at Pierce. She heard about the program through people older than her, she said.
ENCORE is aimed at assisting older students with their desire to go back to school, according to the program's website.
The program offers free non-credit courses that focus primarily on the interests of the students that it caters to.
She owns up to being an opinionated armchair social psychologist, even after getting her degree in nutrition.
Catherine has had a varied career: a nutritionist, food stylist for television commercials, daily columnist in vegan nutrition for Healthy Choices, European fashion buyer, film acquisition for online streaming, talent agent, and social networking for film distribution.
"I loved them all, but none more than my latest passion as a playwright," Catherine said.
She has been volunteering in her avocation — the theater — while being the sole support of her son, Carey Campbell.
"Plays just come to me," Catherine said. "But the rewriting is a ton of work."
It took her 12 years to teach herself to write her first play, "Love in the Time of Witch Hunts." It was inspired by a short story she found while reading Ms. Magazine.
"I put it in my safety deposit box. Then I started writing around this short story," Catherine said.
It took her ten years to get the rights for the story.
Now Catherine works on eight to ten plays in progress, depending on her mood or the news of the day. She names Tennessee Williams and Bertolt Brecht as her favorite playwrights.
"I grew up in Santa Monica in the neighborhood of the Odyssey Theater.  My mother was a director's assistant," said Carey. "I grew up backstage."
Carey is also a writer and is completing a documentary, "Back to the Garden."
Happily preparing for her last career, a life in the theater, she is excited about her theater class with instructor Gene Putnam.
"He is so skilled in all aspects of theater having taught and directed full blown plays." Catherine said.
She draws inspiration from the women of the world.
"I love to hear the diverse voices of women around the world. Interestingly, women in countries under siege are the most prolific. I'm grateful to have playwriting to fill my retiring years. It is especially joyful work and these political times are so juicy."
Dawn Garvin, one of Catherine's classmates, sees the passion that goes into her play writing.
"I know that she's been writing for years," she said. "She's on that computer all the time. I think that's her real passion."