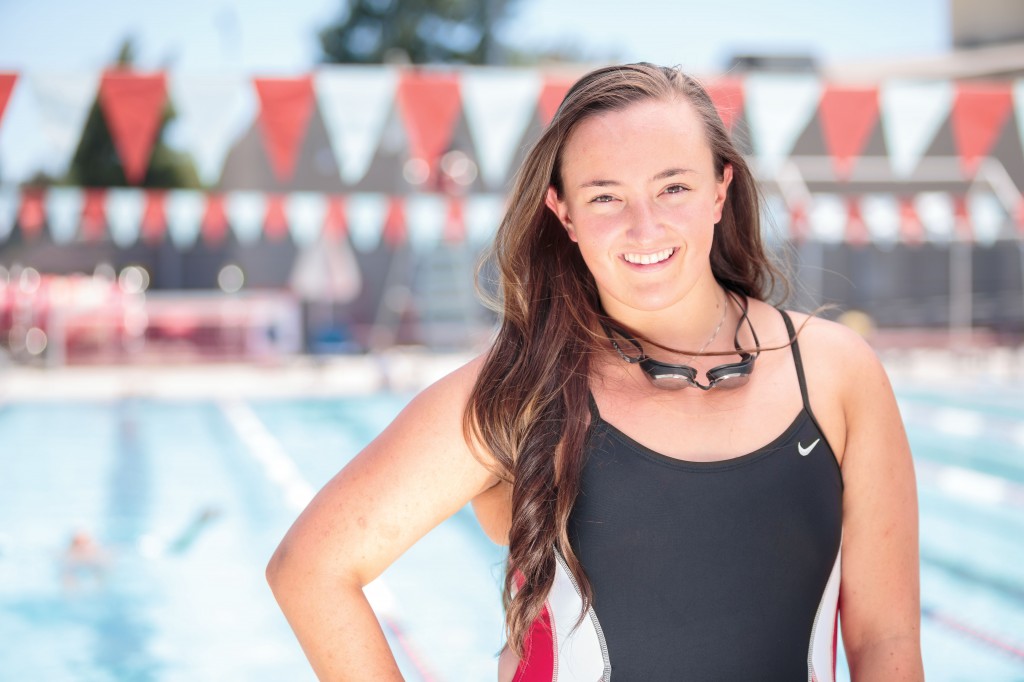 If it wasn't for the dog she might not have learned to swim. Since she was young she loved the water, but never actually learned how to swim until she got a little push.
"The way I learned how to swim is when I was four or five a dog pushed me in the water and I learned how to swim that way by getting out. Survival of the fittest, right," said second year Pierce College student Chiara Perbil.
Perbil, 20, is a communications major and was a reporter for the Roundup last semester but decided to focus on swimming, as this was to be her final year on the team.
"For any sport at the school you can only compete for two years so this was my last season that I just finished," Perbil said. "It was emotional because coming into my last year I wanted to do better than I did last year. I was doing really well up until the point that I got sick."
She got a duel ear infection with a sinus infection and she said if she didn't take care of it, she could have had hearing problems.
"We had swimming on a Monday and I had a sinus infection and I didn't know it," Perbil said. "Because of the pressure it caused a lot more damage so when I went home I had to go to the ER."
Perbil had to stay out of the water for three weeks, missing two swim meets during that time.
"My coaches were like, 'When are you coming back? We need you,' and then my doctor said, 'If you don't listen to us and you get back in the water you can cause reinfection and it can cause hearing problems.' So it was scary," Perbil said.
Perbil was able to make a full recovery and is ready for her new position as a lifeguard for the Pierce College pool.
"During the summer it's going to be very busy," Perbil said. "There's going to be swim camps for kids. We supervise the kids and we can even teach classes."
Deborah Hefter, 28, is the swimming pool supervisor for Pierce and conducts the lifeguard training.
"They are required to take a lifeguard training course with me where we cover CPR, first aid, they learn about water rescues, about back boarding and ambulatory and in-water back boarding," Hefter said. "During the summer we have swim lessons. Usually we'll have about 300 students per day. We run about seven classes and I have two instructors per class so that's 14 just teaching plus I have another five or six on deck running towers, running deck rotation, checking people in. It's a pretty massive operation during the summer."
Currently there are 30 lifeguards on staff with another 20 expected to begin soon. The process of becoming a lifeguard began in November said Regina Agopian, 18, a political science major and future lifeguard.
"We've been training on Saturdays for like six hours since March," Agopian said. "Technically our evaluation and interview was in November. They had some stuff for us to do in the pool."
Agopian has known Perbil since they were in vocal assemble in junior year in high school. Perbil still enjoys singing, as well as photography. Perbil hopes to continue swimming at a university in the near future.
"I want to go to Cal Lutheran so hopefully I can go there," Perbil said. "They have a club team and an actual swim team."
She also has been riding horses since she was 10 years old. She has less time to ride these days but tries to put in some time and stay as active as she can.
"With swim team and school it's hard, so sometimes I'll just go and ride with a friend or something. I don't go often but it's always nice when you have the chance to get on a horse and just be free roaming," Perbil said. "I just like being an active person. If I'm not in the water I have to be doing something, so either that or the gym. I can't just sit there."