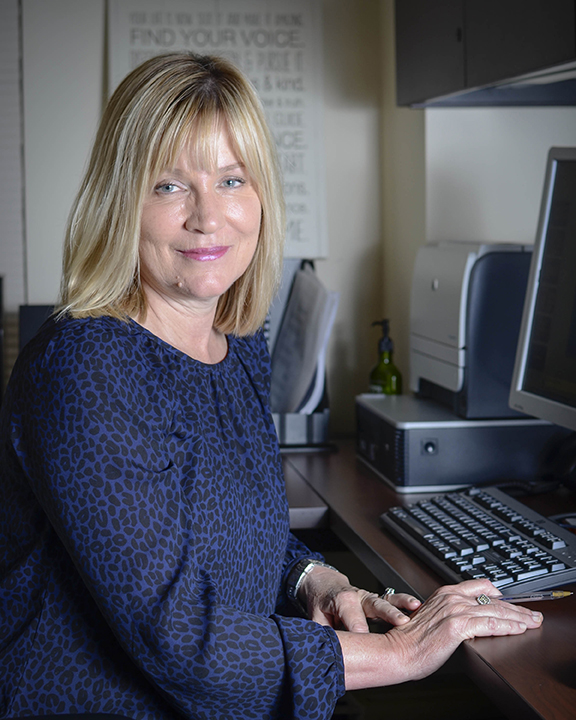 C
asually strolling through the lobby while organizing the pile of transfer papers, this bright blue eyed, and soft spoken east coast native waits patiently for students to drop-in for their counseling session.
For many students meeting a counselor can be stressful, from not knowing which classes to take, to making sure their transfer applications are complete but for counselor Norine Fine it can all be easily clarified.
As a native from Buffalo, New York, Fine finds the laid back Southern Calfornia atmosphere a lot more relaxed than the fast-paced New York environment.
"It's a lot more relaxed and casual than back east," said Fine.
In her spare time Fine enjoys a good read as she catches up on a few paragraphs here and there.
"I like fiction but I also do some autobiographies," Fine said.
She also enjoys listening to audiobooks as she remembers a time when she used to commute an travel form place to place she listened to new reads in her vehicle.
"I did a lot of audiobooks," Fine said.
Finding  time for herself can be difficult to do at times but for Fine whenever she gets a chance she enjoys to swing dancing with her husband whenever she's off the clock.
"I do west coast swing," said Fine.
Although she might break a sweat on the dance floor with her twist and turns, Fine also has enough experience handling educational plans and organizing student transfers.
In terms of blending in with the rest of the counseling staff, Fine quickly fit in with everyone right away, according to Department Chair of Counseling, Rudy Dompé.
"It was a pretty easy assimilation to the counseling department," Dompé said.
With a bachelor's degree in business management from Pepperdine University and a master's in guidance counseling from Cal Lutheran University, Fine is equipped to help students with academic advisement.
"I could just tell it was a more involved process working at a community college," Fine said.
Prior to coming to Pierce, Fine worked in admissions and recruitment for a private university.     She was influenced by a friend who worked for a community college to go backto school for her master's.
"They're no longer around but I worked at Warren National University and I was there for 13 years," said Fine.
According to Fine, working for a private university like Warren National University they focused on a small scale of programs offered to their students.
While in a community college each student comes from a different background and with their own goals in mind.
"You're working with all different students of all different ages and stages of their life," said Fine.
Students attending a community college come for different reasons like to obtain their associates degree or to develop their work experience  by taking a computer course.
"Transferring right now is so complicated and it's so competitive that it's important to have some guide posts on what really needs to be done," Fine said.
Adding classes at Pierce may not always be easy for students to do but for Fine, she believes that the educational system needs to add more classes and offer more seats available to students who are trying to crash courses.
"The first semester the students usually are trying to get basic skills and get around the campus and transition," Fine said.
Fine suggests that all students should start thinking about their transfer goals and meet with a counselor as soon as they can to make sure they're on track by taking the correct courses needed to transfer.
While doing their own research,    students can start looking through possible schools that they might want to consider.
"I think that it's really important to have that check-in," Fine said.
Personally Fine recommends students to take their basic general education courses like english and math and get them out of the way as soon as they can.
"No matter what direction they're going in, they will more than likely need those courses," Fine said.
Even for a students that aren't sure on what they will want to do with their educational career Fine still recommends a student to take math, english and a personal development classes so they can reach their academic goal and have a head start.
"I totally recommend a college success class," Fine said.
She not only wants to see students reach their academic goals but also wants to make sure she finds time to help a student in anyway possible by answering all of  their questions before they leave her office.
"Whenever we have a student here in the lobby and she's off the clock or not on the schedule she is always willing to help," said student worker Kimiya Bastani.
Everyone has their rough days, and community college students seem to have the roughest when their trying to make their dreams a reality.
"I really enjoy that whole process and helping people make those connections," Fine said.