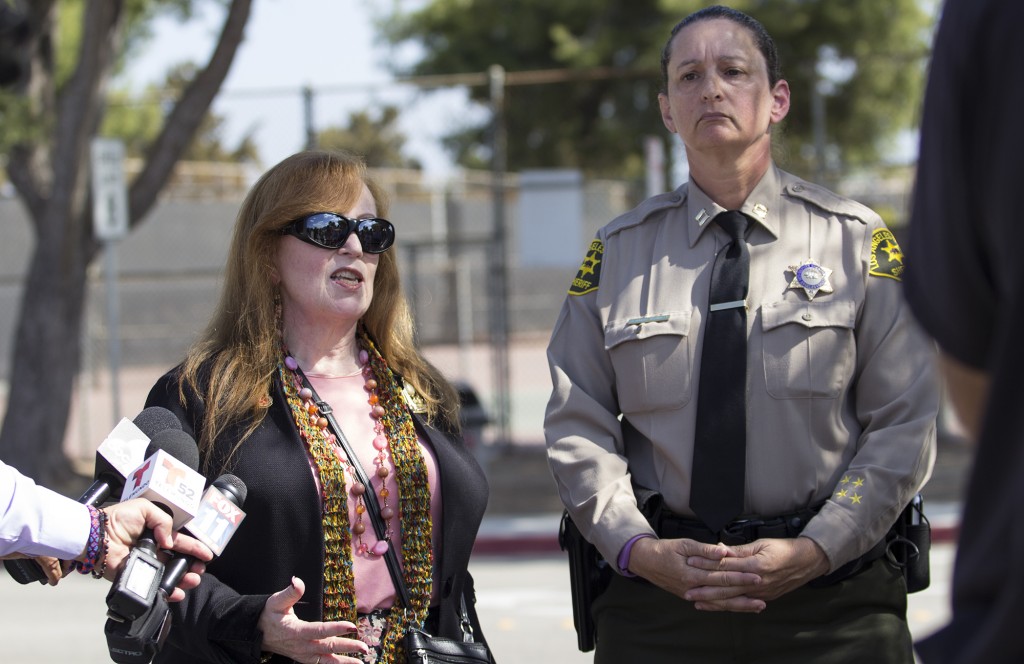 CORRECTION: The person Sergio Castanon Jr. was mis identified.
Updated: 4:35 p.m.
Just before classes were supposed to start at 8 a.m. Pierce College was evacuated after threatening posts were made on Facebook according to Los Angeles Sheriff's Department and campus officials.
"It was through the partnership of the campus, the Los Angeles Police Department, CHP was here multiple units from the sheriff's department and because of that collective action the suspect is now in custody," said Pierce College president Kathleen Burke.
At around 12:30 p.m. the suspect, Stephen Castanon Jr., 26,  was arrested off campus, according to Nicole Nishida, Los Angeles County Sheriff's Department public information officer.
"The campus was 100% safe," Cpt. Cheryl Newman-Tarwater of the Los Angeles sheriff's department said. "As soon as we determined that this was a significant credible threat, the partnership began with everyone including with the campus and all the agencies that were involved."
For Pierce College it was the second evacuation undertaken in just under a month after there was a call made that a person was suspected of driving around with a gun. The campus was put on lockdown, but no arrests were made.
"The campus was pretty much evacuated within the first 30-40 minutes," Burke said. "We do a lot of prep and training for these kinds of things so there is a level of confidence I think the faculty and staff have. When we say to go, they know we are serious about it."
There were many questions surrounding how Pierce would react to another evacuation after the last one was filled with multiple miscommunications. Some students were uninformed if there was a lockdown or an evacuation. There was one incident where the library was locked down and several students were left stranded.
This time around the campus was mostly empty other than people still trying to get on campus, or students whose cars were parked inside the school.
"We can always use improvement and we work (on improving evacuations) all the time," Burke said. "We notify students through our blackboard connect, through text messages and through phone calls."
20-year-old Omar Suarez who is an economics major at Pierce  was very disappointed after today's evacuation who had a big day of class planned ahead. After the evacuation however his classes were canceled.
"I had three classes today and I studied really hard for a test I had today," Suarez said. "This sucks."
The suspect's name has not been released yet, but the investigation is on going, according to Newman-Tarwater.