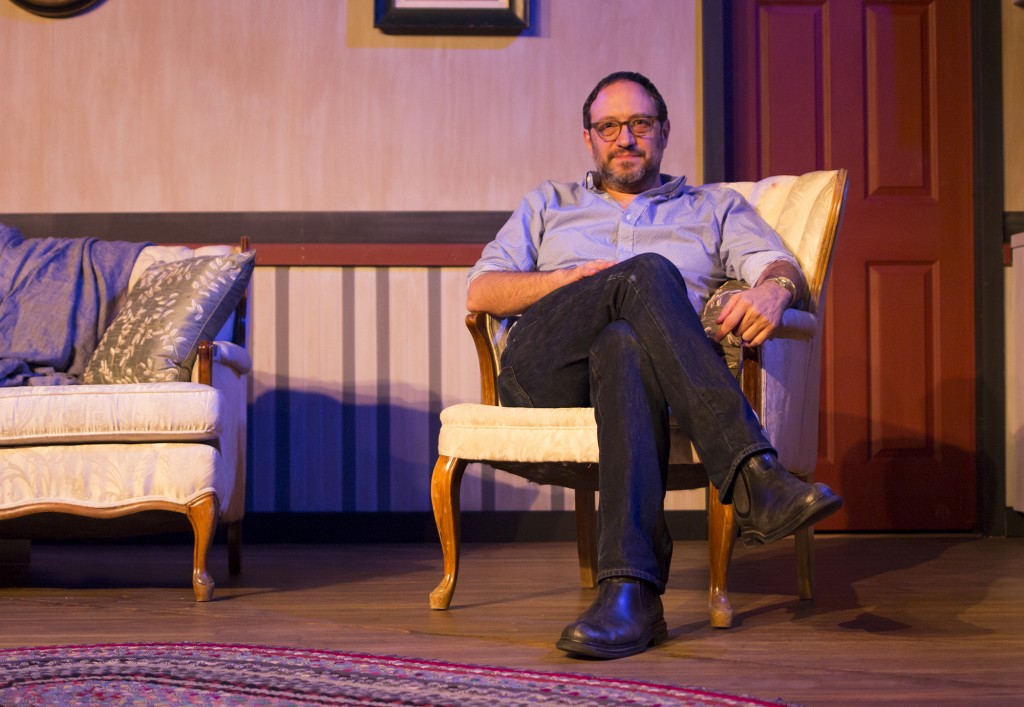 He walks into the dimly lit theater and there's a feeling of assurance that he is the director whose name is printed on the poster.
His dominating presence exudes experience and passion for the art of theater.
Robert Cucuzza, the "master of mayhem" according to The New York Times, is an actor, filmmaker, acting teacher, and director.
Cucuzza teaches Introduction to the Theater at Pierce College, where he also directs plays such as For This Moment Alone, which premiered on Friday, Oct. 24.
Cucuzza is from Bradford, Pa. and lived in New York for 16 years before moving to Los Angeles about six years ago.
He started out as an actor at Carnegie Mellon in Pittsburgh, Pa. where he received a bachelor of fine arts in literary and cultural studies with a minor in theater in 1990.
During his career at Mellon, Cucuzza always knew there was something else he wanted to do.
"I started out as an actor at Carnegie Mellon and then I left that program," Cucuzza said. "I knew there was something else I wanted to be doing but I wasn't sure what. Then I realized after studying English for a while, that I was more interested in being a director than an actor."
It took Cucuzza some time to figure out that he wanted to direct instead of act, but his involvement in the theater is what led him to the realization.
"Not from the very beginning, but when I started acting I was always involved in every aspect of theatre," Cucuzza said. "I never just acted, I also designed sets and was interested in every facet of the theater."
Cucuzza's involvement helped develop his experience and vision for the arts. Theater managing director Michael Sande said Cucuzza's background is a big reason for his success.
"He is very experienced, he comes from a very good background," Sande said. "It's his creativity as a director and also the fact that he works incredibly well with the actors and designers and he makes it a collaborative team effort."
"He paints a very distinct picture when he directs, his vision is very clear and he puts his own unique stamp on whatever it is he is doing."
Jessica Lynn Verdi who played Ruth Goldfarb, the lead female role in For This Moment Alone, said Cucuzza is the "captain of the ship" and his form of directing makes actors feel safe.
"I don't know that I've had a better director," Verdi said. "He has a way of making you feel safe. You want to go where he's going."
"I think overall, the process of doing this play was worthwhile because of him. I think the thing I walk away with the most is getting to know him and his artistic style. Never has a play been so fun, yet challenging. The lessons he taught me I will take away to the next play I do."
For graduate school Cucuzza went to California Institute of the Arts (CalArts) and received a master of fine arts in Directing in 2011.
Cucuzza's proudest moment was when he directed Measure for Measure at CalArts for his thesis, which he calls a "somewhat obscure Shakespeare play."
"It was my thesis project at CalArts and it's the production I'm most proud of," Cucuzza said.
Cucuzza also spent six years as an artist-in-residence at Richard Foreman's Ontological Theater, according to studiocucuzza.com.
As a director, Cucuzza also admires other directors, with Foreman being his favorite.
"He is one of the titans of the avant-garde theater world," Cucuzza said.
Cucuzza has worked with Foreman and has acted in three of his plays in New York, Panic! (How to be Happy), Permanent Brain Damage, My Head was a Sledgehammer.
Cucuzza has been directing and teaching at Pierce since fall 2013 and loves that he can do both.
"I love being a teacher as well as a director, I get to do both things at that theater," Cucuzza said.
"What I love about directing at Pierce is that it's at a college, but I'm able to work with professional actors from the community as well as students, I like this mix of professional and educational."