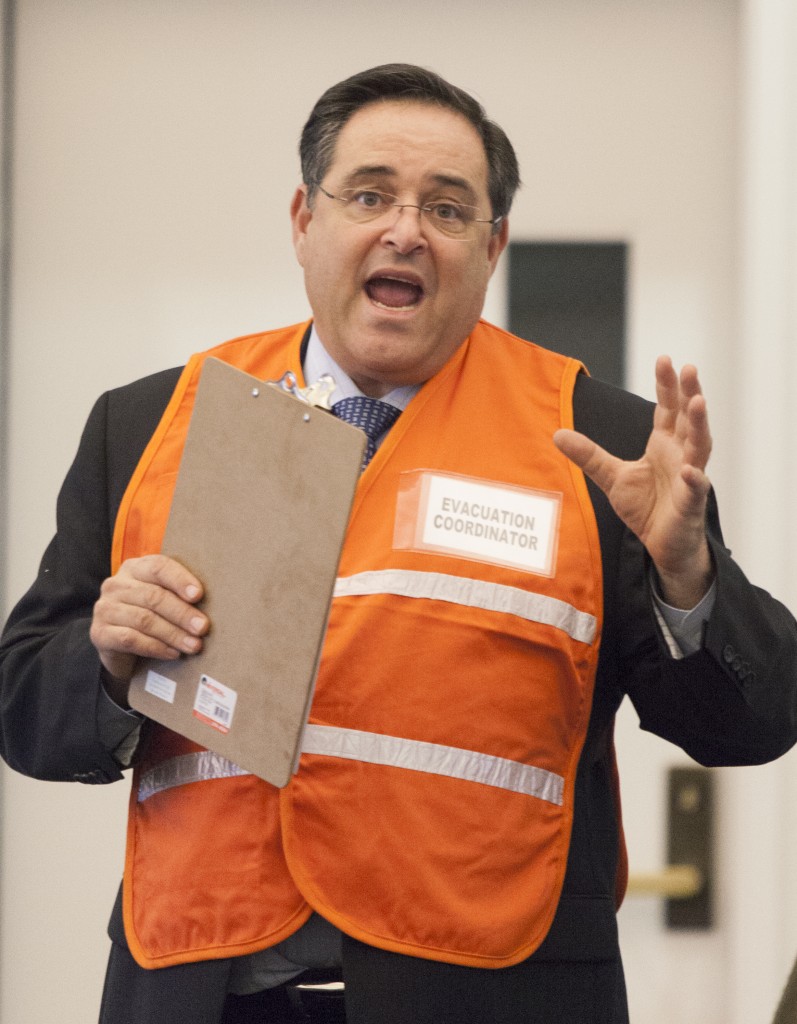 In a continued effort to better protect Pierce College students, faculty, and staff, an emergency task force will be in effect.
Larry Kraus, associate vice president of Administrative Services, and Rolf Schleicher, president of Administrative Services, announced their plans for the Emergency Evacuation Coordinators at the Academic Senate meeting on Monday, Dec. 1, 2014.  The task force is already in effect and has 37 members.
Pierce has had two lock downs/evacuations during this semester. The first one occurred in September and the second one took place in October. Many students did not know how to properly respond because of latency issues with Blackboard Connect (the emergency alert system used by Pierce College). Some students were sent incorrect information and others did not receive any.
In response to this issue, Schleicher, and Kraus have assembled a task force.
"They will have bright orange vests, clipboards, whistles, all that," Kraus said.
The Emergency Evacuation Coordinators are volunteer faculty and staff that will be trained by the Los Angeles Fire Department to handle emergency situations. Two members of the task force will be stationed at each building on campus at all times.
"It's a comprehensive plan to assist with the students, faculty, and staff to help us all. It's all to help us," Kraus said.
New Hires
Pierce College is planning to hire 30 new hires by Spring, 2015, according to Kathy Oborn, president of the Academic Senate.
In an e-mail Kathleen Burke, president of Pierce College, sent to Oborn, Burke stated that she approved two new counseling positions and one new position in the physics department for the Spring, 2014 semester.
For Spring 2015, Burke has approved several new positions in departments including math, English, and counseling for new students.
According to Oborn, Burke is still considering other positions for departments such as philosophy and sociology, business administration, and theater and dance.
Smart Classrooms
According to Schleicher, a plan is underway to add 82 "Smart Classrooms" on campus. Smart classrooms will be modernized classrooms that have technology teachers and students need.
"I think it will allow hybrid classes to be more interactive. For example, in a business class you could pull up a report and look at it as an example," Schleicher said.
The smart classrooms have already been added to the budget for the construction that will resume in the spring. Each classroom will cost about $29,000- $30,000 .
"My goal is to get people job ready, and this will enhance that," Schleicher said.