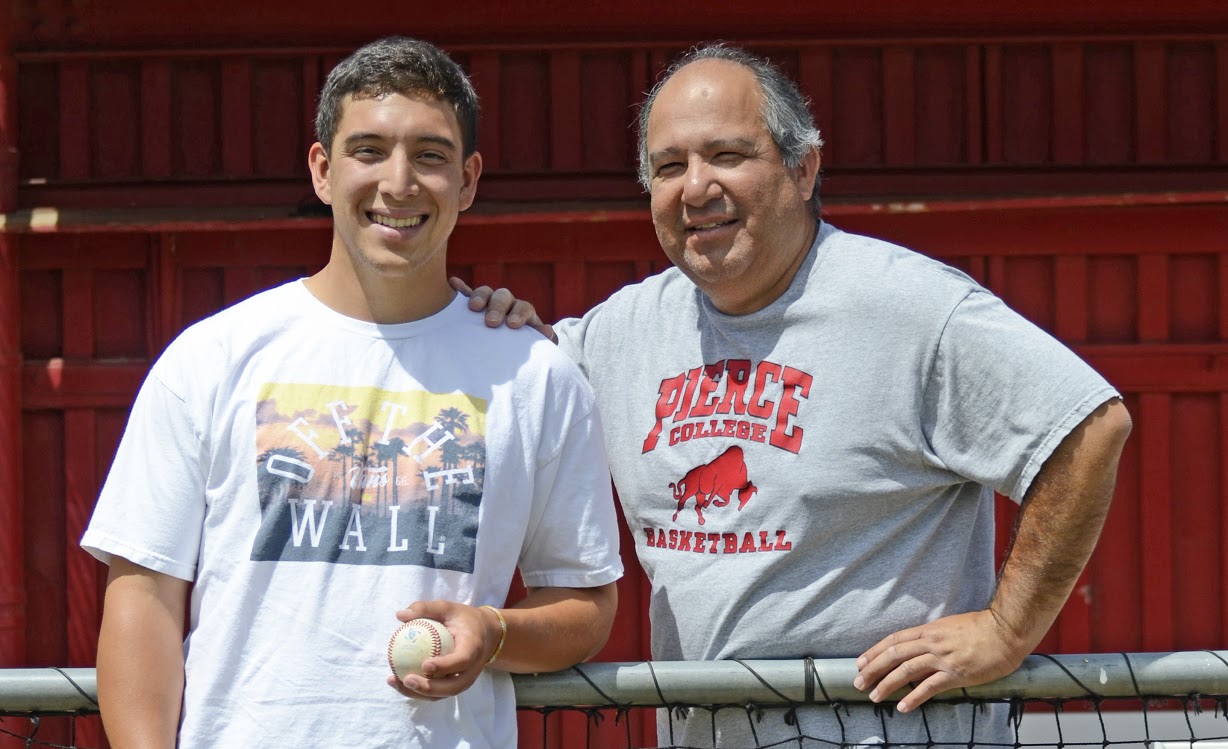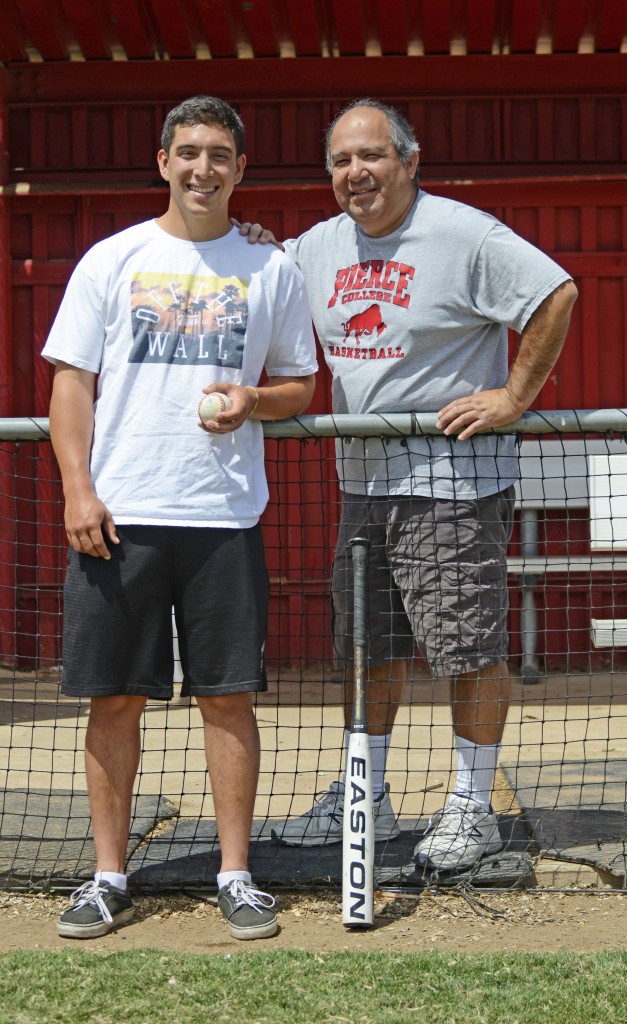 The father-son dynamic between Lenny and Adam Ramirez can be seen on and off the field.
Lenny Ramirez has been an athletic trainer at Pierce College since 1991. Previously, he worked as a physical therapist in the Antelope Valley area.
At Pierce, Lenny Ramirez stays active all year managing the health regimens of the 12 different sports teams at Pierce. For years, he has helped players ice and stretch properly to minimize injuries.
His son, Adam Ramirez, has learned the values of maintaining one's body from his father.  When he was young, he would observe and assist his father.
"What I value about my father, and what I have come to appreciate over years, is how he naturally accepts what the body is telling him, which I've practiced and taught myself over the years," Adam Ramirez said.
Adam Ramirez also grew up in the Pierce community. As a child, he served as a bat boy for the baseball team.
He got to see firsthand the rigorous steps it took to be a collegiate athlete, and the dedication it took to maintain their bodies. By attaining that knowledge, he was able to apply that to his own baseball career.
Ever since he was young, he was very methodical in his pre-workout and post-workout rituals so that he would be able to perform at a high level.
Adam Ramirez credits his father for instilling these values, and because of that knowledge, he has never faced a career-threatening injury.
The only severe injury that Adam Ramirez faced was a hamstring injury he sustained in his senior year of high school, which his father treated.
After that injury, Adam Ramirez made sure to get massaged after every game.
After graduating high school, he attended California State University, Monterey Bay for his freshman year. That is when the tutelage he learned from his father became most effective.
When he was on his own and not around his father, that is when he developed the greatest understanding of his body.
"When I was in Northern California, I had to understand my limits," Adam Ramirez said. "I had to know if I pushed myself to certain points, how would I and the training staff treat myself. I really grew during this time because I got to fully understand my body."
After his first year at Monterey Bay, he decided to transfer to Pierce.
This was a familiar and comforting environment because his father was around and the closeness he had with the baseball program.
When Adam got to Pierce, he had to change his position from outfielder to pitcher.
This brought him and his father even closer because of the extreme treatment pitchers have to go through.
There were even nostalgic feelings between them because sometimes Adam Ramirez would help his father distribute ice in the training room like when he was younger.
Lenny Ramirez is a strong advocate of treating all the players objectively, and that includes his son. He takes pride on treating each individual player, and getting them back to full health.
Adam Ramirez fully respects his father's stance on treating him as a regular Pierce athlete.  He still appreciates that he can get his father's advice during his games.
"My father will still let me have it if I'm not playing to the best of my abilities," Adam Ramirez said. "And he has been that way my entire life."
This past season, Pierce baseball was filled with ups and downs. There were injuries that contributed to the Bulls' early season struggles, so the health of its players became more of a focal point.
Some of the players would call Adam Ramirez "Lil' Lenny" because of the preventative exercises he knew.  During some road games, his teammates would ask him about different stretches they could do to preserve their bodies.
"Adam was good for the team, especially on road games," said sophomore center fielder Joe Moran. "The stretches he taught helped keep me very loose."
Even though there are two athletic trainers, Lenny Ramirez might not always be assigned to the baseball games, but he appreciates the accessibility to watch his son play.
"I might be at the softball game, but I enjoy that when that game ends, I can still walk to the baseball field and watch my son play," Lenny Ramirez said. "When he was in Northern California, I was not able to see Adam play as frequently, so I do appreciate his time at Pierce."
Adam is a history major and has hopes to go back to Monterey Bay or another university to continue playing baseball.
This semester may be the last time Adam Ramirez and his father could be on the same campus, but what they taught each other is everlasting.