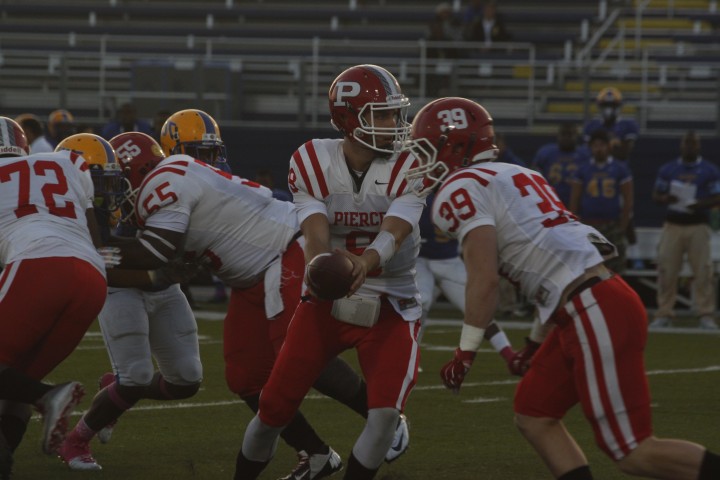 The Brahmas were able to pull away late behind the legs of Calvin Howard, against The L.A. Southwest Cougars on the road.
It wasn't pretty, in a hard-earned victory against an inferior L.A Southwest team (1-5) who gave The Brahmas (4-2) all they could handle, until Pierce scored 21 of its 38 points in the 4th quarter. The Brahmas would go on to win 38-19.
Pass protection for Pierce struggled for the second week in a row, allowing five sacks on quarterback Sean Smith, who threw for 109 yards and went 7-19 on passing attempts, however, he did throw three touchdown passes.
"We just got to focus. I feel like at practice no one is really focused… like they say they are and whatever, but they're not." said Smith. "Everyone can get better, there's alway room for improvement. We need to come out with a focus instead of fooling around.
Despite Smith never really finding his rhythm, he made good decisions and did not turn the ball over, after throwing 2 interceptions last week. Smith said that he thought his play wasn't one of his better performances.
Penalties on Pierce have become the storyline of the season as The Brahma's were flagged a whopping 16 times for 132 yards on the night. The penalties prevented Pierce from scoring multiple times and made the game much more difficult than it should've been as The Brahmas continue to beat themselves.
"We played a poor football game today, all-around… we played down to their level," said Head Coach Jason Sabolic. "It's unacceptable, moving forward we're going to try our best to rectify it."
Despite the bittersweet victory, the rushing attack was strong, carving out 264 yards in total rushing yards. Starting running back Calvin Howard sparked Pierce, accounting for 147 yards and a touchdown on only 13 attempts.
"I'm just trying to find a way to finish all my runs," said Howard. "The offensive line was able to open creases for me."
Howard got off to a fast start; including a 59-yard run on the first drive of the game, however, Pierce was unable to find the end-zone, but went up 3-0.
L.A. Southwest responded with a 1-yard touchdown run by running back Winfred Roberson and a two-point conversion to put The Cougars up 8-3.
The Brahmas would respond with two consecutive touchdown passes to put The Brahmas up 17-11, after a late Southwest field goal, in a gritty first half.
The start of the 3rd quarter was ugly for The Brahma offense as they failed to capitalize on good field position. Smith was sacked four times during the quarter and the offense was flagged multiple times to take The Brahmas out of field goal range.
Sabolic said that he has been moving a couple of players around the offensive line.
"Hopefully they will start to come around in the next week or so and get a little better," said Sabolic.
In the 4th quarter the Brahmas started to pull away after Smith threw his 3rd touchdown of the game to Xavier Ubosi, who had caught all of Smith's touchdown passes, according to www.cccaasports.org. Pierce would take a 24-11 lead.
Howard was able to put the game out of reach after a 34-yard touchdown run to put the nail in the coffin. Pierce would go on to defeat The Cougars, 38-19.
Pierce (4-2) will play Santa Barbara (3-3) at home, Saturday, at 6 p.m.