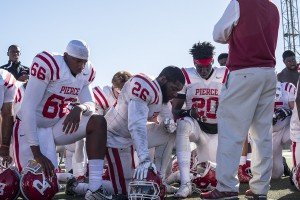 Six straight years at Pierce College, the Victory Bell has a new home with rival L.A. Valley College after the Brahmas dropped a big game on the road.
Pierce lost 39-7 in a game where the Brahmas were dominated in every way possible.
"We failed at every fassett of the game," said Pierce Head Coach Jason Sabolic. "We were not mentally prepared. They played better. They wanted it more."
This was Pierce's (5-3) first divisional loss of the season and the team is now ranked third in the American Pacific behind undefeated Santa Monica (8-0) and Valley College (6-2) with a risk of losing a chance to play in a bowl game.
Starting quarterback, Sean Smith was benched in the third quarter in favor of Tyler Stevenson after throwing his second interception of the afternoon. This is the fourth week in a row where Smith has struggled. He threw for 87-yards, a touchdown and two interceptions going 9-17 on passing attempts.
"I don't think anyone was really prepared for this game," Smith said. "This was our first mid-day game. I don't think anyone was really prepared for that. I know a lot of people like to stay up late and I don't know if anyone took it upon themselves to prepare the night before."
Head Coach Sabolic said that Smith is on a short leash moving forward.
"I know that I'm going to come out work my best to get better and start next week and the week after that," Smith said.
Pierce got off to a slow start, the Monarchs were able to hit the deep passes early to go up, 14-0, in the first quarter. Pierce would respond with their lone touchdown on the afternoon in the second quarter on a 12-yard pass from Smith to tight end Trevor Kanteman.
The Monarchs would respond by scoring in the final seconds of the second quarter off of a 4-yard run by running back Antoine Carter, to put the Monarchs up 21-7.
"We were a little shell-shocked at the beginning of the game," Sabolic said. "We got down early and we couldn't muster anything to get back."
Pierce's defense that had been carrying the Brahmas all season was exploited allowing Valley College wide-receiver, Matthew Boudreaux to burn the Brahmas for 118-yards and three touchdowns on only four catches.
Boudreaux's performance was similar to that of Orange Coast, wide receiver Stefan Derrick who also had three touchdowns against the Brahma's. Both receivers had success burning the Brahmas deep.
Pierce cornerback Eric Waters said that Valley took advantage of the defenses laziness.
"They caught us while we were sleeping," Waters said. "I just felt like we got outplayed, outcoached."
On offense, Pierce played like zombies, accounting for only 135-yards of total offense.
"They had a great game," Waters said. "As a team they came out mentally prepared, physically prepared, and it showed on the scoreboard. We have to come back next time and get ready for next week."
Pierce's star wide-receiver Xavier Ubosi was inactive due to turf-toe, according to Ubosi. His absence was clearly felt as Smith's go-to target and deep threat.
The run game that had been very effective the last few games was virtually non-existent. Starting running back Calvin Howard who had been on a tear the past two games was sidelined for most of the game due to an unknown reason. The run game only had 33-yards of net rushing.
Penalties that have continuously plagued Pierce all season continued again as the Brahmas were flagged 12 times for 146-yards. Several of those penalties forced Pierce into second & long or third & long situations, making it difficult for Pierce to pick up a first down.
"We're looking to our better ourselves one step at a time," Sabolic said. "We got a little bit ahead of ourselves, now we really need to get a W next week.
Pierce (5-3) will play divisional opponent Antelope Valley (4-4) at home on Saturday, Nov. 7, 2015, at 6:00 p.m.