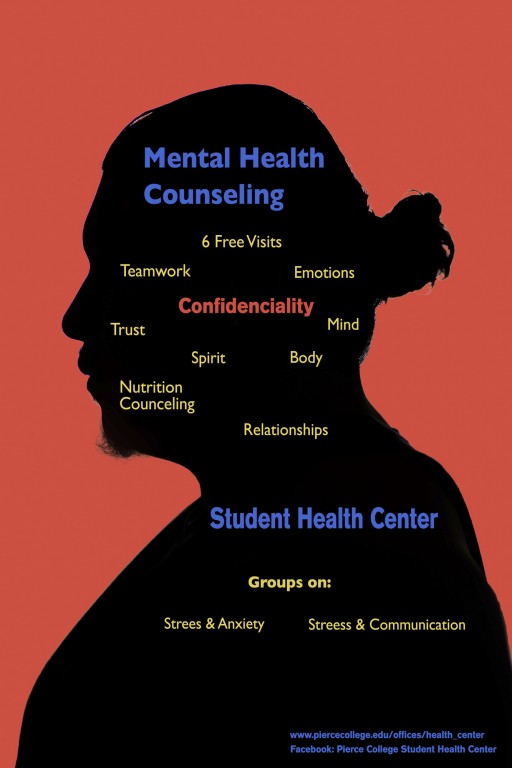 Students fund the entire Student Health Center in exchange for their $11 which includes up to six hours of free one-on-one mental health counseling, according to Beth Benne, director of the Student Health Center
Benne says your funds pay for everyone working at the Student Health Center including the medical doctors (or nurse practitioners), the office managers, some of the student workers, and all of the mental work providers. The resources are limited and needs more funding.
"Last fall, we had a waiting list by the end of October, so we weren't able to meet [students] needs," Benne said. "You can see the needs are growing every year. We need more psychologists."
The Spring of 2014 was the last semester Pierce College had three licensed clinical psychologists working a total of 27 hours per week, according to Benne. Due to lack of funding, Clinical Psychologist Niaz Khani, wrote a proposal to eliminate the psychologists who were not working as many hours and up her hours to 20 hours a week.
"Then we hired two post doc interns and paid them somehow," Benne said. These are two psych degree interns who have to do 1,500 hours of internship of clinical time before they can sit for their license. So you got these very well educated mental health professionals who aren't licensed but can work under Dr. Khani's supervision. It's a teaching ground for them as well as a benefit to our students."
The school does not prescribe antidepressants. If a student has serious mental health issues, such as serious depression, suicidality or if they have a psychosis (bipolar disease, schizophrenia, paranoia, etc.) then the Student Health Center has to refer out.
Khani says she assesses students to see how severe the student is and how severe the symptoms are. If it is not severe enough, they talk about it and give the student some coping skills to get through it. However, if needed she connects the student to a hospital and make sure they are feeling safe.
"Everybody is different," Khani said. "Not everybody depressed feels sadness. We spend a lot of time trying to learn about each student and see what they need. And again, if we can do something for them we will see them up to six sessions, sometimes more, but if it's severe enough and they need more attention, more medication, or if they need other people to be part of that team, then we will help them find a referral."
The general policy of the Health Center is to not follow chronic conditions because they do not have the resources to follow through with treatment.
"The problem with the 11 dollar health fee is that it is not nearly enough money to do everything we need and certainly not enough money to pay for a physician to be on call," Benne said. "If somebody is on an antipsychotic medication or an antidepressant they must have access to their physician 24/7."
Benne believes that being able to help people is what makes her feel great as a health professional and that they already do a lot with the $11 but could do much more with $19, which the state allows.
"We can provide such thorough care but we know our limits," said Benne. "We can really do a lot for the $11. We can do a lot more with $19. Our district has only been charging $11 and $8 dollars since 1998, so it's been tough."
Everything is kept confidential and an effort is made to make the students feel safe when coming to the Health Center, according to Khani
"We spend a lot of time going over the privacy and confidentiality form before an appointment is set up," Khani said. "We'll say something like 'yellow bird is calling', there are different ways. If someone is really scared for whatever reason to come here, we work with them."
The student health center also has two group sessions meeting right now, one is on 'stress and anxiety' and the other is on 'stress and communication'.
Onur Tasci, 22, computer science major, thinks the student health center has been helpful.
"If you disregard the wait time which is a little over the standard of regular health centers, it's really reliable and they charge zero to nothing, which is really good," Tasci said.
Jason Garvin, one of the peer nutrition counselors in the Health Center recommends students to take advantage of the services they provide.
"I would definitely recomend students to make an appointment and come here," Garvin said. They can get free counseling service, whenever they need to. As far as changing their diet, weight gain, weight loss, muscle gain. We are trying to guide them, not necessarily dieting, we analyze their diet, whether they need to lose weight, we tailor their diet to fit that."