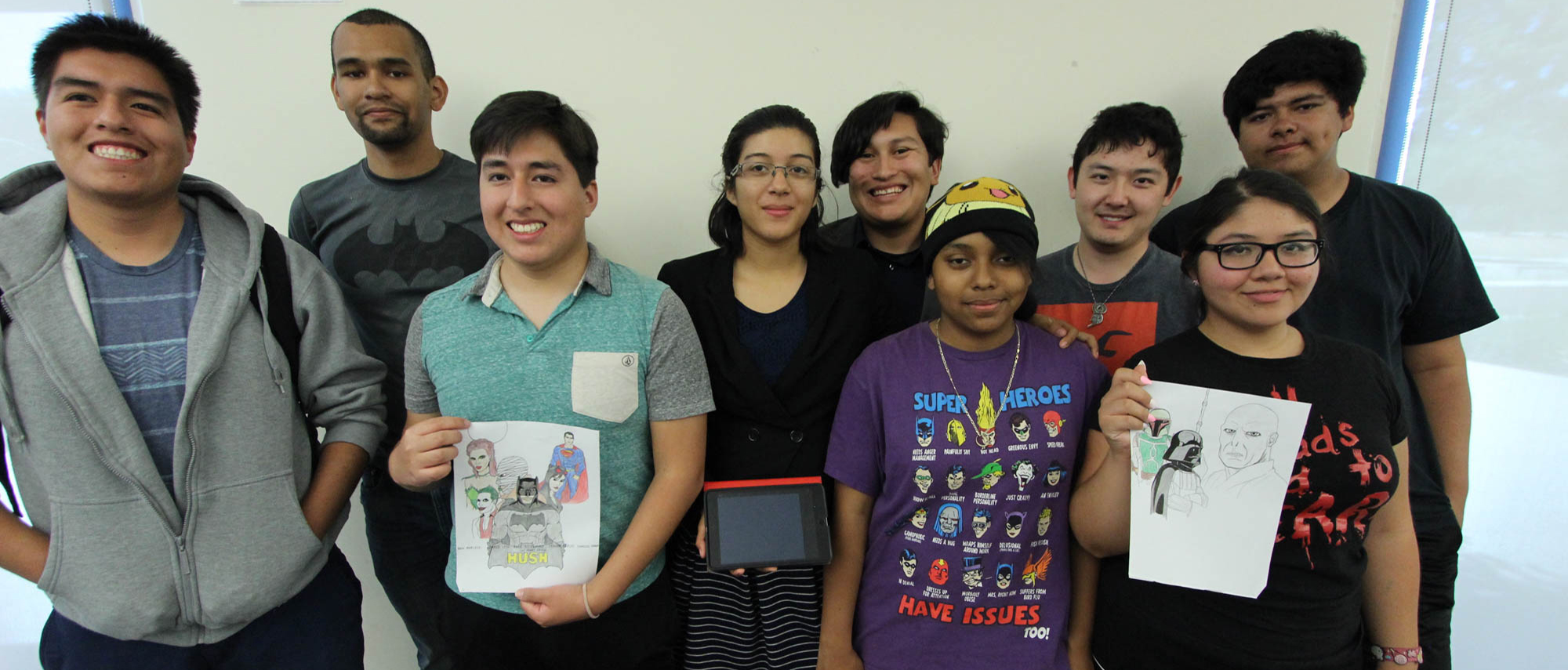 For comic book enthusiasts, graphic novels are more than a collection of pretty pictures. These visual anthologies are maps that teach readers how to create relatable heroes, memorable villains, and a world as real as Times Square, New York.
Comic readers who want a way to share their ideas with others have the opportunity to compare the comic to the films, or even create a character through the Pierce College Comic Book Club.
Club president André Necochea, 18, created the club with the idea that it would bring enthusiasts of graphic novels, books, anime, films, manga and video games to share their experiences, and create a bonding because of their love for the same interest.
"We want to get people together because we love graphic novels and the characters that are inside them," Necochea said. "It is a safe space where you can talk freely about what you like, or who you like."
Accompanying Necochea is his brother, Nick Necochea, 21, who is the vice president of the club.
"I believe that we are a very good team. I really trust him and I want to say that he trusts me as well," Necochea said. "But family relations aside, he is a very hardworking person that goes for big goals and I like to be around people like that, that know what they want to do and don't settle for less."
This semester the club is mostly focusing in analyzing the characters or graphic novels that are brought up during a meeting. Their long-term goal would eventually be to be able to create their own graphic novels, according to Necochea.
"Our goals for the club would be to attend conventions, or even go to the movies to compare the comic with the film," Necochea said. "By next semester, our plan would be to create our own comic book seeing as we will have knowledge on how a character works."
The group meets every Monday and Thursday at 11:30 a.m. in the Student Engagement Center. If a student wants to analyze a book or an anime character, they are also welcome to do so.
The club plans to have a fundraiser in May, where they will be selling baked goods. They will be doing so by the help of club member, Maria Mayorga, an animation major.
"I'm the only one with a food handler's license, so I'm going to be baking for the club to start raising some funds," Mayorga said. "As of right now, the cookies will be sold for $1, and will be coffee, vanilla, or chocolate chip."
Mayorga is also helping remaster the logo for the club, because she wants the drawing to be anatomically correct. If they want to create their own novels, they must represent something that is good, according to Mayorga.
"We have to look professional and I know we're a beginning club, but we still have to look good," Mayorga said.
Students interested in knowing more about the club can join their email list and Facebook page, according to Necochea.
"We trust our members on sharing the fact that they can express themselves during meetings, and afterwards with their friends so that students that want to learn about us can have a good idea of what we are all about from a friend who they trust," Necochea said.
Necochea says that the club is a unique club to Pierce, because there must be a club that is for every student on campus.
"I truly believe that there must be a club for every student at Pierce College," Necochea said. "We should not obligate students to create them, but I do think that we all have similar taste in one way or another. I believe that the uniqueness of the club comes from sharing not only information but experiences within members."
For computer science major, Jerrid Davenport, 23, comics are a way to enjoy and get lost in the culture and the heroes that get introduced.
"Comics are just simple and fun to read and I think that's what the readers like about them. How easy they can get lost in them," Davenport said.
Necochea said that students who are thinking about joining the club would not only be joining a club where they debate about their analyzations of a comic book, but a club of relaxing environment, a club that brings students together and a club where they are themselves.
"I think that, besides the topics we debate or the characters we analyze, we are all students that come together to share our experiences," Necochea said. "Everyone that is a member is part of an organization of students that want to meet regularly to get some stress from school out of their minds by doing something we all share our taste in, comic books."