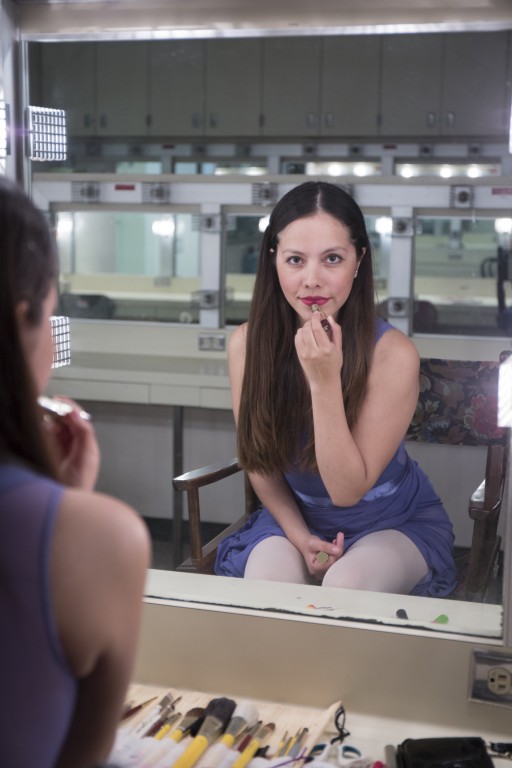 Dancing is not something to do on the weekends for Sandy Luque, it's a way of life and has defined who she is, and where she wants to go.
Luque, 26, fulfilled her lifelong dream of becoming a dancer through the help of the Performing Arts Department at Pierce. She has choreographed several dances that will be showcased at the Vignettes 2016 Spring Dance Concert starting May 20 at the Performing Arts Mainstage.
At the age of 5, Luque found her true calling when she saw the 1983 film "Flashdance" for the first time.
"I was really inspired by the main character, Alex Owens, when she was auditioning. She looked very different from the other girls," Luque said. "The other girls were very technical ballerinas. So when I saw her I told myself that's what I want to be, and I began dancing after that."
When she was 10, Luque's family left her hometown of Morelos, Mexico, and relocated to California. At the age of 16, Luque began attending Pierce College.
"My parents chose to move over here because they wanted a better education for my siblings and I," Luque said. "The dance department here at Pierce is like a company. A lot of us dancers have been at Pierce for quite a while. I love performing here."
Luque has completed her academic requirements to transfer, but her passion and determination to dance has kept her enrolled. Bonnie Lavin-Hughes, an adjunct instructor of theater, has taught a number of students who have extended their time at Pierce in order to sharpen their performance.
"Sometimes performing arts students at Pierce need to spend extra years studying with us, in order to gain the necessary skills to audition competitively for four year dance departments," Lavin-Hughes, said.
Luque's very first class at Pierce was ballet, which she studied under the tutelage of Hojo Hiroko, who is an adjunct instructor of physical education.
"It was a joy to have a student like [Luque] who is diligently working towards her goal and achievement. She really showed a lot of progress when she was in my class," Hiroko said.
The dance department has been preparing for the Vignettes Performance since early February. Pierce College Dance defines Vignettes as a collection of memories that will be shown in 16 different performances.
"Everything that we do will be based on our experience as human beings through dance," Luque said.
Because the theme and the corresponding dances being performed are meant to come from the heart, Luque has decided to dedicate her segment to her late brother. It will be a tribute to his memory and the relationship they had.
"I've always wanted to choreograph a dance to the song 'Yellow' by Coldplay, and now I had the chance to do so," Luque said. "That was my brother's favorite song. I didn't want to choreograph something depressing. I choreographed what he was about—a very happy person."
The tribute that Luque has put together is contemporary ballet, a type of of dance that incorporates classical ballet and modern dance.
Luque has choreographed a duet for the Vignettes as well.
"Sandy is one of those rare students who engages in the love of learning," Hughes said. "She has maintained her strong work ethic, and she is respected by her peers and the arts faculty."
Luque's repertoire ranges from ballet and tap to ballroom and hip-hop.
In April of 2015, Luque had the chance to audition for the Martha Graham Dance Company.
"One of my teachers at Pierce [Hughes] got me an audition with the Martha Graham Dance company and I went," Luque said. "I didn't make it to the company, but they did invite me to attend their school of dance."
The Martha Graham school is located in New York City. Luque finds herself being a bit hesitant to move due to the distance, but plans to attend Martha Graham by fall semester.
"I don't want to be one of those people that wakes up everyday, and just regrets not doing what they love," Luque said.
While there are many people and encouraging words that have influenced Luque, none were as resounding as a quote taken from dancer Martha Graham. "I did not choose to be a dancer, I was chosen to be a dancer," has inspired Luque as a performing artist.
"When I started modern dance at Pierce I had no idea who Martha Graham was, or what modern dance was," Luque said. "My plans were to transfer as soon as possible, but then dance happened. I'm blessed to be able to live my dream."
Apart from Graham, Luque looks up to the Argentinian ballerina, Paloma Herrera, with great admiration. Herrera, who was a soloist and later the principal ballerina for the American Ballet Theatre, has been dancing professionally since 1991.
She is a woman that Luque aspires to be like.
"I first saw her on a magazine, and I told myself that I want to be just like her," Luque said.
According to Hughes, many student dancers who have been a part of the department for quite a while become less coachable and too comfortable, but Luque is not like others.
"I have enjoyed our work together, I consider her my friend as well as my student. It has been a pleasure to mentor her has a performing artist," Hughes said.
Luque believes that she would not have become the person she is today if it wasn't for dance. She feels that she has found her true self through the movement of dance.
"Dancing is what I love, dancing is my passion," Luque said. "Dance is what I want to do for the rest of my life. It's something that is just me."