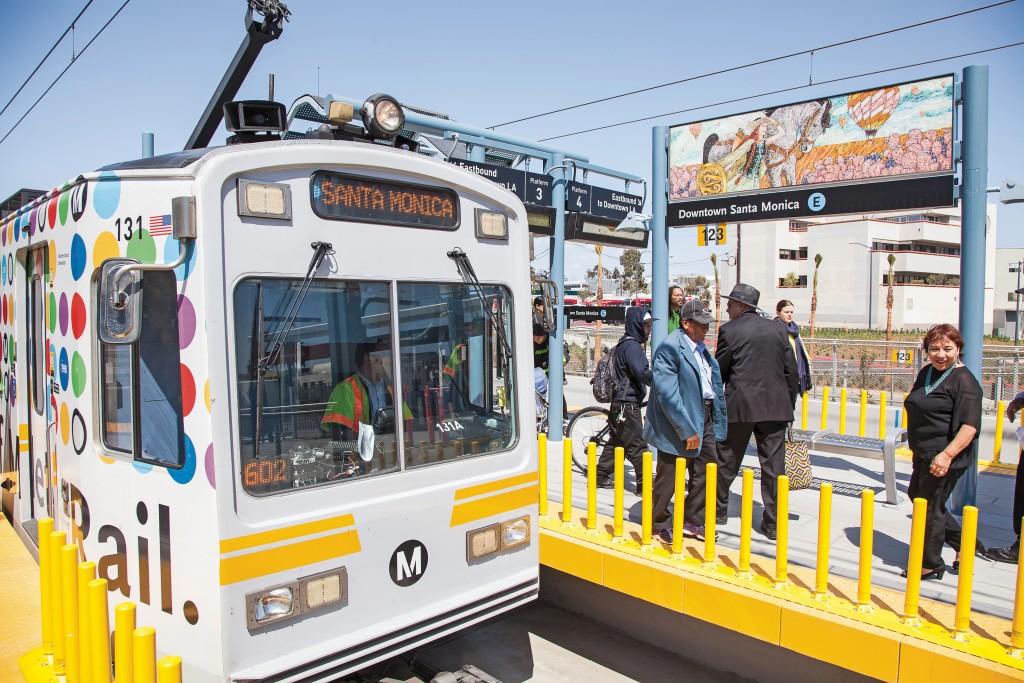 For the first time in 60 years, the light rail connected Santa Monica to Downtown Los Angeles when "Phase 2" of the 15.1 mile Metro Expo Line opened Friday, May 20.    
The line is named "Expo" after Exposition Boulevard. The extension will continue 6.6 miles west to Colorado Avenue and 4th Street, and provide faster more reliable public transportation.
Rick Jager, Metro communications manager, said the new extension will shorten commutes and increase capacity.
"Now people can utilize the Orange Line to the Red Line and transfer to the Expo," Jager said. "It makes a great connection to downtown."
This extension will allow passengers to be able to enjoy a ride from downtown Los Angeles to Santa Monica in about 50 minutes and avoid the I-10 freeway.
The estimated cost is $1.5 billion and was funded by the 2008 Measure R. Expenditure Plan, which increased sales a half-cent in Los Angeles Country for 30 years. That helped finance new transportation projects and programs for the city, according to Jager.
The funds included cost for a modern design, construction, utility relocation, light rail vehicles, and real estate, according to the Metro website.
Phase 2 includes 7 new stations along the westside, Exposition Park, Jefferson Park, West Adams, Culver City, Century City and West L.A.
Dave Sotero, communications manager for Metro media relations, said The first Phase of the Expo Line opened in 2012, and the second phase took four years and stayed on budget. The extension will give anyone, including students, the ability to go to the beach in just over an hour from the North Hollywood Redline station.
The Redline connects with the Expo Line at the 7th Street Metro Station.
"We expanded the Expo Line from Culver City," Sotero said. "I think this line is going to be useful and reliable for students to get around."
Kim Upton, a senior public communications officer, believes college students can save time and money using the Expo Line.
"Not only is it good for the environment, it's easy to take the Expo Line," Upton said. "From Pierce College, students would hop on the orange line, to the red line in North Hollywood and then the Expo Line on 7th."
There was an online petition with nearly 1,400 signatures that asked transportation officials to give metro trains, "signal pre-emotion," meaning lights would immediately change to green when a train approached the same system used by ambulance and fire trucks, according to Jager.
First year Pierce College student, Karol Gutierrez, takes the metro on a daily basis.
"Many people want to go to the beach, so now they can just take the Expo Line," Gutierrez said. "Taking a car can cause traffic and frustration, especially for students, they can just take one bus now."
Going 55 miles per hour, the 6.6 miles segment from Culver City to Santa Monica can vary how long it will take for someone to get to their destination. The train will run every 12 minutes.
"On Friday [May 20], we estimated 30,000 daily riders [were] using the Expo Line," Jager said. "And on Saturday, we estimated 70,000 passengers."
The Expo Line is open 5 a.m. to 1:30 a.m., and regular fair is $1.75, which includes two hours of free transfers for those using TAP cards.