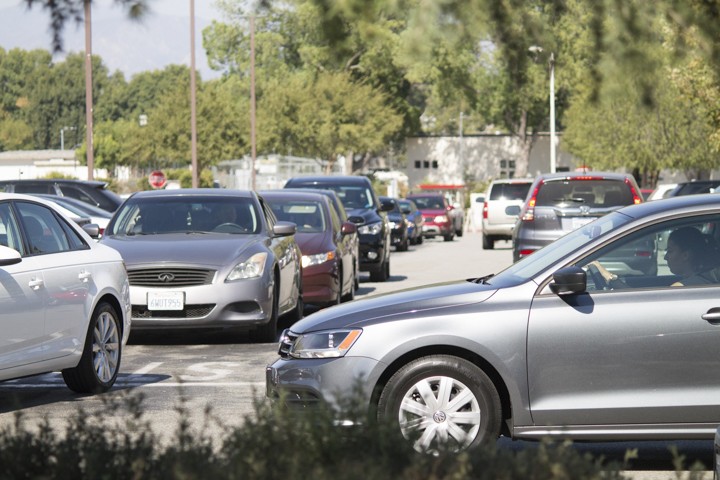 Tickets on the Pierce College campus will be given to vehicles that do not have a parking permit displayed, as of this past Monday.
"Parking Permits for students are the same across the district," Associate Vice President for Administrative Services Bruce Rosky said. "The nonpreferred restricted parking permit is $20. All students currently enrolled can purchase that."
According to Rosky, if a student purchases the Associated Students Organization (ASO) membership fee along with the parking permit, they will enjoy the benefits of a preferred parking permit which allows students to park in different parking lots. ASO membership during the primary terms is $7 and $3 during the intersessions.
The money students pay for their parking permits goes into a "parking account", which is used to fund anything related to the student parking areas, Rosky affirmed.
"It could be maintenance, it could be repairs, it could be the cadets that review the parking area for people who have permits and don't have permits," Rosky said. "Things that are associated with the parking lots."
Finding parking on campus can be a difficult task for students, moreover time consuming.
Pierce College student Alexander Monroy, criminal justice major, admitted he parks at the metro parking lot on Winnetka Ave. and Victory Blvd.
"It's more convenient to park off campus," Monroy said. "On campus is expensive and there's usually no parking so what's the point?"  
Students who park on campus find themselves struggling to park their cars.
Bud Witherow, a second year Pierce College student and nursing major has trouble looking for parking on campus.
"Sometimes even if you get here half an hour early, you're still searching half an hour for a spot," Witherow said.
According to Deputy Barreras, vehicles parked on campus without parking permits displayed will receive $30 ticket. He recommends students to purchase the 30 minute parking pass for $1, while waiting in line to purchase the parking permit in the Business Office.
"We do patrols usually whenever time permits," Barreras said. "We don't necessary have a fix time, but if we have enough personnel to patrol to do citations we'll do that."
Deputy Barreras suggest students who park on and off campus to hide their personal belongings they leave inside their vehicles.
"Lock it, secure it, hide it, don't advertise it," Barreras said.
According to Rosky, parking isn't a required cost to attend Pierce College, there are other required fees such as the health fee.
According to Rosky, Pierce College has a total of 8 parking lots on campus. In addition, there is also parking available along Mason Road and El Rancho Road.