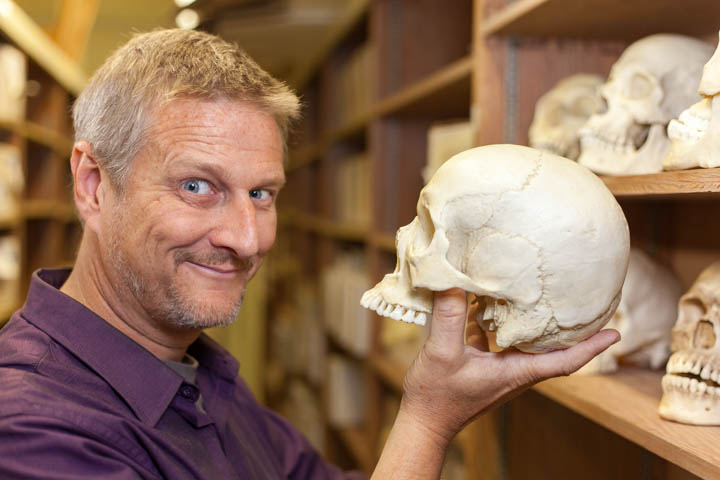 The face— it's the focal point of the human body, It's where emotions, expressions, and empathy resonate from. It is our wordless introduction, and it is who we are.
For Brian Pierson, assistant professor of anthropology, the face paramount's his passion for the art of forensic facial reconstruction, and it has lead him to his current position here at Pierce College.
"I like the idea that bones can tell us so much. The way that I look at a skull, for example, is kind of like the underlying shape of the face is really all there," Pierson said. "And you can learn so much about the person's life, lifestyle, and death through the bones and that, I think, is the most fascinating aspect to me."
Earlier in his life, Pierson worked as a special effects artist in Los Angeles. He eventually decided to attend Valley College and then transferred to UCLA, finishing his undergrad education. Pierson then attended Tulane University in New Orleans, Louisiana, completing a master's degree and a Ph.D.
While at Tulane, Pierson made strong professional relationships, one of which is Trenton Holliday, department chair of anthropology at Tulane University.
"Professor Pierson is a real Renaissance man – this is a guy who reads everything he can get his hands on in anthropology and related fields, who can repair or soup up just about any car or motorcycle you throw at him, and [he's] a heck of a good sculptor," Holliday said through an email interview.
Holliday considers Pierson's ability to sculpt an important skill as facial reconstruction is one of Pierson's areas of expertise.
John Verano is a professor of anthropology at Tulane University, as well as one of Pierson's contemporaries.
"We did a forensic case together [in Louisiana], involving an unidentified skeleton found in a wooded area…thanks to a facial reconstruction Professor Pierson did on the skull, we were able to make a preliminary identification that eventually led to a positive identification by matching the missing man's DNA with samples donated by his mother and sister. It was one of those cases you are pleased to have worked on, because we were able to resolve a case that looked unlikely to be solved," Verano said in an email interview.
Both Holliday and Verano have noted how Pierson's skills are not limited to the modern-day human skull.
"His specific research focus is in paleoanthropology and facial reconstruction techniques applied to both modern humans and fossils," Verano said.
Anthropological facial reconstruction can also be applied to our genetic ancestors.
"He and I worked on a forensic case in rural Louisiana together, and we are collaborating on a project to reconstruct the face of the Amud 1 Neanderthal," Pierson said.
The Amud 1 Neanderthal is a 45,000-year-old skull that features an elongated nose, brow ridge, and jaw. It is named after the Amud cave in Israel, where it is believed to have been discovered in 1961, according to australianmuseum.net
Adrian Youhanna, the department chair of anthropology at Pierce College, has seen positive feedback regarding Pierson's teaching style.
"When we get his student evaluations back, they always say how much they really enjoy him. They learn a lot, and he's very passionate about what he does," Youhanna said. "I think he's a very good team player too. He works well with his colleagues, and works well with me as a department chair. We're very excited to have him."
Youhana has also confirmed that Pierson is on the tenure track for instructors.
"He's incredibly enthusiastic, he's energetic, and students really like him," Youhana said. "He's doing a really great job. He's a really valuable member of our department."
Pierson's talent has not gone unnoticed by groups outside of academia. The phrase "publish or perish" isn't exactly how Pierson would describe his situation at the moment.
"I actually do a lot more TV than I do publications. I've been invited as an expert on a few different tv shows recently. One was called 'The Strange Truth' and that was on the National Geographic channel," Pierson said.
Pierson is invested in the long-term growth of the anthropology department and the development of students who wish to study in similar areas.
"My future goals, really, are to continue to expand our department as we've been. Since we've been here, we've been able to offer three new classes that we didn't offer before– two in the anthropology department– and we've also been able to offer an associate's degree for transfer," Pierson said.
Even 1,900 miles away from former colleagues, Pierson's lasting impression remains with those he worked with.
"I haven't visited Pierce College, although I stay in touch with Professor Pierson, and see him frequently at scientific meetings. We are proud to be able to call him a Tulane Ph.D.," Verano said.