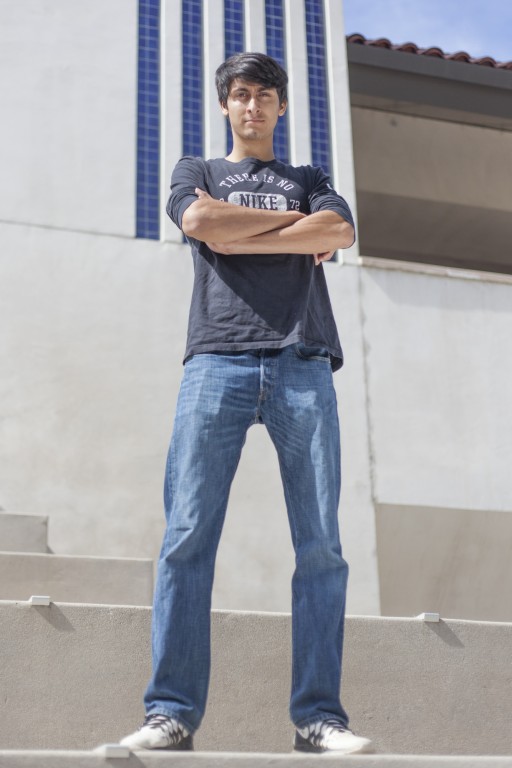 Hidden behind a polite smile and a modest demeanor, Amir Haghi, 19, juggles a schedule routinely divided between school, athletics, and the demands of student club life. Despite the chaotic lifestyle, Haghi intends to find time for the student body as its new vice president of the Associated Students Organization (ASO).
Haghi recently moved from New York City, and although it's his first semester at Pierce College, he already feels at home.
"I visited the campus and I really liked the environment. Everyone's friendly, the staff is amazing and I really connected," Haghi said. "I think it's important to really connect to the campus you're in."
Haghi was a biology major but decided to change to computer science engineering. Also president of the volleyball club, Haghi is trying to balance school and sports and hopes to transfer to UCLA through the honors program.
"I'm also in the volleyball club here," Haghi said. "At Pierce Go Days we had a booth, we were one of the biggest clubs on campus, we got almost 300 signatures of people wanting to sign up."
Since they are a new club, they are working on trying to get hours to use the gym on campus.
According to Haghi, the role of a vice president is to be the chair of the senate meetings and evaluate the student committees.
"There are a few committees, two to four times a month, and I overlook them and make sure everyone is on track," Haghi said.
ASO president Barbara Lombrano was managing the vice president role at the beginning of the semester and is excited Haghi has showed interest in being involved.
"Even though he has experience, he's opened to being trained, he's going to be over seeing all of the committees so being vice president is more than just cheering the meetings," Lombrano said.
Lombrano believes Haghi is perfect for the role because he's organized, committed and responsible.
"I think he's going to do a great job," Lombrano said. "Just the way he carries himself, that mature presence, I'm looking forward to introducing him to several administrators here on campus."
Since no one ran last semester, the vice president seat was vacant. The ASO held an election in the previous ASO senate meeting and Haghi ran against Kareen Cohen and won by one vote.
"It was a good competition, it was a very good speech, and I think we brushed off on different areas," Haghi said. "I have experience from my previous university. I was the senator for my last university and the vice president of my high school."
Student Engagement Coordinator and Counselor Lara Conrady Won, was impressed with Haghi's persistence and dedication to become the vice president for ASO.
"He scheduled a time to meet with me before he became a senator just to learn about the process," Conrady said. "He was already familiar with student government with his previous institutions and that helped guide him towards the right directions."
According to Conrady, Haghi is determined to create a comfortable atmosphere for students and is focused on being involved at Pierce.
"He really impressed me as a student and as a potential leader," Conrady said. "He's a hard worker and he's doing very well so far."
Haghi hopes to build more for the future vice presidents.
"I want to show that I'm a good leader," Haghi said. "I want there to be something that wasn't here before. I want to build on what we have, that's the reason why I'm here today, to help Pierce advance to the next level."
Haghi tried out for the men's volleyball team and is currently the middle hitter.
Men's Volleyball Coach, Lance Walker said Haghi is an ambitious and fast learner and is proud of what he has accomplished so far.
"Amir's one of those rare guys, who stands out. I've been here for 6 years and Amir's one of those individuals," Walker said. "He wasn't recruited, he walked in, introduced himself, shook my hand and told me he had goals and visions."
Walker said when Haghi walked into his office this semester he told him he hasn't played volleyball in two years but he understands his role and Haghi knows that it's going to take time for him to improve but he's proud he's putting in time to get better.
"I'm very happy that life put him on our team this year," Walker said. "He's a self starter, he's ambition, he's using Pierce as a stepping stone academically to move on."
Walker likes to see his players develop and grow over time.
"We can recruit some rocks and polish them and maybe there's a diamond underneath, and I think Amir's one of those," Walker said. "A pieces of coal, that we can turn into a diamond over time."
"He's [Haghi] doing a lot, he knows he's doing a lot, but I think he could handle it," Walker said. "I think he's a great person, he's doing a great job with the guys in the team, he's being a great teammate."
Haghi used to play soccer before he started playing volleyball in middle school. His father used to be a college pro volleyball player but never persuaded him to follow his footsteps.
"This might sound weird, but I wish he had pressured me to play volleyball because it's the greatest sport ever," Haghi said. "I really wished I started earlier, because I could have been a much better player."
According to Haghi, in order to be a part of the team, they would have to be enrolled in 12 units. With having a full time schedule Monday through Friday, Haghi finds time to hang out with his friends.
"I was brand new. I just moved from New York just a few months before starting Pierce, so it's really awesome being a part of the volleyball team, to connect with players," Haghi said. "My ASO friends are very close. The more I get out of the house, the more people I meet."
"I think the best way to figure out what you want to do is go to college," Haghi said. "Personally I don't think I could learn and do what I want to do if I work at a minimum wage job, I'll do it for the money, but If you really don't know what to do, go to college."
Haghi hopes to achieve good leadership, but also help others be successful in not only in education, but in life.
"The first step to stop stress, is action," Haghi said." Stop stressing and start anywhere, action is the first step."
"I'm the type of person to know their own flaws and what their weaknesses are, and I think that's very important," Haghi said. "You need to find what you want to do in life, to become successful, a lot of times is being involved. One thing that I've learned is to ask for help."