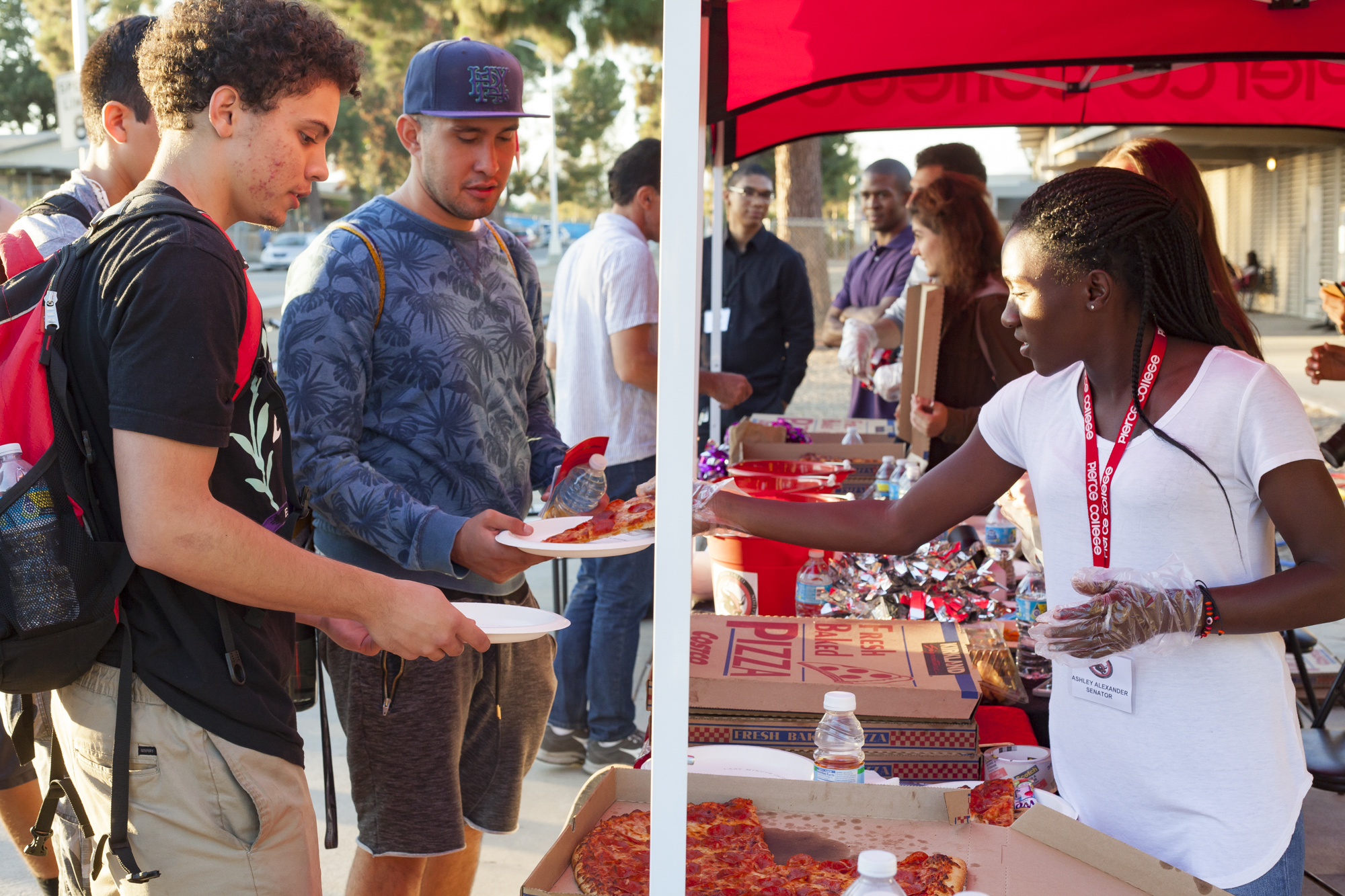 An hour before the whistle blows marking the start of the volleyball game versus Hancock, students enjoy pizza in the front of the North Gym and prepare to cheer on Pierce's team.
The Associated Students Organization is hosting tailgating events an hour before various sports games to rile up school spirit and promote community on Pierce.
On Wednesday, Oct. 12 the ASO brought the community together by providing food, minigames, and an opportunity to meet others. Also, on Saturday, Oct. 15 another tailgate was hosted for the football game versus Valley with ASO members in the stands.
Athletics Director, Bob Lofrano, believes these events are a great idea.
"Look at the activity we have. Some will stay and watch the game, some will go to class, some will go home, but at least it gets the students engaged, rather than just going to classes and then going home," Lofrano said.
Traditionally, tailgates really are just about getting together with like-minded individuals to cheer on the team. At these events, it's natural to get to know others with a common purpose. This is one hope ASO senator Madeleine Samayoa has for these events.
"A lot of people want to get involved, they want to have fun, and this can be the gateway to get everyone to meet others and be a part of the Pierce community," Samayoa said. "This will hopefully have a runaway effect, where you meet people at the tailgate and you'll see them again some time on campus."
Because ASO receives funding from the school to host these events, the planners get to decide what they can serve to participants within their budget. The tailgate on Oct. 12 was well met by students, faculty, staff and sports players.
"I like it. It promotes school spirit and it really let's people know about the volleyball game. It's a fun, friendly and happy-go-lucky environment," setter Peyton Moyles said.
Nabil Mardini, head coach of the women's volleyball team, said he really enjoys the tailgates and the company that it attracts.
"It's a wonderful thing," Mardini said. "The whole point is to get everyone together to have fun and having everyone involved in watching the team and supporting them. We don't get a lot of viewers, just the fans and the team's families."
ASO President Barbara Lombrano explained that in the south, particularly Louisiana, sports and the community are weaved together. Lara Conrady-Wong, the student engagement coordinator and an advisor for the ASO, who originates from the south, spurred the tailgating concept among ASO members and fellow colleagues.
"I've noticed that in California it's not really a community-type thing as much as it is back there, so Wong brought it before the Senate, asked if this was something that everyone would be interested in, we put it on and everyone is having a really great time," Lombrano said. "We've had faculty and staff come to us asking when the next one is going to be."