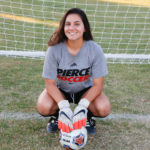 If you asked a younger Karen Widmeyer what she'd be doing in five years, she'd probably answer playing soccer as a midfielder for Pierce while happily eating a hamburger. But events in her life would result in a different picture.
Widmeyer, 20, who also goes by her nickname Mina, has had to adapt to the recent changes in her life this semester.
Widmeyer started playing soccer in the local American Youth Soccer Organization (AYSO) league when she was four and played for the Brahmas when she first came to Pierce. She had always played an offensive position until after the start of this season when she made the change to goalkeeper.
"We were just so desperate for a goalie, and our coach asked the team if anyone has had any experience playing for the position," Widmeyer said. "The girls said, 'Well Mina, what about you? You look like you have the body for it,' and after we did the shooting drills, they picked me."
The team has lost five players this season, including its goalkeeper due to injury, and Widmeyer took on the challenge to fill that void.
"It's been amazing with all the adversity the team has faced this season," said Adolfo Perez, coach for the soccer team. "She's never played goalie before, so she steps in and she does what's necessary. We haven't lost with her as goalie."
In the last five games with Widmeyer as goalkeeper, Pierce has won three and tied two and are currently in first place in their division with a record of 13 wins, three losses and three ties.
Though Widmeyer has done well to keep the team's non-losing streak going, making the transition to goalkeeper had its challenges.
"It took me awhile to get used to being a defender because I never really had that defensive state of mind," Widmeyer said. "I knew my job was to keep the ball from going past me and before the game, Juan, who is the goalie coach, taught me what I needed to know and from then on I was no longer a midfielder. I was a goalie."
Widmeyer would go and record five saves in her first game as a goalkeeper against Santa Monica College.
The life of an athlete can be grueling and players need to stay healthy to keep up with the demands of sport. To maintain that level, Widmeyer recently made the change to a vegan diet.
"It's so much fun," Widmeyer said. "I'm just organic healthy and I love eating my fruits and veggies and I just jumped on [a vegan diet]."
Although a vegan by definition is someone who does not consume or use animal products, Widmeyer's extent to the lifestyle is currently dietary, though she says that she became interested in animal welfare issues not long after she made the transition in her diet.
Since going vegan, Widmeyer says she's noticed immediate changes in her health.
"I got sick earlier this year and the semester was about to start so I wanted to go super clean for my diet and I wanted to work really hard this season," Widmeyer said. "I lost 20 pounds since I started and I really feel good inside and more energetic so I'm running faster on the field and making quicker cuts."
Changing to a diet that's plant based can be hard for many people, but for those that do, it's not uncommon for people to feel reinvigorated, according to Paola Deocampo, a personal trainer and professional bodybuilder who is also vegan.
"As an athlete, you really start to think more about food as fuel," Deocampo said. "For the most part, you really think about it as clean fuel going into your body. What is it going to do to me when I'm going to the gym? Is it going to benefit me? Is it going to make me stronger?"
Deocampo made her change to a vegan diet in 2010 and the changes to her health isn't dissimilar to Widmeyer's.
As weight and fat is lost, an athlete can retain more lean muscle while experiencing a higher level of energy and quicker recovery time after workouts, according to Deocampo.
Widmeyer's time at Pierce will eventually come to a close. Currently in her third year at Pierce, Widmeyer plans to transfer soon and has her sights on the future and is ready to make another change that would take her to the next level.
"I'm ready to get out of the Valley. I've been coming to Pierce since I was a kid and playing soccer," Widmeyer said. "I'm at this point in my life where I want to grow somewhere else. A lot of colleges have been asking Adolfo about our players because they trust him and our program. I'm not sure where I'll end up transferring to but I really want to transfer to UCLA."