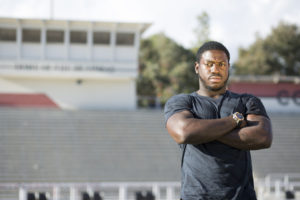 Philadelphia natives seem to flock to the Pierce College football team. Joshua Mathis, Jaelen Strong and Martin "Nico" Henry have all moved on to the university level and the next one in line is Isaiah Staton. These four athletes grew up in the same neighborhood, and the three preceding Staton suggested he follow in their footsteps on the path to Brahmas football.
Although Staton misses home, the opportunities for new beginnings here have encouraged him to stay on the pursuit. Mathis and Strong are offensive players, while Henry and Staton are defensive.
"Life is hard growing up in Philadelphia. Everything was a fight. You were either tough or you weren't," Staton said. "I grew up in the hood and everything was depressing."
Although the only player to move on to the National Football League was Strong, Staton does not let that discourage him. He played as a child and it has stuck with him. His passion for football is stronger than his love for the food from home, which is one thing he truly misses.
"It is something I am really good at. In high school, I became first team all city," Staton said. "I played running back, quarterback and defensive end.
Staton didn't go to school in Philadelphia, because he had friends from his hometown that were successful at Pierce and he wanted to see if the Brahma spirit could lift him up as well.
Staton's plans are to attend Arizona State or Bella University after the completion of his sophomore year at Pierce.
Coach Jason Sabolic said that, because he is older than most of the other players on the team, he is more mature.
"Isaiah is such an eccentric kid who is outgoing and very passionate–that has an outward love for football," Sabolic said. "He has gone through quite a bit in his life and has gotten to where he is now."
Sabolic said Staton has a good chance at being linebacker at the university level on a four-year scholarship.
"If he stays healthy, and on track and does what they ask him to go at the next level, the sky's the limit," Sabolic said. "There is a possible chance to play football on Sundays."
Linebacker coach Adam Khosroabadi agrees that Staton has the potential to play in the NFL.
"Isaiah's work ethics are pretty unmatched. He demands a lot of himself as well as from his teammates. The kid loves the game so much," Khosroabadi said. "He is a student of the game who takes notes and watches films, who finds ways, not only to succeed for himself, but for his team."
Bob Bognet is the special teams coordinator as well as the kicking coach. He recently helped coach running backs as well. Bognet said that Staton is growing both as a person and as a player.
"He has been outstanding this year. He has been a leader for the younger guys," Bognet said. "He has good study habits when he watches films and he teaches other players what to look for in films."