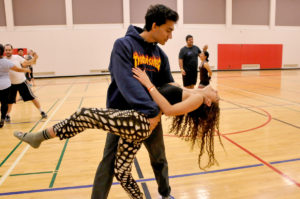 Stretchy pants and comfy sneakers filled the North Gym in the morning Sunday, Nov. 20 as new and seasoned dancers picked up some new moves.
Pierce students had to pay $5 per class of their dance style preference.  
"It's all these affordable classes and everybody can take them. I definitely think there should be more of it," said Ivy Moncada, dancer in the Pierce College Dance Crew (PCDC). "You're being creative while you're also moving your body in a very artistic way, and I think that's a really good thing for everyone to try."
Dance Day featured four styles of dance taught by professional dancers and choreographers.
Contemporary was taught by Luis Trujillo, jazz by Brian Moe, salsa by Jose Valencia and hip-hop by Corey Turner.
"A lot of people that have different abilities came together. I had some really great guest artists come in and share their knowledge and their spirit," said full-time faculty member Brian Moe.  "It was just a really fun experience for everyone."
Jenny Ghiglia, the cheer and dance coach for the Pierce College Dance Crew, organized of the event. Ghiglia said the Associated Students Organization were financially responsible for the event.
"I wasn't sure who was going to come," Ghiglia said. "I started with the process about two weeks ago putting flyers up. The concept started before that, but I had to get it approved from the school."
According to Ghiglia, this is the first Dance Day on campus. She borrowed the idea from a district dance meeting she attended in which other colleges shared their success about hosting this particular event.   
"I was really inspired by what they said about how they set it up. So I set it up the same exact way, except I have different styles of dance," Ghiglia said. "I asked the dance club members what they felt the students would want or the community, and we picked these four styles."
Some students came to learn new moves, others came to release stress and some to step out of their comfort zone.
"I just want to expand my knowledge and get as much teaching as I can get," sign language major Wyatt Corbin said. "If you have never tried dancing before, I'd recommend coming to these classes, and that they keep bringing them back. I had so much fun. It was a great experience."
Moncada admitted she tends to be shy, and dancing has helped her come out of that and boosted her self-confidence.
"Exercising releases endorphins and I do believe if you're dancing and being artistic with it, it'll make you even more happy and more confident," Moncada said. "I feel like in the dance world they're very about you being happy and confident in yourself, so I think it spreads that positivity."
18-year-old hip-hop instructor Corey Turner also felt that dance does a service to students and has even kept him out of trouble in the past.
"I started teaching a year ago. My first class was in Detroit. I actually needed money for gas and I taught a class so that's how I started," Turner said. "Dancing is a release for emotions. Dance to emote. Just release all your emotions."
The next Dance Day event will be in the spring semester because of the great turn-out, according to Ghiglia. She said she would like to keep some of the same styles and just change the "flavor" of the hip-hop class and maybe switch in a ballet class instead of contemporary at the next event.
"Everybody's a dancer. Everybody has a passion for dance and then there's performers. That's a whole different type of dancer, and that's the person who has learned the technical part and likes to share it and perform it," Ghiglia said. "I love it. It's a passion now. It's my heartbeat."
Students can come to these events and get a taste for what Pierce has to offer them.
"Days like this are important for students because it offers them a better chance to know what we have here at Pierce as far as, not only classes, but performance opportunities," Moe said. "It allows them stress relief. Sometimes you just got to exercise, get physical, dance a lot. That's what builds a sense of community because we're all working together for the same thing."