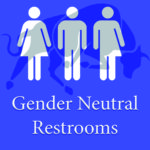 Gov. Jerry Brown mandated an amendment of Assembly Bill No. 1732 to include gender inclusive restrooms, according to an announcement made during the Pierce College Council meeting on Nov. 17 by Director of Facilities Paul Nieman. It will take effect as of March 1, 2017.
"The President [Kathleen Burke] wants to do it as soon as possible, but we're waiting to hear from facilities," Nieman said.
Nieman said the Division of the State Architect (DSA) must weigh in on when the changes can be made to the facilities on campus, but some people are ready to get it done.
DSA provides design and construction oversight for K-12 schools, community colleges and various other state-owned and leased facilities, according to the California Department of General Services.
Director of the Health Center Beth Benne does not see a problem with the changes being made to the restrooms on campus.
"I don't see it as being a big deal," Benne said. "My suggestion was to get rid of the urinals and make them all unisex. To me, what difference does it make? If you're in stalls and if there's a man next to you, or a woman next to you or somebody that is gender nonspecific, what difference does it make? The stalls are private. So, I think everybody needs to be comfortable."
The law stands to include all single-stall restrooms, but Athletic Director Robert Horowitz is concerned it could extend showers and athletic locker rooms as well.
"It's an administrative decision. It doesn't affect athletics in any way unless changes bleed out into other areas, then things can become uncomfortable for some," Horowitz said. "Unless they change the single-use showers, then we have an issue. What's the difference between single-use bathrooms and single-use showers, if you look in the long run?"
Leonard Ramirez, athletic trainer, said as far restrooms are concerned, it shouldn't matter who is using them.
"You can say all the bathrooms have stalls, the doors and everything. If you walk by can you tell if there's a man or a woman in there without [looking]? So, does it really matter? But showers, that gets a little interesting there," Ramirez said.
Nieman said all new restrooms will include gender inclusive restrooms and current single-stall facilities on campus will change to include nonspecific signage.
"A gender inclusive restroom does not have to be single-user stalls, it can have three stalls in there. One men, one women and one gender inclusive. People can choose whichever one they like," Nieman said. "The signage is going to be expensive as they have to include Braille and wheelchair accessibility."
Benne said that the Student Service Building is new, built in 2010, and it doesn't have gender inclusive restrooms.
"I did get an email from a counselor, she asked if we knew the location for the gender nonspecific student bathrooms and I told her I don't think they are ready," Benne said. "In her email, she had indicated that right now there are only faculty [gender nonspecific] bathrooms, and I didn't even know there were gender nonspecific faculty bathrooms and apparently, you need a keycard to get into the faculty bathrooms."
Ramirez remembers when he worked as a construction worker and only men were employed. The restrooms catered to men, but when women began working for the company, they didn't tell the women they couldn't use the restrooms.
"No one said anything. These are our bathrooms. It's fair for everyone," Ramirez said.
Benne said that the health center has a single-stall bathroom and everybody uses it without complaint.
According to Benne, the Health Center has one bathroom inside and everyone is able to use it without questioning.
"You go in because you need to give a urine sample or you're a patient here and you need to use the bathroom," Benne said. "We all get along just fine because it's a single-stall bathroom and nobody cares."