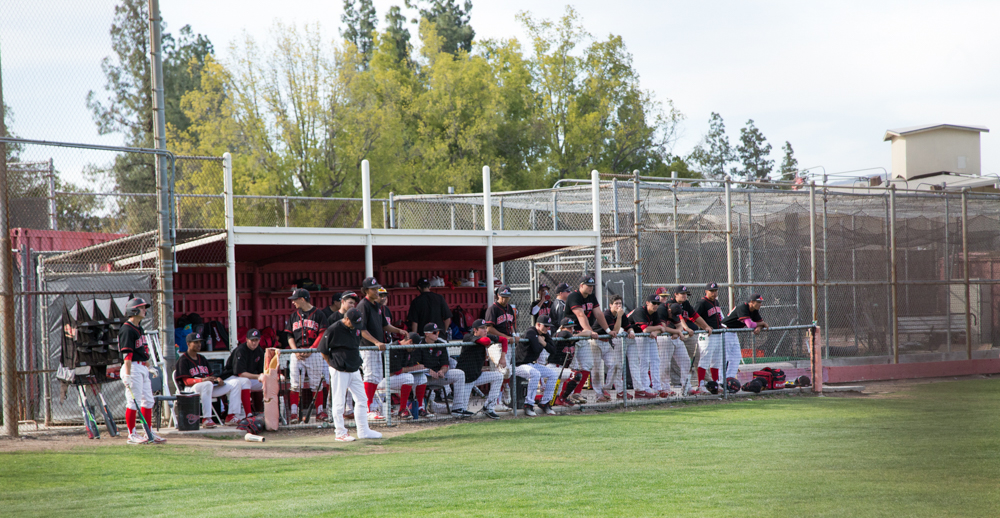 After a tough loss to Ventura on Tuesday, the Brahmas got back on track with an impressive 10-1 rout over the West Los Angeles College Wildcats.
The win brings their record to 5-12, 2-0 in conference.
The game started slowly with both pitchers taking control of the mound until the bottom of the third. Center fielder Mike Scolaro led off the scoring with a RBI double to centerfield.
Jorge Navarrete followed with a single to center to drive in another run. Nick Pico drew a walk with the bases loaded to bring the score to 3-0 in favor of the Brahmas.
With the lead established early, starting pitcher Tommy Wilson was comfortable the rest of the game.
"Once we got that first run, that obviously gave me confidence knowing that all I have to do is keep throwing up zeros on the scoreboard," Wilson said. "They're going to play behind me and keep scoring runs for me, so that's definitely a positive for us."
The Brahmas continued to look sharp on both offense and defense. First baseman Brandon Lewis hit a two-run single in the bottom of the fourth to make the score 5-0.
"I've been comfortable at the plate recently," Lewis said. "Hitting balls hard, finding the holes and I just carried that into this game."
Following two more innings of shutout pitching by Wilson, the offense pushed their lead with a RBI double by Navarette, giving the Brahmas a 6-0 lead through six innings.
Wilson ended his day with 7 scoreless innings, allowing two hits and two walks, and striking out seven.
"Tommy is one of our better guys, and so that's what I kind of expect from him," said head coach Bill Picketts. "To give us seven or eight solid innings, and that's exactly what he did."
The Brahmas continued their offensive onslaught with Scolaro and Lewis both hitting two-run triples, growing the lead to 10-0 in the bottom of the seventh.
West L.A. was able to respond with a RBI single in the eighth, but it was too little too late for the Wildcats, as the Brahmas took the game convincingly 10-1.
"They're a team that's lost some players due to grades," said Picketts of the West L.A. team. "They have a phenomenal coach and some point in time that's going to be a very good program, we just got fortunate today."
With the rest of the conference games ahead of them, Wilson believes, "That if we keep staying within ourselves and keep doing the same thing, hitting well and pounding the strike zone, I see us doing well in conference."
The Brahmas' next game will be against Los Angeles Mission College at El Cariso Park on Saturday, March 4, at 1 p.m.