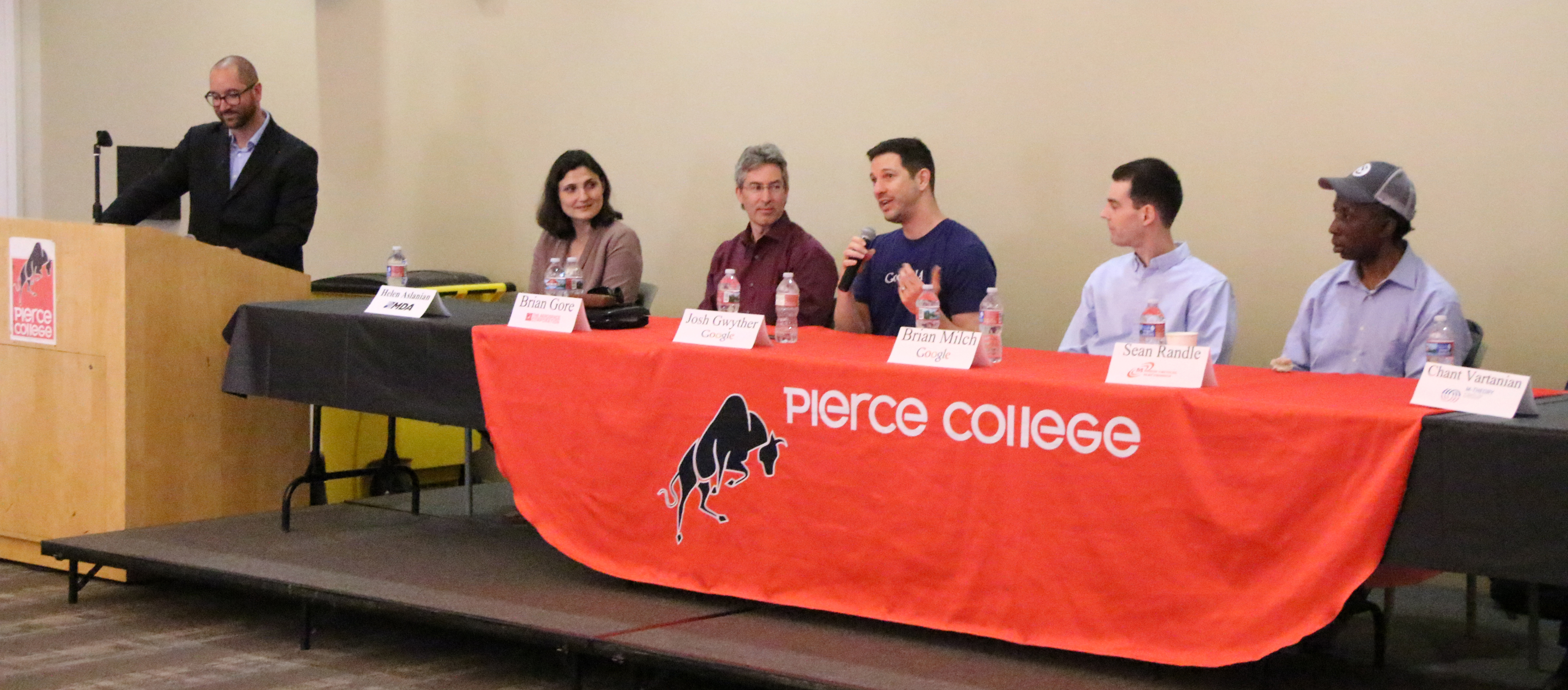 Students, scholars and job seekers alike got advice from seven representatives of renowned companies, including Google, who spoke at the Tech Talks panel on April 13 in The Great Hall.
The speakers provided students with career-related advice, answering questions about finding success in today's workforce.
Agent of Innovation for Google's Cloud Platform Josh Gwyther told students not to put an emphasis on titles and positions once they enter the workforce. He said this is an easy way to lose focus on why a person entered the field in the first place.
"I made that mistake a few times when you are chasing that title or money," Gwyther said. "You start focusing on career growth more than focusing on developing your career. Just focus on what you like doing and what you love doing. You will excel."
Gwyther said that when one pursues a career out of passion, others will take notice. He said knowledge comes from taking risks and potentially experiencing failures, and it will sometimes lead to better things.
CEO of Mission Critical Electronic Systems Sean Randle said that employers often consider a person's diverse background when hiring. Having passions outside of a particular field can work to a person's advantage.
"Don't just be computer-based. Maybe be an artist or a musician," Randle said. "If you have a hobby or hobbies, keep doing them because you are going to come across somebody that you want to get to, and that hobby is going to be what clicks you together."
Senior Analyst at MDA-Space Systems Loral Helen Aslanian said that experience is the most important thing when trying to work in technology-based careers.
She said internships, extracurricular activities and school clubs all count as experience, and she encourages students to be as involved as they can be while in school.
"Getting your hands dirty in any of the tech field is the most important thing," Aslanian said. "I know you might not have full options coming out of school. You're not working [jobs] to get that experience, but whatever experience you can get, put your hands on that. It is really the experience that gets you the job."
Yaron Zanki, a software developer at Google, said that being personable is just as important as being knowledgeable.
"It is not enough if people know the stuff, but if you cannot stand being around them, they're not going to succeed," Zanki said. "We are looking for people who are fun to be with."
Randle also said that working well with others is an imperative part of having a successful career.
"What we look for in an employee is somebody who wants to work with other people, someone who wants to be part of a team," Randle said.
Program Specialist for L.A. Regional Career Pathways Ngan Mork said that a recurring theme throughout the event was finding something you are passionate about.
"I hope that what students learned is that anything is possible if you follow your dreams," Mork said.
Program Specialist for L.A. Regional Career Pathways Raffi Kahwajian said that he thought the panel offered a wide range of perspectives.
"Some people are involved in the programming side of a huge company like Google. Another person is an entrepreneur and doing his own thing," Kahwajian said. "That shows students that there isn't just one way of approaching a career in technology. As long as you love what you are doing and putting in the time and effort to learning and being the best that you can be at it, there will be a place for you somewhere."