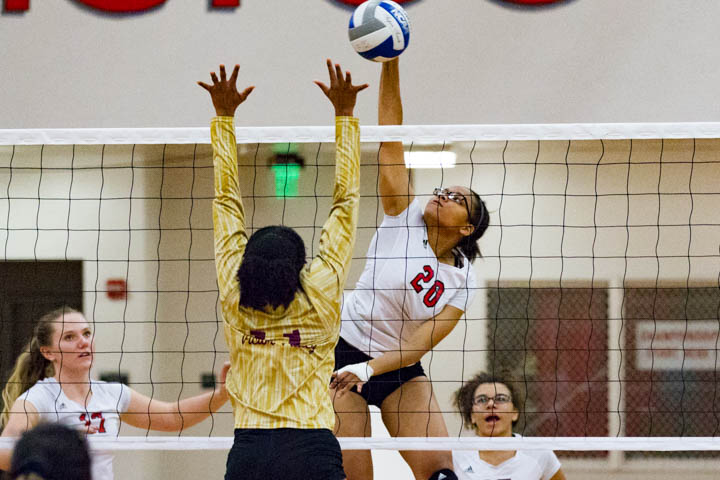 Women's volleyball defeated Victor Valley College in straight sets to keep their winning streak going and to improve their overall record to 17-5.
The Brahmas were able to stay ahead in the game by taking all three sets in an hour.
In the first set, the Brahmas pushed a strong start and were able to defend off Valley's spikes. The team started to take over when the teams were tied at 14.
The team won the first set 25-14.
In the second set, it looked to be the same situation as the first set. The Brahmas and Valley were tied at 12. The team won the set 25-20.
Valley was able to keep the score close in the beginning until Brahmas took control winning the final set 25-17.
Head Coach Nabil Mardini mentioned the game plan to beat the Rams and spoke about his players performance.
"The game plan and is to win the serving and passing battle to put ourselves in a position to win. To me my players are self-driven to be part of this program and that is the best motivation," Mardini said. "For new players I say practice every day, as early as you can and the mindset that you want to wake up to be better."
Head Coach of Victor Valley, Chresta White said how her team plans on winning was through self-motivation.
"For winning, a lot of it has to do is self-motivation. My players play the game because they enjoy it, they want to play it well, execution and working as a team. When you are vocal things go along well together. Our team is always working hard to be the best team," White said.
After the game, Linnea Romero the defensive specialist for the Brahmas said how she felt about both team's performances.
"The game was good we started off a little shaky, but we became a unite. The other team was pretty scrappy, they got up a lot of balls. It was frustrating but we got it together," Romero said.
Outside hitter for Brahmas, Haley Rousselle talks about her coach and hat she thinks of the other team play style.
"Our coach is very tough, but that is what being a coach is about. But how he makes up for it for it is by being such a good person. As for the other team, I was really surprised by them. Their defense was a lot more than I expected and their servicing was very good. They came to play, but they didn't because we did," Rousselle said.
Their next game is on Friday, Oct. 20 at Glendale College. Game starts at 6 p.m.