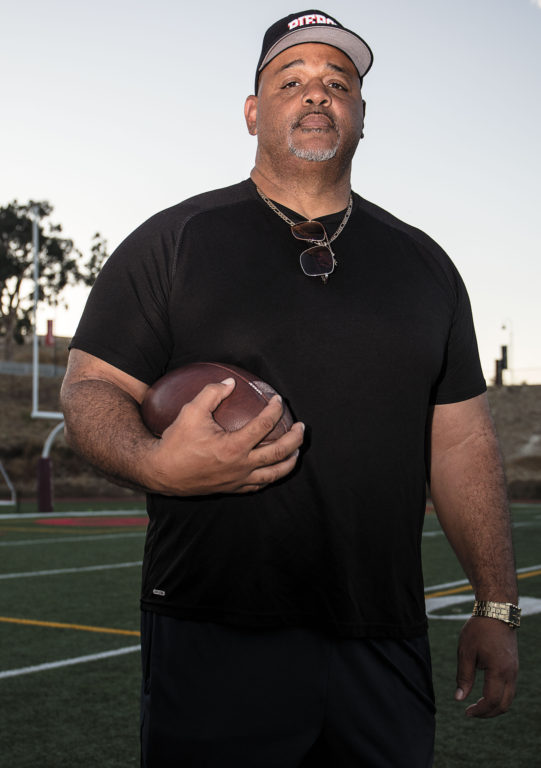 For the football team, a new era began a month ago as interim head coach James Sims stepped up to the gridiron after the firing of former coach Jason Sabolic.
Sabolic was fired on Sept. 11 due to decorum violations and Sims was chosen to fill in the position temporarily, at least until the end of this season. A decision will be made by Sims, the athletic director and other faculty whether he stays or leaves the position vacant.
"They literally pulled me out of my office and asked me if I was willing to step in and help them out. I agreed to," Sims said.
Prior to taking over, Sims was the strength and conditioning coach. Not only did he train his football players, but all Brahma athletes. He worked one-on-one with every player at the fitness center and prepared them physically before they headed out to their respective discipline.
This is Sims' second year working at Pierce College. He said he has been with the district for five years. Before coming to Pierce, Sims worked at Southwest College.
Sims was born and raised in Akron, Ohio. His passion for football started when he was young; he recalls coaching a six-year-old team when he was 13.
Sims said he was fortunate to go from high school straight to a Division I school. It was at the University of Toledo in Ohio, where Sims started playing at a higher level. But during his freshman year he was injured, had a richter staple put in his shoulder, and was forced to hang his cleats.
His football career was over, and so were his dreams of making it to the NFL. So Sims decided to join the military. The base was stationed in Virginia, where he served four years and coached a football team at the same time. Sims said he got into a major car accident that injured his back, and he left the military as a disabled veteran.
Years later, Sims decided to open a mortgage company in Jacksonville, Florida, where he met someone who invited him to help coach. Sims said he coached there for 13 years.   
"I've always had a passion for helping people," Sims said.
When offered the position of interim head coach, Sims knew it was going to change his work schedule and life plans. He said being a coach is very time consuming.
"It's not just about football practice, it's about watching films at home, coaches' meetings, players that contact you and have situations at home. You're a father, a mentor, and a lot involved," Sims said.
Sims said the players facilitated the decision of accepting the offer to coach them.
"Some of the players came and asked me to take over the job. They didn't want a stranger coming in. That made it easy for me, because they asked me to do it," Sims said.
Marquise Mickens, a running back, said he was happy when the team found out Sims was their new head coach.
"We were building chemistry with him in the weight room. It was stress relief when he was left as head coach. I'm definitely very blessed to have him on the team as head coach," Mickens said.
Mickens hopes Sims stays permanently in the football program.
Sims said coaching is bigger than just football, it is also about the players.
"I care about their lives. I care about how they're doing in school, how they're doing at home and about their family," Sims said. "Athletes, they don't care how much you know, until they know how much you care."
Lawrence Coleman, safety, said things have already changed in the locker room, although it has only been a few weeks since Sims became in charge of the team.
"Ever since he came in, there is a whole new vibe to the team. Everybody is more disciplined. It's just more enjoyable to be at practice," Coleman said. "He put an end to all the foolishness and playing around; we got down to business."
According to Coleman, Sims holds his position with embrace and power, and it's easy to follow what he says.
For Sims, it is not just about wins and loses, he wants to make sure the team keeps competing.
"I want to make sure everybody is giving everything they've got," Sims said. "That everybody stays healthy, and at the end of the day, it's just a game."
After the end of the season, whether he stays permanently as head coach or as fitness trainer, Sims said he will still be at Pierce.
"I'll be here probably the next 15 or 20 years, whether I'm coaching or not," Sims said.
For now, Sims just wants to continue doing what he loves: coaching, cooking and traveling.
"I'm going to enjoy life until there is no more life," Sims said.
Sims said that his goal is to make a positive impact on his players so they can be successful.
"The ultimate goal is to help affect their lives in a positive way," Sims said. "If they go on to become great fathers and brothers and good citizens of the community, if I can still hear from them and know they are doing well, I consider this a success."