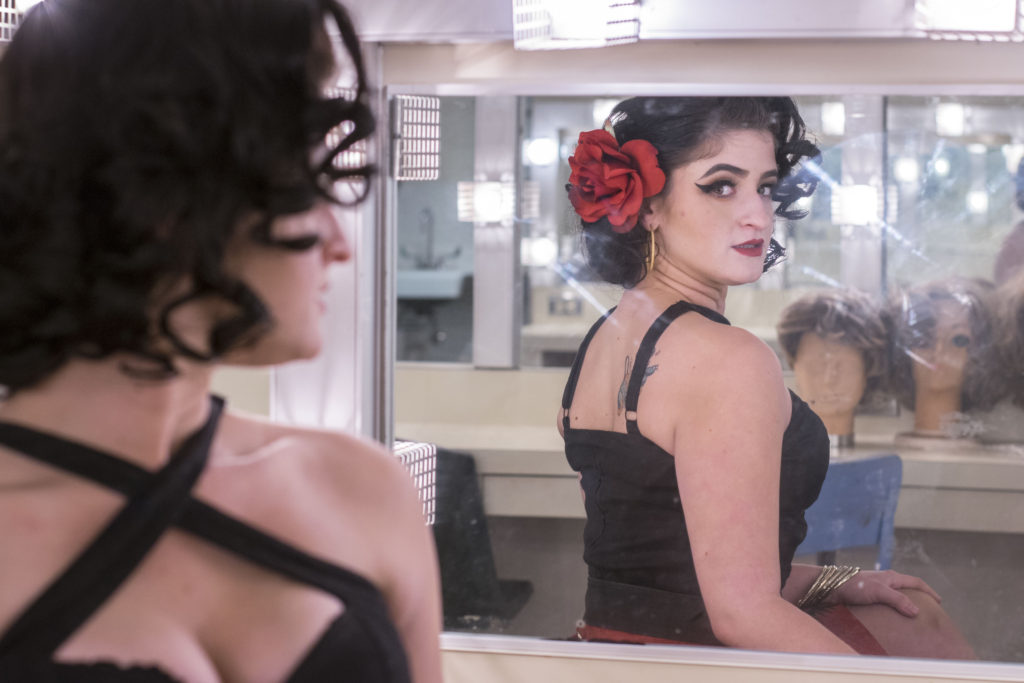 Red lipstick, victory rolls and big skirts are the essentials for a pinup look. However, someone can feel beautiful without those accessories.
Pierce student and model Emily Katz works at a boutique where she encourages others to put aside their insecurities and feel confident in themselves.
Katz started dressing up in her junior year of high school, however makeup and dresses weren't always Katz's go-to look.
"I've always dressed tomboyish," Katz said. "And one day, I came to school in a skirt and eyeliner and everyone was looking at me."
The 20-year-old, who goes by her model name 'Ally Katz' on Instagram, was awarded 'Miss Perfectly Pinned Up' in April. With fans of Katz who follow her on social media, the ability to send instagram direct messages online to influencers means that they are able to stay connected with their audience, as well as the audience being able to connect with people they look up to. When it comes to fans and celebrities, there can be a separation. But with the use of social media, it seems within reach for people to at least have a chance of communicating with their idols.
After high school, Katz moved to New York and spent her first year at Wagner College in Staten Island, but she wasn't happy with what she was doing.
Katz then came to Pierce and is in her second year taking Costuming for Theatre. She then decided to change her major to costuming.
Katz started dressing up as a pin up because she liked that it was body inclusive and helps people feel beautiful.
"That's what I like about it, you just do your best, and you can achieve the look," Katz said.
Katz said it's a hassle to get ready but she receives multiple compliments when she dresses up.
"If you use heat protective spray, it gives your hair a little hold, and you gotta tease," Katz said. "They say, tease it to Jesus, and then you comb it out."
Emily was recently published on a magazine called, "Pinup Kulture," earlier this year.
Makeup artist, Lacey Noel worked on Katz makeup for the magazine and said Katz donated to a child battling childhood cancer.
"Emily was very gracious donating to Taylor's gofundme. He was in and out of the hospital and she donated money to shoot with Miss Missy (photographer)," Noel said. "I did her makeup and Tamera Von Tart did her hair."
Noel said Katz was confident while working on her makeup and noticed her love her pinup.
"Her charitable ways helped a little boy in need and she got some amazing photos by Miss Missy," Noel said. "We all contributed to something that touched our hearts that day, those photos will always be very meaningful."
Katz has worked at a lingerie shop in Burbank called, "What Katie Did," for about seven months and enjoys working where she can dress up. The boutique sells women's clothing and corsets.
Lillian Starr, the manager of the boutique, has known Katz for less than a year and said she's great with customers.
"She's my weekend girl," Starr said. "She's our 40's diva, and she knows her stuff about her vintage lingerie."
Starr said they try to help their customers feel comfortable with their bodies.
"That's exactly what we do, we like to make them feel comfortable and sexy and beautiful," Starr said. "And all of our customers leave happy and feeling great."
Katz doesn't regularly dress up for school because of the hassle of shoes, makeup and hair, however, if Katz wants to dress up, she would need hours to get ready.
"It took two hours to get ready and I'm not ashamed of saying that," Katz said.
"It's nice to have something to give a little time for yourself, like the two hours. I really like it because I really enjoy every step of that," Katz said. "Listen to music and just spend some time on yourself."
At 4 feet 11 inches, Katz said the pinup community accepts you no matter the height, size, or color of a person.
"I don't have time to do it everyday, but my manager does it everyday. She likes lacing up everyday and she's great at it," Katz said. "My manager was a firefighter, she was a baker, now she owns a lingerie store; she's done all these things."
"There are a few bad apples here and there, but it's a very inclusive community," Katz said. "Overall, it's very accepting."
Katz is a lingerie and corset enthusiast who started getting into corsets after she began working at the boutique.
"We fit people, we figure out what shape you fit into. If you wear the wrong one, you can actually distort the corset and waste $200," Katz said. "It's good to get fitted."
Katz has many favorite accessories, however, the item she owns the most of is skirts.
"This is a hard one because I want to say stockings or the nylons, or the shoes. I want to say skirts, but that's not an accessory," Katz said. "What I own most of is skirts, especially Mexican circle skirts."
She started using corsets about three years ago, but when she started her job at the boutique, she became more interested in them.
Katz said she started learning more about her Jewish heritage during high school from her grandmother, and she wanted to bring that back to her family.
"It became a way to bring back all those years my family wasn't allowed to enjoy things like nylon stockings," Katz said. "There are a lot of things they couldn't experience; it's kind of a way I can take that back."
Katz recently started posting photos of herself dressed up on her Instagram and noticed an increase of followers and likes throughout the past few months.
"I'm proud to show off these stockings and my brand, but then it's a balance for me and the attention," Katz said. "And trying to remember this is for me and not for other people."
Katz said she doesn't want people to think that they're size or height can keep them away from dressing up.
"Things like pinup pageants, I try to stay away from those. You really decide what is okay and what isn't," Katz said. "I respect that other woman do this. You think that was all nature. You think everyone was the same shape. People like Marilyn Monroe, she was sown into her dresses. People don't all look like that."
The Los Angeles County Museum of Art (LACMA) hosts an event called 'Dapper Day' in September, and Katz hopes to work at similar events. She favors multiple eras, but the era she gets the most inspiration from is the 40s.
"I love the 20s, but the 40s is just a little bit more clean cut," Katz said. "The 40s is what I typically go toward when I'm dressing. It's fun because at work, we'll all do different eras. I'll do 40s and my manager will do 50s and the shipping manager will do 60s, so it's fun to see it all together."
Katz said that not only women come by the boutique, but so do men and transgender women. She said she helps customers find their size and helps them feel beautiful inside and out.
"It's just making people feel beautiful, and it's not just for woman," Katz said. "A customer told me, 'I don't always feel feminine and beautiful, but you helped me feel beautiful,' almost in tears."