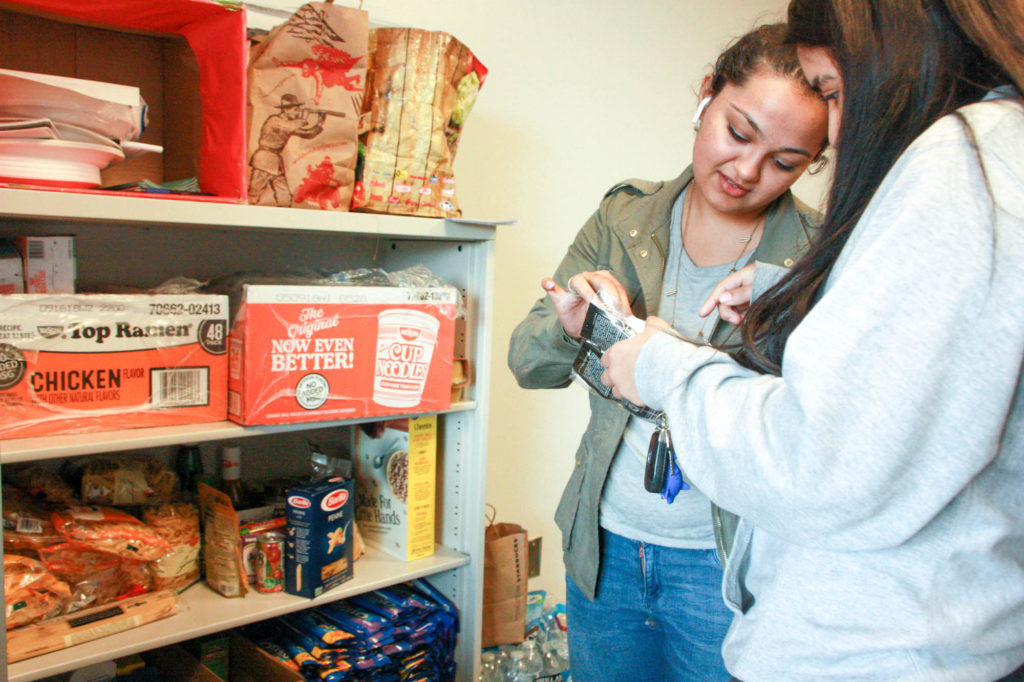 Food can be purchased at three locations on campus: the cafeteria, student store and the Brahma Cafe. But in a small room in IRIS 910 a pantry filled with goods awaits any hungry student for free.  
St.A.S.H., the Students Against Student Hunger club at Pierce College, established a food pantry in Iris 910. As part of the Brahma Initiative, ASO decided to work with St.A.S.H. to resolve the student hunger issue on campus, Efren Lopez, the ASO President, said.
"When the Brahma Initiative was being written, we had in mind to not only create awareness about this issue and create a resource center area, and we also had the idea of creating a food pantry," Lopez said.
Lopez said that because St.A.S.H. was already working toward resolving the issue, ASO decided to include it in the Brahma Initiative.
St.A.S.H. President Jordan Rice said that the idea for a pantry on campus came to him when he noticed that there were students struggling with food insecurities.
"It really kind of sunk in when I saw that my friends and I was actually feeling their need," Rice said. "They had never let on about it. It was always a jovial conversation, but to see that it was so close all that time, it sunk in."
The pantry, which is stocked with non-perishables, is open to all students. Rice said that there are many ways that students can get food if needed.
"We have multiple forms of contacts, and I've been using email as a liaison," Rice said. "I've had counselors that will tell me if someone needs food, or they will reach out to someone in ASO."
Gisela Tarifa, the Chair of the ASO Community Welfare Committee, said that the committee has been helping St.A.S.H. as part of the Brahma Initiative.
"That is how ASO knows to takes a stand through addressing the housing and food insecurity issues on campus," Tarifa said.
According to Tarifa, her and Rice have visited different pantries, researching how to structure the food pantry on Pierce.
"We've gone to CSUN's food pantry, and I've gone to the West Valley Food Pantry to get a sense of how exactly they distribute the food," Tarifa said. "When we went to CSUN's food pantry, I think we got the sense that our food pantry here isn't structured or in a system."
According to Rice, the food pantry is donation based because a budget is not in place to buy food.
"I am planing with Efren and Gisela and those that have come before me as far as fundraising techniques," Rice said. "ASO will be stepping in, but I have things planned for this next semester to be able to be a little bit more independent as an organization."
Rice said that those who want to donate can drop off food at the pantry during club hours or use the donation bins in ASO and in the First Year Experience Center on campus.
"We will be spreading those boxes around campus," Rice said. "I have my club members and myself designing boxes, sprucing them up for the holiday season."
Rice said that for those students who want to get involved, they can ask around in ASO or talk to him or Lopez directly.
"As far as physical actions, start a dialogue," Rice said. "Talk with your friends and do the research. Be open, and if there are things that you want to do, try and find me, and I'll hit you with some flyers. You can come to the pantry and we can work out more hours. The need is growing everyday, and we are handing out more food as these hour shifts go by."
The food pantry is open on Monday from 9:30 to 11 a.m. and on Tuesday and Thursday from 12:50 to 1:45 p.m.
The St.A.S.H. club meets on Monday at 2:15 p.m. in ASO.
To contact St.A.S.H., send an email to foodclubdrivepiercecollege@gmail.com.