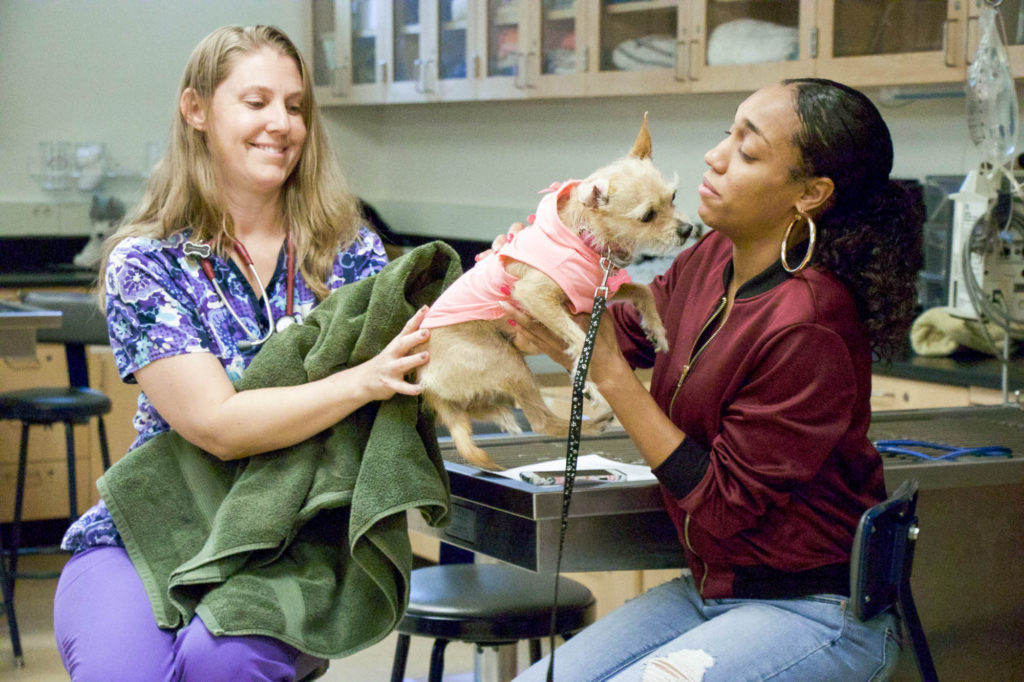 On Sunday's Pierce is closed.  But woofs, meows, and cooing owners could be heard in the Pierce Veterinary Technology Center, as they waited in line for affordable vaccinations and microchips.
The clinic helps Veterinary Technology students gain experience administering vaccines, restraining animals in preparation for shots, watching animal behaviors, and practicing client education and front desk reception skills.
The clinic also raises money for the Veterinary Science program.
"The clinic is completely run by the students. There is a veterinarian and a registered veterinary technician on site, but besides that, the students are doing all the groundwork," said Kay Nicklaw, a volunteer and coordinator.
The senior-level students handle the prep and administration of the vaccinations, whereas the entry and mid-level students handle the front desk work and restrain the animals for observation.
"Every animal is different; you can't just teach out of a book as if this is the way every single animal is going to respond to this needle or restraint technique," said Angela Killips, Instructional Assistant for the Veterinary Technology program. "Every animal responds to situations differently, so the broad range of breeds and species is a great learning opportunity for the students."
The clients check-in and the animals and owners are escorted to the lab, where experienced students get hands-on practice of behavioral and technical veterinary education.
"During our labs, we get to practice, but our practice is generally on stuffed animals and only for so long," said Alyson Zillner, a senior in the Veterinary Technology program. "It's a great opportunity to be able to actually utilize the skills that we have been taught and apply them to a real practice."
Before vaccinating the animals, students check the animal's pulse, respiration and temperature, to make sure that the animals are in a stable condition. Then they clean the intended puncture site with alcohol and inject the animal with the vaccine necessary.          
"Everyone should support the Veterinary Program, it's amazing and it is the only one I know of that people are driving fifty miles to get to. You get great hands-on experience that prepares you for the real world," said Limor Golan, senior in the Veterinary Technology program.