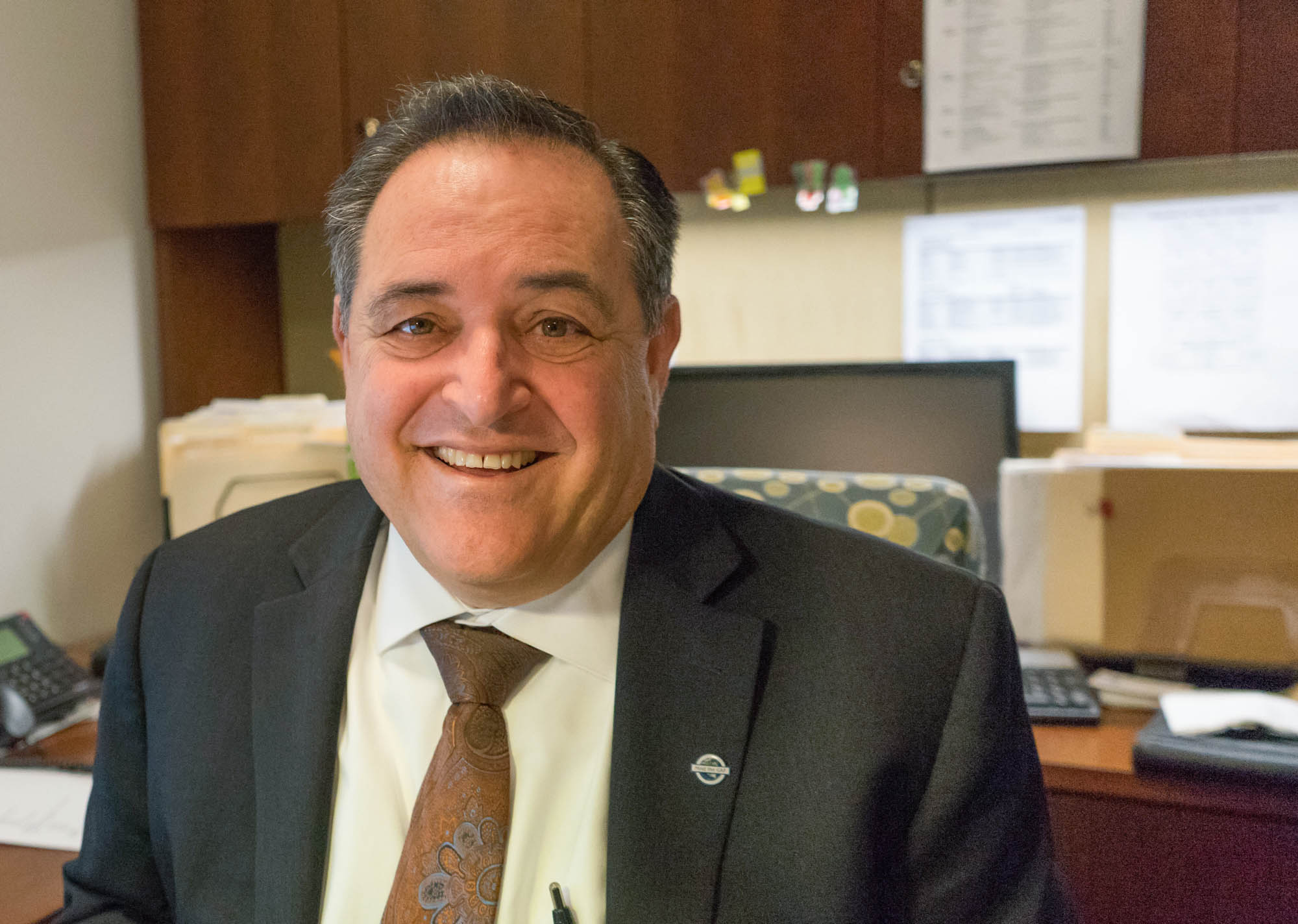 During four decades at Pierce College change has been dramatic.
Associate Vice President Larry Kraus has seen much of it unfold from the decline of grand farm events to the rise of new buildings and eye-catching gardens. But any future transformations will be missed by Kraus who will retire at the end of fall semester.
"I don't want to say bye, it's been marvelous time, it's been an amazing experience, most people today move from job to job but, I'm almost like a potted plant," Kraus said. "I kind of just plotted here, and I enjoyed it immensely. Doing the best I can to help the students and faculty and staff."            
                                                                                                                                   Kraus said that at 18, he worked as a district manager for the Los Angeles bookstore, Waldenbooks. He then returned to Pierce to work at the college as an assistant manager at the student bookstore, between 1981 and 1982 then became the store manager.
"I've been here since 1971, but I was here as a student. I was employed as a cadet in the Sheriff's Department," Kraus said. "After high school, I came to Pierce, and got a job as a cadet. I ran around as a cadet for a couple of years, then went in the Air Force reserve from 1974 to 1975."
Other than working full time, Kraus was also taking classes at Pierce. Kraus received his associate's, bachelor's and master's in business administrative.
Pierce College President Kathleen Burke said in an email that Kraus was their go-to person for special projects because he knows the college's history.
"Mr. Kraus has provided dedicated and loyal service to Los Angeles Pierce College for over four decades," Burke said. "He is woven into the fabric of what Pierce College is and what it will be for the foreseeable future. While we will miss Larry's expertise and tireless work ethic, we wish both he and his family the best as Larry transitions to this new phase of his life."
Vice President of Administrative Services Rolf Schleicher has known Kraus since he started in 2012 and said it was a pleasure working with Kraus for the past few years.
"He really loves the college. I think it's in his DNA now," Schleicher said. "He's been here a long time; he grew up with the college."
Schleicher said he's fascinated with Kraus's knowledge and historical perspective.
"You go back four decades, this area of the Valley was very different back then. He's seen it all," Schleicher said. "How the community came around, and how the college built itself to be what it is. I think he's got a lot of the background that we sort of loose sight of sometimes."
Schleicher said Kraus really cares about the faculty and students on campus. He said Kraus would go out of his way to help students.
"He's been here through it all, has a number of positions, and always tried to treat people fairly," Schleicher said. "He's very helpful to administration, but also the students."
Schleicher said they're not planning to hire a new associate vice president for the position anytime soon.
"I won't be able to hire a new vice president because there are budget constraints," Schleicher said. "But even if I would, they wouldn't have the background that he has, because experience counts for a lot."
Schleicher said they're planning on dividing the workload with different administration on campus.
"We're looking at all the things Larry's done, and figuring out if some people would want to stretch what they're doing right now," Schleicher said. "We'll take pieces of it, and disperse it to people who have the talent to do that."
Schleicher said although Kraus is leaving Pierce, he still plans to keep in touch.
"He'll be sorely missed here by a lot of people: faculty, staff and students," Schleicher said. "He's been a solid fixture here. He's been a common voice through years of change, and we wish him the best."
For nearly a decade, the campus has been under construction, and though it is still not completed, and Kraus said the agricultural and history remains the same.
"In the past, the agricultural department was very robust, it had a lot of activities. Today, we find more of the liberal arts section of the college, and it's been a marvelous transformation to see over 40 plus years the changes, yet the similarities, of the college, and it's been incredible," Kraus said.
Kraus helped organize events on campus such as Discover Pierce and Farm Walk. He remembers all the past events Pierce organized.
"At one point, we invited all the family of Dr. Pierce to the college, and the first students of Pierce College from 1947 were invited. We brought them all to the campus, and it was an amazing activity because we got to meet the initial students and we got to meet the family," Kraus said. "Because Pierce is named after a real person."
Kraus said Pierce is known for its agricultural and history.
"The things that I remember a lot were when we used to identify all the plants on the campus. Now, we're starting to see the reemergence of the naming of the plants," Kraus said. "It's not just a plant, but you learn as you walk and learn it's true name ,and you're always learning. It's that kind of feeling that's so marvelous."
Besides working with administration, Kraus also teaches small business management classes at Pierce.
From bookstore manager, enterprise manager and associate vice president, Kraus has had various jobs and titles at Pierce. As associate vice president, he was responsible for anything that generates revenue on campus.
"For example: the food service, the bookstore, any of the special services that we offer, like the mailroom, copy tech; we had lots of partnerships," Kraus said. "We generate revenue from all the cell phones on campus, and the inena systems. I'm related to all the entrepreneurial activities of the college and all of the services that we offer."
Executive Assistant to the President Cheryl Davis has known Kraus for about 8 years and said he helps her with logistics and coordinating events on campus.
"I started working here in January 2010, and Larry was an immediate help in teaching me about various aspects of the campus; we've worked closely together since," Davis said. "He not only is my co-worker, he's also a very dear friend."
Kraus said he's going to miss the campus and its environment.
"The openness, the plants, the comfortable surroundings, I enjoy the relationships with all the coworkers and the interactions with students," Kraus said. "It's something very special about the campus life. I was just always appreciative as I was down the Mall and listening to the chatter or excitement; it's unlike any other experience."
Kraus said after Pierce, he plans on enjoying some of his favorite hobbies like woodworking, traveling and hiking.