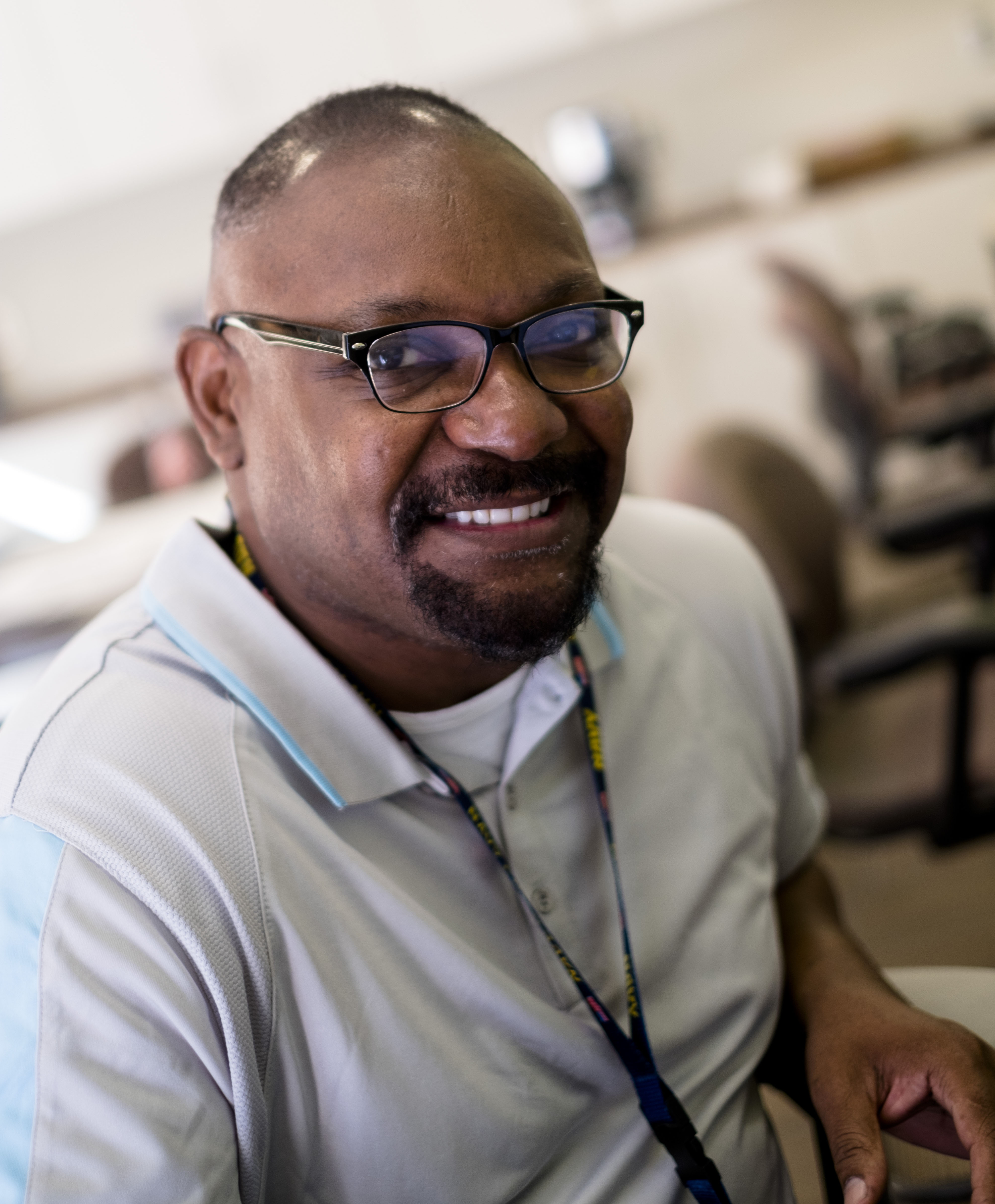 Going from "boots to books" can be difficult for some transitioning back to everyday life and taking orders from professors instead of sergeants. But 26 years of military service turned this veteran into a man willing to help others who were once in the same shoes as he was.
Charles Johnson served in the Navy before coming to Pierce College as a special instructor on assignment. He runs the Veterans Resource Center on campus and assists students on campus with reintegrating into school life.
"Our resource center is a brotherhood of experience," Johnson said. "I understand the process they are going though and the resources that are necessary for our veterans because I started off at a community college too."
Johnson comes from a family with a large military affiliation. His father served in the Army, two brothers in the Marines and another brother in the Air Force. While Johnson was on active duty, he served on four combatant ships and became a Navy counselor. For three years he served at the Guantanamo Bay Naval base and in 2007 he retired from active service.
At Pierce, his work as an advocate for the Veterans Resource Center includes helping veteran students get back to school and aiding them in the process of filing for and receiving financial aid that can allow them to continue their education.
Dean of Student Engagement Juan Carlos Astorga has never served in the military, but said it would have been a beautiful opportunity and he can see that Johnson has a special connection due to his background.
"I think that because there's a shared experience of 'you were a vet, now I'm a vet,' you understand what it was like back outside,'" Astorga said. "Outside of the military world there is a greater ability for students to feel understood, and he gets it."
Astorga said that Johnson is a part of a doctoral program, and that may have given him a few ideas as to how he can continue to help students.
"One of the things that he's trying to really create as part of his research is what can we do to continue to motivate students," Astorga said. "Also, he wants to imporve how we support the engagement and the resiliency of our students."
Mareo-Ahmir Lawson is a veteran of the Army. He served in the Middle East before his retirement. He attends Cal State University, Northridge, where he is studying CTVA: Electronic Media Management. Before transfering to CSUN, Lawson received his degrees in Journalism, Film, Television and Electronic Media.
Lawson said that he didn't work closely with Johnson when he began working at the Veteran Resource Center, but did receive assistance and support when Johnson was still an Associated Students Organization adviser.
"I know that because he's a veteran, it will definitely help with assisting students. There is a particular way that military members work together and a certain way we understand processes," Lawson said. "This allows us to communicate our needs better between each other.
When Johnson was an ASO adviser, he helped Lawson in several areas, including job search.
"I've met with him several times about Pierce ASO events, chartering a club, Pierce College affiliated organizations, the Foundation for Pierce College and federal business opportunities."
Johnson said he is here to improve how students engage with campus and society.
"We want our veterans to know that we have three core values in our department and that is  honor, dignity and commitment," Johnson said. "This means that we treat them with dignity and honor their service. Our commitment is that we are committed to them but at the same time they must be committed to being successful in their education".