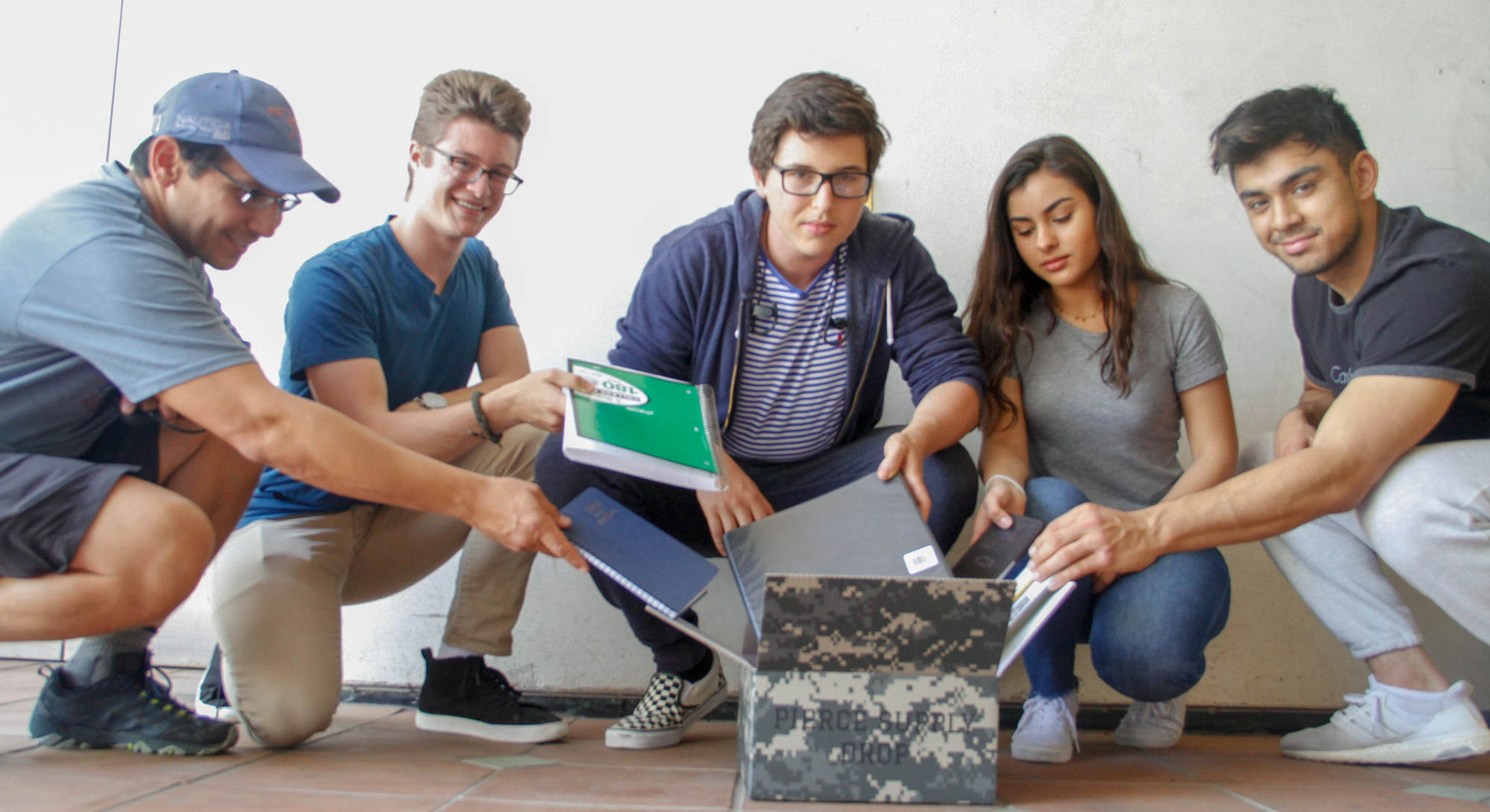 Buying school supplies individually at the office supply store can be expensive and time consuming.
But the Pierce College Business and Economics Student Association (BESA) has a possible fix.
The ASO has given BESA $25,000 to invest in the Pierce Supply Drop, a business idea which will offer boxes filled with a myriad of supplies that meet the basic needs of the typical college student.
BESA plans to purchase 200 boxes to sell by the end of the semester.
ASO Treasurer Matthew Aguilera said that the Finance Committee approved to fund BESA's idea because they thought it'd be a beneficial experience for the business students.  
"We thought it'd be a lucrative plan, but also a good experience for BESA," Aguilera said. "It's a good learning experience for people in that club and for those interested in business and entrepreneurship. They also provide an alternative to purchasing needed school supplies."
Josh Lipman, the president of BESA, said that the organization will create conveniently packaged and affordable boxes of school supplies to sell at the student store.

He said the student-run, on-campus business venture benefits the student consumers as well as those behind the idea.

"This is such a unique opportunity for students to gain that experience if they are interested in business or plan to start their own company," Lipman said. "They will be given the opportunity to get hands-on entrepreneurial experience and learn all the lessons that experience teaches, without the personal financial risk that it normally entails."

BESA asked the Student Business and Entrepreneurs and Investors Group (SBEIG) to partner with them for this business venture. The club's president, Parker Selby, said he and other members were ecstatic to participate.
"This is something they want to get their hands on. Not everybody has an idea to start a business, so when you have one knocking on the door, I think everyone should take the opportunity to work and learn about it," Selby said.
Calculators, pens, and notebooks are included in the green camo-print boxes. But Lipman said that once the business picks up traction, they will make boxes catering to specific majors, such as art, with different designs.
Each box will cost about $20, and most of the supplies will be outsourced and distributed through the student store.
The cardboard boxes will be sourced from Office Depot. Lipman said the Pierce Architect Club will help assemble the boxes, and the approved graphic design vendor Studio A.M. will design the stickers on the boxes.
Originally, BESA was granted $20,000 to invest in a juice bar. However, because Pacific Dining took over the district food vending, the idea was scrapped.
"Due to the nature of a contract that the school has with Pacific Dining, no other entities are permitted to sell food because it competes with them," Lipman said. "We spent the rest of the semester thinking of what we could do instead. We identified this as a need that we can fulfill, offering students a convenient and affordable way to receive school supplies."
Selby agreed that the supply box is a worthy item to invest in and produce for the community. He said that, like with any business venture, the most difficult part will be to convince consumers that the item is useful and necessary for them to purchase.
"It's our job to convey to them that this is something that is convenient and affordable and something that they want," Selby said. "They are going to buy these products anyway, so if it's all packaged into one easy box, why not buy it?"
The Pierce Supply Drop boxes are expected to hit a student store near you by the end of the semester. Students will be redirected to pay for the box next door at the Business Office.
Students interested in becoming part of the business venture can attend BESA meetings every Wednesday at 2:30 p.m. in BRCH 1101 and SBEIG meets Wednesdays in the ASO at 12:45 p.m.  
"It's getting the hands-on experience. It is a no-risk project. You don't actually spend your own money or raise money," Selby said. "You can make mistakes. It's really just a good learning experience."