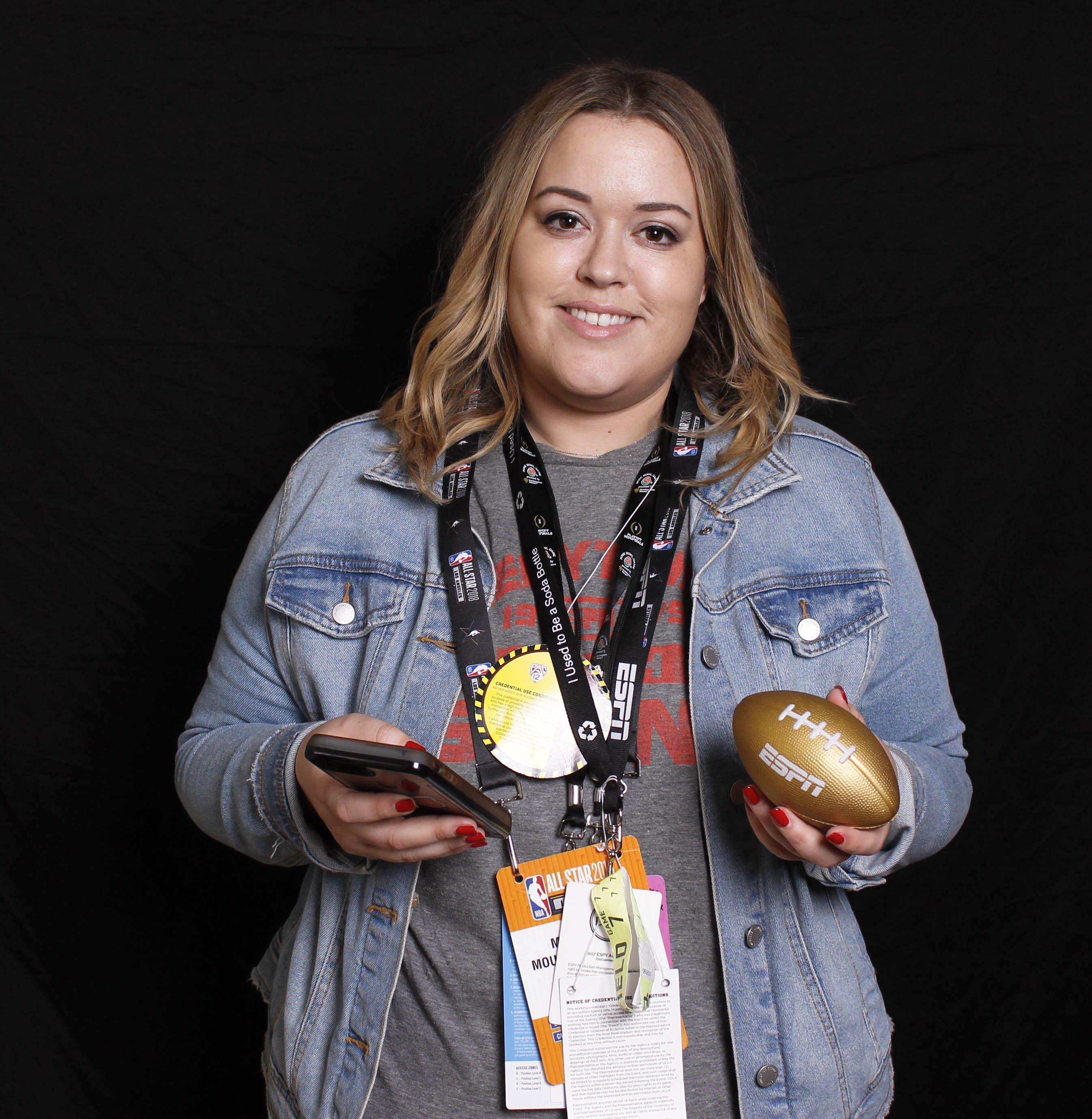 Despite initial reservations and an unrelated course of study, this former American Sign Language student discovered her passion for journalism and has kept her eye on the ball, leading her to a career with ESPN.
Megan Moureaux said she had journalism in the back of her mind since high school. However, she said she hesitated to follow a career in journalism because she doubted her writing skills.
She said she majored in and studied American Sign Language for two years before she decided to study journalism. She said she realized that she had a passion for it, and decided that she would pursue journalism instead.
Moureaux joined The Roundup and rose to the position of editor-in-chief in fall 2015. Now, she is working at ESPN in Los Angeles as a producer, and gets to cover sports from college football games, Major League Baseball and professional basketball.
Moureaux said her job is one of a kind.
"I don't think of it as a job because I just love doing it every single day. I'm happy to go to work, so I shouldn't call it work, maybe. But I love doing what I do," Moureaux said.
Moureaux said that sports have always been part of her life, and that fact helps build up her confidence in her job. She said it feels uncomfortable to watch a game as a spectator rather than as a journalist.
"I don't get nervous at all for sports stuff, and I should. I look back at things and I'm like, 'wow, how I was not like a complete wreck?'" Moureaux said  "I think I'm just this comfortable doing it."
When she left Pierce, her goal was to transfer to the University of Oregon. However, she was offered a job with NBC Los Angeles and remained in California.
Moureaux said she didn't plan on staying with NBC longer than five months, but did because she had gotten hands-on experience in the field that she wouldn't get in school.
Moureaux said it wasn't easy to decide between taking the position with NBC and continuing her education, but decided she could always earn her bachelor's degree through an online program.
"It is a hard decision to choose, but I feel like you have to trust your gut on it. Believe in yourself and know that you can do something without having a degree," Moureaux said.
During her time at Pierce, Moureaux said she wanted every story to be special, and she pushed for everything to have a special spot. At ESPN, Moureaux said she doesn't get to write like she did at The Roundup and misses it because she enjoyed writing about individuals who aren't very known and sharing the sides of athletes that aren't shown in the media.
Even though she doesn't get to write, her ideas are used to assist her colleagues. Her coworker and reporter for ESPN, Edward Aschoff, said Moureaux always has a lot of ideas.
"She is definitely the one who runs the creativity switch in my brain," Aschoff said. "She's a go getter. She's not afraid to keep going with her ideas no matter what you say which I think is a good trait."
Aschoff said they started working together last year during the Rose Bowl, and have worked closely since December. Aschoff said Moureaux doesn't feel like a coworker because it's very easy to work with her.
Athletic Trainer Leonard Ramirez remembers Moureaux from her time at Pierce as a reporter and editor-in-chief. He said Moureaux always tried to include as many people in the athletics department so that they could be recognized by the media.
"She was very social, coming in here and just talking to us. Sometimes, when we had 20 minutes before we had to go out and cover a game that she was going to cover, she'd come in here and just talk with us. Nothing so much as a story, just as a person," Ramirez said.
Ramirez received an award titled "Friends of the Media Department." Before Moureaux spoke to him during her time with the Roundup, Ramirez said that he hadn't been acknowledged by the Pierce media.
Moureaux said that even if she wasn't a journalist, she'd still be involved in sports. If she didn't have a career focusing on sports, she said that he would entertain the idea of following a path that involved her love for baking.
She joked that she would make a career for herself as the "bake sale mom."
"I bake all the time, it's like my stress relief around the holidays. Even now, I just like to bake for people," Moureaux said.
Moureaux said she has been encouraged by friends to open a bakery when she retires, and said she is keeping that idea in her back pocket. For now, she said she loves her job, and it hasn't held her back from anything.
Moureaux said her only regret is not going to college straight out of high school, but that hasn't affected her positivity or persistence.
"Everything happens for a reason, and I'm a big believer in that. You are what you're supposed to be," Moureaux said.