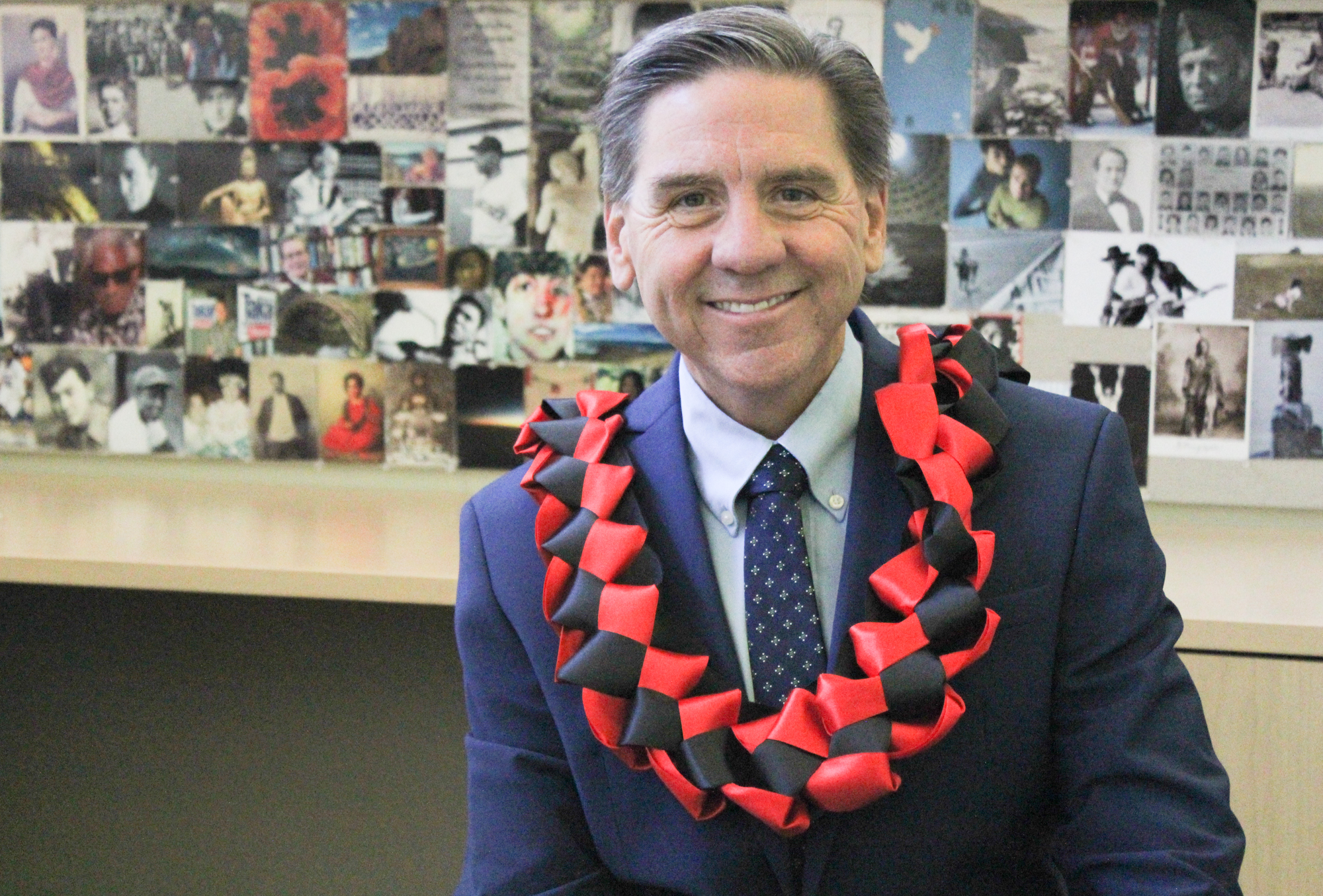 Life in Hawaii is often portrayed as more relaxed and care-free than on the mainland. Newly appointed Interim President Larry Buckley, a Hawaiian native, exudes that island vibe.
While his tan complexion may be common in Los Angeles, his friendly demeanor, smile and approachable nature is a breath of fresh island air.
With a collage of pictures on the wall next to his desk of those that inspire him, Buckley has already settled into his position at Pierce. A position that, by definition, is temporary. However, if you ask Buckley about that now, he may want to stay a little longer.
"If you'd asked me that question three weeks ago I would say I've taken this role understanding that mine is an interim role," Buckley said. "But if you asked me that today, I've just fallen in love with this college. I didn't expect that."
While he doesn't know what that means for his future, he does know what it means for the person who is appointed president.
"I haven't really thought about what that means to me, but whoever is going to be the permanent president of this college is a very very lucky man or woman, because this is a great place."
In Buckley's opinion, it is not what a school has that makes it great, but who it has.
"College is a collection of people. A really great facility can have really bad people," Buckley said. "And a median facility can have great people. That facility can have great people and turn a experience for students into the greatest thing imaginable."
Buckley looks at a historic teaching example as proof that a minimalist approach can certainly work.
"I believe it was Socrates who spent most of his time teaching students, he sat on one end of the log and the students sat on the other end of the log. And it was the greatest teaching environment in the history of the world," Buckley said. "That's what I've seen here. I've seen students and faculty who were engaged in teaching and learning at the highest levels and that's been very very impressive to me. The faculty are having conversations about teaching."
It was history that brought Buckley to where he is now, Native American history to be specific.
Buckley began teaching as a contract worker for the University of Hawaii system, meaning he was placed at whatever campus he was needed at from semester to semester. He was looking for a full-time, tenure track position. In his field of study, Native American history, there was only one school west of the Mississippi with the position he was seeking, according to Buckley.
That school was Feather River College in Quincy, Ca., the smallest community college in the state.
Buckley's move to the administration side of things came when he was selected to be division chair.
"I thought if I didn't take the job I wouldn't get tenure," Buckley said.
Buckley split his time as an instructor and administrator, but slowly realized he could possibly make more a difference as full-time administration.
"As a faculty member I really loved what I did, and as any faculty member can tell you at the end of the semester when students are taking their final exam and looking out at them you can tell the ones who you had an effect on," Buckley said. "Then when I started doing the work as a chair realized by helping my fellow faculty members' professional development, supplies, equipment, scheduling, I was kind of having an even bigger impact.I realized that I could do more, for more people doing this. They were never going to know that, but that wasn't important to me."
According to Buckley, his ability to help increased when he became a vice president, and even more so as President.
"You're affecting tens of thousands of students," Buckley said. "And that was very satisfying to me."
In an email response, LACCD Chancellor Francisco Rodriguez wrote that Buckley's commitment across the entire campus, staff, faculty and students, will help Pierce succeed.
"His dedication to higher education makes him ideally suited to lead the college while the search is on for a permanent replacement," Rodriguez said.
Rodriguez explained in his email that Buckley's experience in the classroom was a factor,
as well as his time in administration.
"There were several key factors used in selecting him to serve, including his professional background as a former college president, vice president and dean of instruction," Rodriguez said. "Dr. Buckley is also a first-rate teacher of history, so he fully understands how to support faculty and the learning enterprise."
Rodriguez can also see Buckley's kind nature.
"Get to know him and you will find an intelligent, caring human being, plus he's a great storyteller," Rodriguez said.