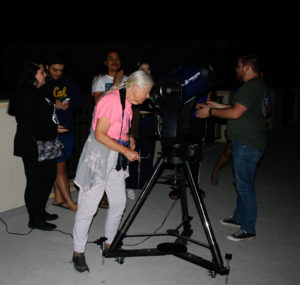 As soon as the sun set Monday, students gathered around the Schmidt-Cassegrain telescopes to look at planets and listen to Dale Fields speak. Early into the night, there was a shooting star, and Fields, the astronomy adviser, said he had not seen one as bright in about six years.
The unusual sighting was part of the excitement at the first Pierce Telescope Night of the semester.
Telescope nights are put on twice a semester, where students, faculty and staff are invited to gaze at the sky and look at it from a different perspective.
"I love getting a chance to observe these kinds of things and share that with people and recognize that this is their sky too," Fields said. "They actually should have the chance to look up into this and see the same kinds of cool stuff that I see."
Zoe Tallarita, a sociology major, found out about telescope nights through her astronomy class. She decided to take the class, because she was interested in the stars and moon.
"We just saw a shooting star. It lasted forever. That was so crazy. I wish I recorded it," Tallarita said. "Look through a telescope, because you don't get to see this any other place– unless you want to pay."
Cameron Lazo, a former student, found out about telescope nights through his younger sister.
"That was a better view of the moon than I've ever seen before. It was really crazy to see it, just that close and in that much detail."Lazo said. "As for the other few [planets], while they were maybe a bit smaller– I'd looked through telescopes in 6th grade on this sort of field trip for school and it really brought me back. We looked at Venus and Saturn and it really brought me back to that."
Joshua Becker, an astronomy tutor, decided to help out with the event the first time he took astronomy. Since then he has become an astronomy tutor and has been one for four semesters.
"Saturn is usually the coolest, just because all the different things you get to see on it. You can see the different layers in its clouds, you get to see its moon Titan, and then the moon Enceladus clearing out a ring through its larger rings," Becker said.
Fabian Chavez, a biology major, discovered the event through his friend. Chavez has never looked at stars through a telescope before.
"I see it all the time [the moon] but I've never seen it through a telescope. So, using the telescope will be pretty cool. I've never used one," Chavez said.
"When we were walking up I saw like a, I don't know if it was a shooting star or comet. I saw it and I was like 'wow, that's pretty cool' I saw it coming up in the parking lot." Chavez said.
The next Telescope night will take place on Nov. 15 at 6 p.m.