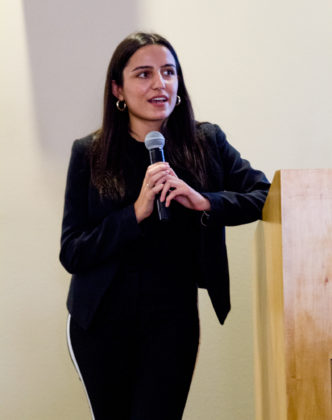 A response most people would get when saying they are majoring in economics is "oh, cool," followed by a change of subject.
The business fair particularly trends in the economics majors. The workshop that took place in the Great Hall on Oct. 3 is one of four events as part of Pierce College's Business Month for students interested i
n business related majors.
Department Chair of Political Science, Economics, Administrational Justice and Chicano Studies Kaycea Campbell started off by speaking about what different topics and jobs economic majors can go into such as a private sector, government sector, academics or a non-profit sector.
Campbell said that economics involves math, but students have to get over that fear.
"The first thing I want people to know is it's accessible. You can do it," Campbell said. "You just need to take the time to develop those skills. One of the worst things that can happen is you go into the major and you're not prepared."
Financial Economist Jeremy Schloss followed Campbell's presentation by speaking on how economics is basically a degree that can fit in anything. He advised students to diversify their education by not just being skilled in math but also in writing and speaking, as he put it "don't put all your eggs into one basket."
Schloss once attended Pierce and was even a former student of Campbell's. He said attending workshops like these when he was a student at Pierce allowed him to learn more about the major.
"I would go to the workshops and ask people questions to try and understand the workshops from the perspective of the presenter," Schloss said. "I think that what helped me pick econ was seeing that I can really move from one industry to the other so I can work in finance, I can work in health care, and I can work in academia."
The last speaker at the workshop was
. Also a former Pierce student, Fassihi now is a Program Portfolio Coordinator at the Pepperdine Graziadio Business School. Although she originally planned to go into pre-law, she made the switch to doing economics. She transferred to University of California Los Angeles after Pierce. Fassihi advised during her presentation that students should take statistics at Pierce prior to transferring since it is required at UCLA.
Fassihi said that it would've been helpful to attend these workshops when she was a student at Pierce.
"I did not know about them when I was a student here but they're definitely very helpful to learn about the profession you want to get involved in and the past experience of students that were at the university that you're interested in transferring to," Fassihi said.
Schloss said this workshop provided students with knowledge from many different perspectives.
"It offered a Ph.D. Professor explanation, it offered somebody who works in finance and has worked in Wall Street from a master's level and then it came from somebody that has come from Pierce and went on to do a bachelor's degree and now is working in academia," Schloss said. "So I feel like you had three different views of what you can do with Econ."
Karen Yakobi, who is undecided on a major, initially came to the workshop for extra credit but actually came out learning that there's more to economics than she originally thought.
"I learned all the different sections of economics and how it can be applied to different jobs," Yakobi said. "At first I thought it was a minor thing and it's actually something huge. There's actually a section of economics that I might be interested in."
Hilary Johnson, who greeted students walking in, said this workshop will lead business students into getting information that they need for the future.
"Hopefully they get out important information of how to sign up, how to communicate with professors about their major, and getting with a counselor," Johnson said. "Meeting with a counselor will help them gear their educational plans to transferring to get to the dream school that they want to."
The next workshop in Pierce's business month is Trends in the Business Major on Thursday, Oct. 11 from 12:45 – 2 p.m. in the Great Hall.