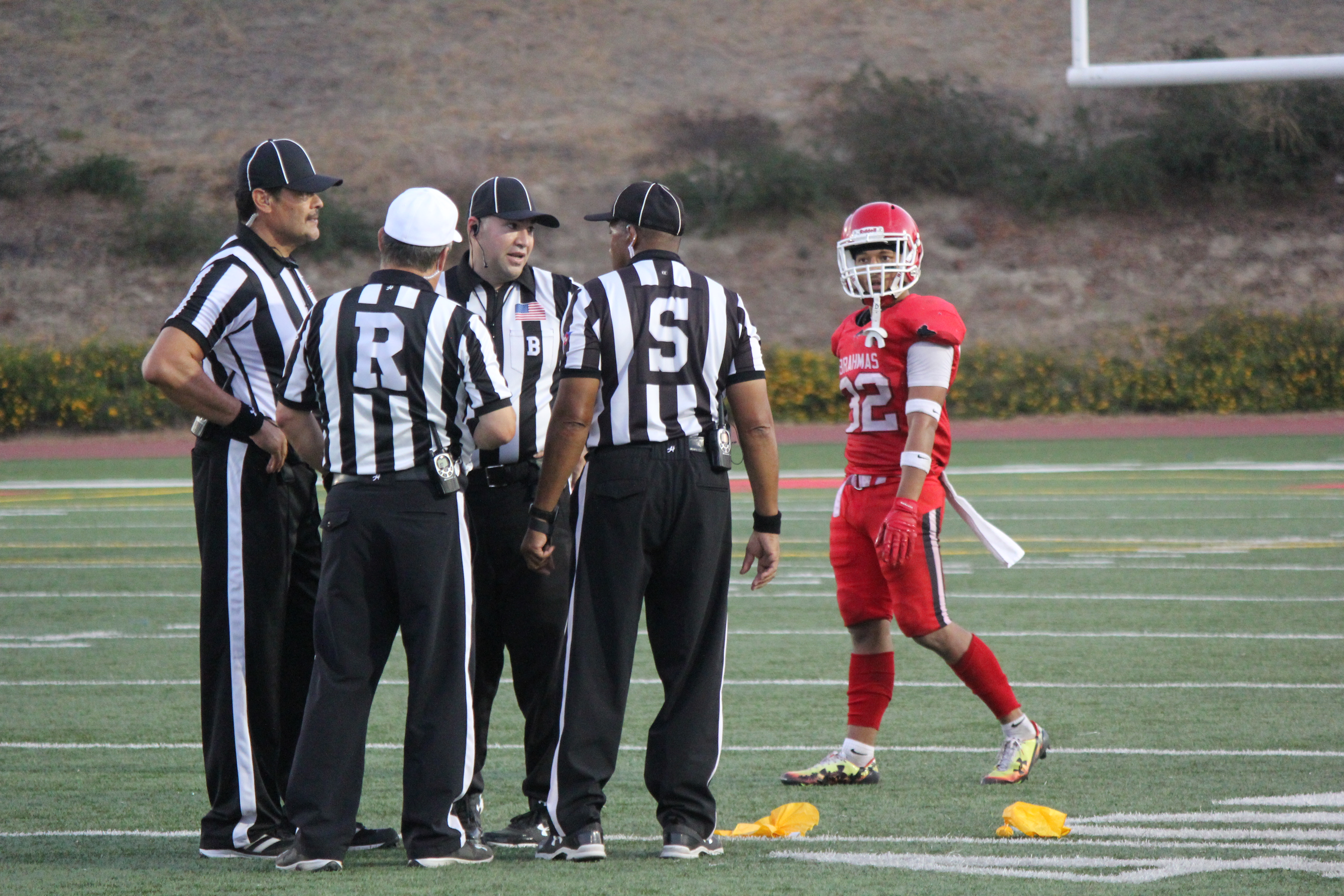 What matters more, a leader on the stat sheet, or a leader on the field? Why not both?
Dimetri "Meech" King came from Orlando, Florida to play football at Pierce College in hopes to have a better chance at getting into a good university and moving up in his football career. Having played football since he was 6 years old, King landed with a suitcase full of determination and dedication.
"I come from a city where a lot of people don't make it," King said. "I'm not the tallest, I'm not the biggest, I'm not the fastest, but it's all about how much heart you have."
When King arrived at Pierce last year, he switched out of his usual role of safety to try a new position as a corner. King feels that he has grown to love the position and that it has helped him become a more versatile player.
Coming into his sophomore year, King stepped into the leadership role, with the support of his teammates.
King says he comes to the field with the intentions of lifting his teammates up and helping them reach their full potential as well as fulfilling his own.
"Getting everybody on the same page is important so we can click as a team," King said. "I'm just trying to be that leader each and everyday from when I wake up until I fall asleep."
Last season, King had zero interceptions. This motivated him to kick it up a notch. This year, King leads the American – Pacific Conference with four interceptions through five games.
"Effort will take you a long way," King said. "It's truly about how much heart you put into each down, until the clock hits triple zero."
It is important for student athletes like King to have an adult that they can not only lean on, but relate to in some way so that they can receive guidance with open arms and ears. King had previously heard of the new corner coach Gerald Bowman before he arrived to Pierce. He learned of his accolades from USC football, coming from Pierce himself.
"He just coaches me different, something about him you can tell he knows what he's doing and I have developed from him,"  King said. "He has taught me a lot as a person both on the field and off the field, a huge impact in my life and I thank him for that."
King explained that Bowman coaches him in a USC styled structure grooming him for the Division 1 level of football. He thinks that this has given him a great insight to what to prepare for and expect for the years to come; while at the same time strengthening his leadership skills by having a good example.
From the moment that he came to Pierce to coach, Bowman recognized that King was one of the stand out players and that he was a leader. This a catalyst that formed a bond from day one of meeting each other.
"He has always been respectful and coming to work, that's all a coach really wants,"  Bowman said. "I had people like myself to be there for me when I was playing and it brought something out of me that I see is doing the same thing for him."
Head coach Carlos Woods also attested to the fact that King is one of those players that comes out to give their all and helps guide his team in a successful path.
"He gives you everything you want in terms of being a great leader, being an effective communicator, he gives a 110 percent into everything that he does and it shows," Woods said. "He's gonna give you his best effort, so whoever comes in and gives him a big time offer is going to get a great return on their investment."