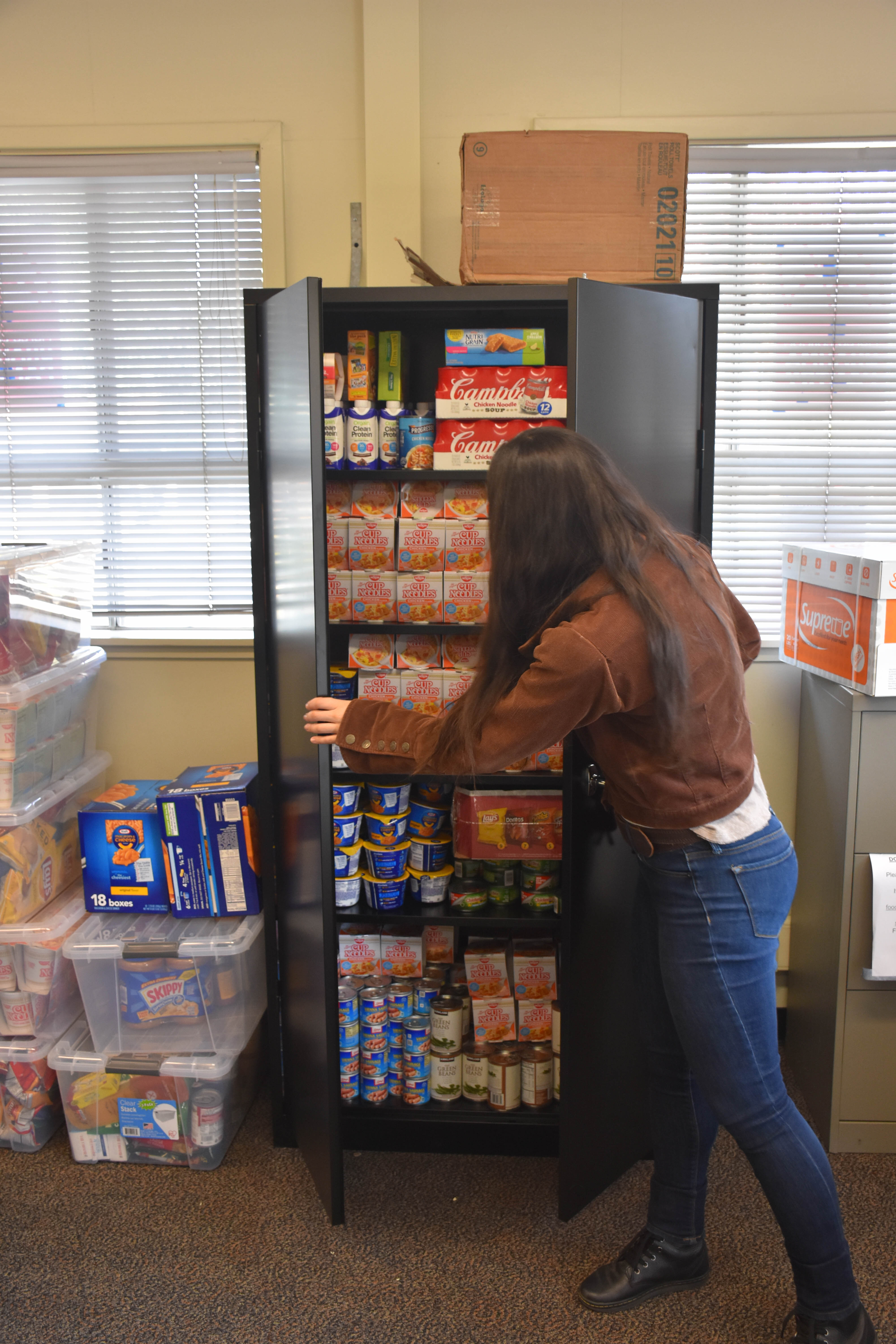 A seemingly small room helps students achieve their big goals by connecting them with the resources they need to succeed.
The California Community Colleges Chancellor's office created a hunger free campus grant that is giving community colleges money to address this issue of food insecurity on campus. Through the grant, the pantry is able to remain open, purchase food and get a student worker.
Since the pantry's opening on Nov. 19, it has had a slow start while trying to gain traction on campus.
"The visitors that did come, we had meaningful interactions," D'arcy Corwin, the Brahma Pantry coordinator said. "I would say as I'm learning and as we're going, I feel the quality of our interactions are kind of having a slower pace and it's giving us time to have more meaningful conversations with the students."
Since the program is new to Pierce, the program must figure out how to fit with the culture of the campus. This is what Corwin has been learning when she talks with students who visit the pantry.
For students, the pantry offers free food, CalFresh enrollment support, helps students find enrollment outside of campus and refers students to different resources on campus.
"We are trying to address students' basic needs," Corwin said. "Our goal is to help students find success. Not only in the college, but also personally."
Food security is a topic of concern, especially during the holidays. While the pantry won't be open during the holidays, it will reopen during the start of winter session.
Although the pantry will be closed with the rest of the campus this holiday season, students are encouraged to look at the Brahma Pantry's website. The site will provide a list of food banks and resources students can access throughout the holidays.
"We are trying to make a difference," Corwin said. "We will have a website soon that connects with different faculty members and department chairs. They connect with their staff and make announcement about our service."
The pantry is a way for the administration to help students on campus seek the assistance they need.
While there are similar bodies on campus that work to help food insecurity, the pantry is unlike any organization.
"This pantry supported by faculty and staff members and students. The Students Against Student Hunger (ST.A.S.H) club helps unite who have access to food with people who have no food," Philosophy Professor Christopher Lay said.
Since the pantry is funded through a grant, it works specifically for the students on campus to find resources.
Pierce Student Francesca Canales said the purpose for the pantry is very helpful, and even through it is new, she would refer it to classmates.The pantry is open Monday and Wednesday from 11:00 a.m. to 3:00 p.m. and Tuesday through Friday with an appointment with Corwin via her email corwind@piercecollege.edu.